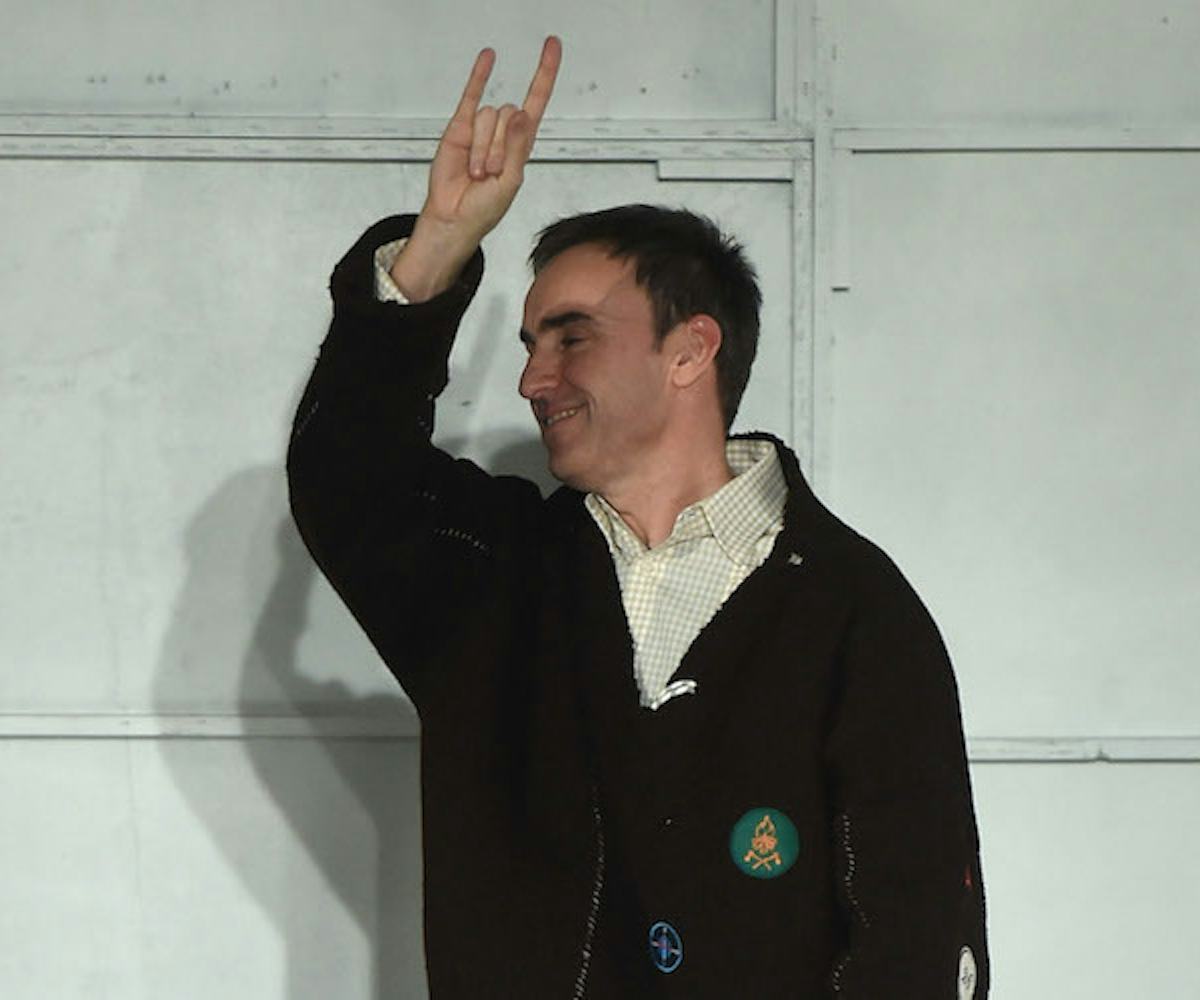 Photo by Jamie McCarthy/Getty Images
Raf Simons Wants Tomorrow's Designers To Say, "Fuck The System"
The designer spoke to Harvard grad students yesterday evening
Raf Simons had a very important message for the future fashion designers of the world: Fuck the system.
Calvin Klein's chief creative officer spoke to students and others in attendance during yesterday's Rouse Visiting Artist Lecture, a program put on by the Harvard Graduate School of Design that has brought the likes of Virgil Abloh to its doors in the past, alongside esteemed artist, longtime collaborator, and friend Sterling Ruby in a panel discussion moderated by Dia Art Foundation director Jessica Morgan. And while, okay, he didn't utter this sentiment word for word, the intended message was there.
While one might wonder what brought Simons and Ruby, arguably today's biggest fashion designer and artist respectively, to speak at a school known for its focus on architecture, there's no denying that both fashion and art take root in design. Both works and garments have a focus on construction, right? Even more fittingly, Simons was an industrial design student himself, with hopes to, one day, design furniture and, as he revealed last night, even cars (could you imagine?).
Throughout the talk, Simons touched on a bit of everything, from the history of his friendship with Ruby and what it takes for a cross-industry collaboration such as theirs to truly work (the answer: a natural desire to work with each other's respective industries and, well, friendship) to his thoughts on today's fashion journalism (ahem, he's not here for it) and his youth (he was "a good boy," but didn't really give a shit about school).
But possibly the most important point Simons made yesterday was when he voiced his frustration with the structure of the fashion industry, particularly the pace at which the machine works. "It's the frustration, the [feeling of] 'fuck the system,' the speed, the demands, all these kinds of things," he said. "Sometimes, I don't really like to share [these opinions] with fashion people," he went on to explain, noting that he's able to express these feelings with Ruby because they are of different industries and understand each other's respective works—and respective frustrations.
In a world where designers are abandoning the typical fashion calendar and ceasing to put out four collections a year left and right, it's interesting to hear frustrations coming from a figure as prominent and successful as Simons. However, don't expect Simons to quit the pace he's working at anytime soon. What he's waiting for is to see the next generation of designers come in and disrupt the industry.
In a response to a student question asking what the next generation can offer fashion, Simons responded, "I want to see more people coming in who are very much changing the system, who don't care so much about the system."
He went on to speak of his time teaching in Vienna a decade ago when he was struck by the obsession his students had with having a plan—"having all the surroundings in place: the structure, the money, the press office, everything." Rather than focus on this, Simons believes the most important thing a designer must have first is the initial idea—one that sets them apart. "I actually always taught and told them, 'You have to have an idea.' If you first have your ideas, you're very far in it already, and things will find you."
What else does he want to see from the next generation? A bit of surprise and risk-taking. "I like to see somebody young come in with something that's completely different, but sublime, and that's not only in fashion, I think it's in all applied arts," he said. "I think sometimes that you need to attack—you need to be reactionary."
And well, there you have it: The future of the fashion industry relies on the younger generations, and he wants them to look at the system and say, well, fuck the system. We can't say we can disagree with that.