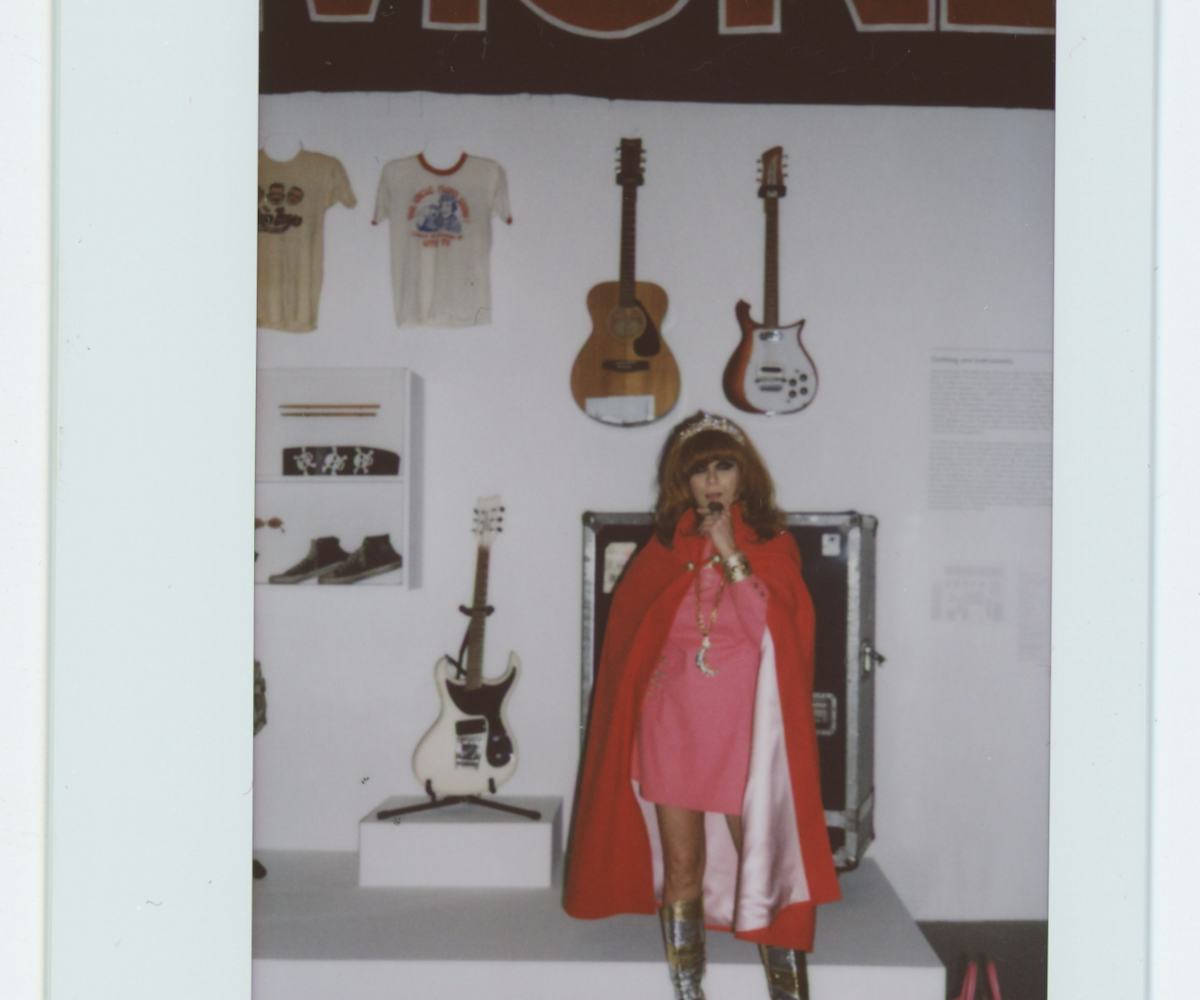 Photo by Marissa Smith.
Linda Ramone Talks Fashion And Celebrating The Ramones' 40th Anniversary
Linda Ramone is your new favorite person
This month marks the 40th anniversary of when the Ramones released their self-titled album, marking the way for punk music and culture everywhere to evolve. The Queens Museum in New York, along with the GRAMMY Museum in Los Angeles, created an exhibit called Hey! Ho! Let's Go: Ramones and the Birth of Punk to celebrate both punk influence and the amazing Ramones. I got the inside scoop about the exhibit and all things Ramones, thanks to Linda Ramone, fashion icon and wife of the late Johnny Ramone.
Linda took me through the exhibit, pointing out all the amazing things she had donated, as well as pieces she was seeing for the first time. Highlights included a colorful wall of concert posters from throughout the Ramones' career, a wall of their personal clothing and insturments—and a wall with paintings done by Shepard Fairey. Not only are the Ramones iconic, they helped create a culture of amazing artists, musicians, creators and fashion designers. Everyone they touched left a mark on this time period, including Linda Ramone. She was behind all things Ramones, and still is. She's known for her amazing collection of fashion, her large list of one-of-a-kind celebrity friends, and her home, the "Ramone Ranch," where each room has a different theme. I got to talk with her about the exhibit, and her best fashion tips. Read on in the gallery ahead.
You were involved with curating what was in the Queens Museum exhibit right? Because it had a conjunction with the 40th anniversary of the first album?Linda Ramone: Well I was asked to be involved. What happened was, it was an idea that Mark Miller had, like three or four years ago and it didn't go through, and once again [I was asked to be involved] when he pursued it recently. Yes, we all had decided it would be good to do the museum together. It was very perfect and also The Grammy Museum wanted to do an exhibit with us. So what happened then was The Grammy Museum and the Queens Museum started partnering together. It just all turned out perfect and we felt it was important to open up in Queens first, because the Ramones are from Queens so it's nice to start at home and then move to Los Angeles. It's like everyone does in real life anyways—you live in New York and then you move to L.A.; when you want to retire you move to L.A. 
What was the hardest thing for you to give up to put into the exhibit?LR: Johnny's notebooks. I've never had anybody really touch them because there's Johnny's personal writings from beginning to end and I never really would want one to be missing... that and the Beatles Shea Stadium ticket. I mean it's just like… you know... personal things, and the cadet belt you know? Giving a leather jacket, yeah, it's personal, but it's so "Ramones." Taking down the Simpsons cell was a little heartbreaking but you want fans and you want people who just come out of curiosity to see stuff that's cool. 
What's your favorite memory?LR: Well it's different because it's two different times in my life. My favorite memory with Joey was recording End of the Century because Phil was just so amazing to Joey and me every day. My favorite memory with Johnny is the rest of my life, but getting married made Johnny a different person. All of a sudden… things that used to be his and mine were ours; he totally changed. Then we moved to L.A. where we were just retired totally and every day was just a fun day of having friends around and everything so he really got to enjoy his life.
Did the Ramones influence your style?LR: No. I was already dressing up. The only thing was when I first started dating Joey I actually got to go shopping in places because I actually went to London. In the beginning I went to Lewis Leathers and I bought all fringe leather jackets in different colors. All the other girlfriends were only wearing black; I always wore colors. I went to Sacha and bought all those suede Beatle boots so I had all this cool stuff. I got to go to Vivienne Westwood and PX when the pirate look came out... so did anyone tell me how? No. I was always pretty much into dressing up. I had fashion friends.
What is your best fashion tip?LR: To be yourself. I mean I love trends, and I love trends in the way that it shows people that this is what's in. I think it's good to have a trend because some people don't know where to go at all. I think you should take that and put your own personality in everything, and that's what I do no matter what. Like today I have on a new Saint Laurent bag. I really think Hedi is a great and is a visionary so I love all the Saint Laurent stuff. I have a lot of stuff made, like this cape, because I can't find a red ultra-suede cape with pink lining. In the '60s, Carnaby Street, Granny Takes a Trip, and Rudi Gernreich had all great stuff. But now, no. I can't go out right now and find that much great stuff. I like having things made and with the price point of fashion it's kind of hard to be very young and want to wear designer clothing. But you can find your own style and being an individual is so much better than being a follower. That's how I always looked at it.
Did Johnny Ramone love the way you dressed?LR: Yes, but he definitley had his opinion. I would have to sometimes listen to it, unless he would be really upset. He was very into shoes and I liked boots. He always liked seeing my whole leg, but that's a guy. I would definitely do shoe nights and the mini-mini was in for a long period of time. Johnny and I would go shopping at Trashy Lingerie in L.A. and I'd have all my dresses made and he'd sit there with Mitch on the couch (the owner) and measured exactly how short my dress would be. I never thought anybody else knew that or noticed it, but Dita Von Teese told me one day that she was in Trashy and she watched it. She said she couldn't believe that someone was so into every little detail but that was Johnny, always even with that.