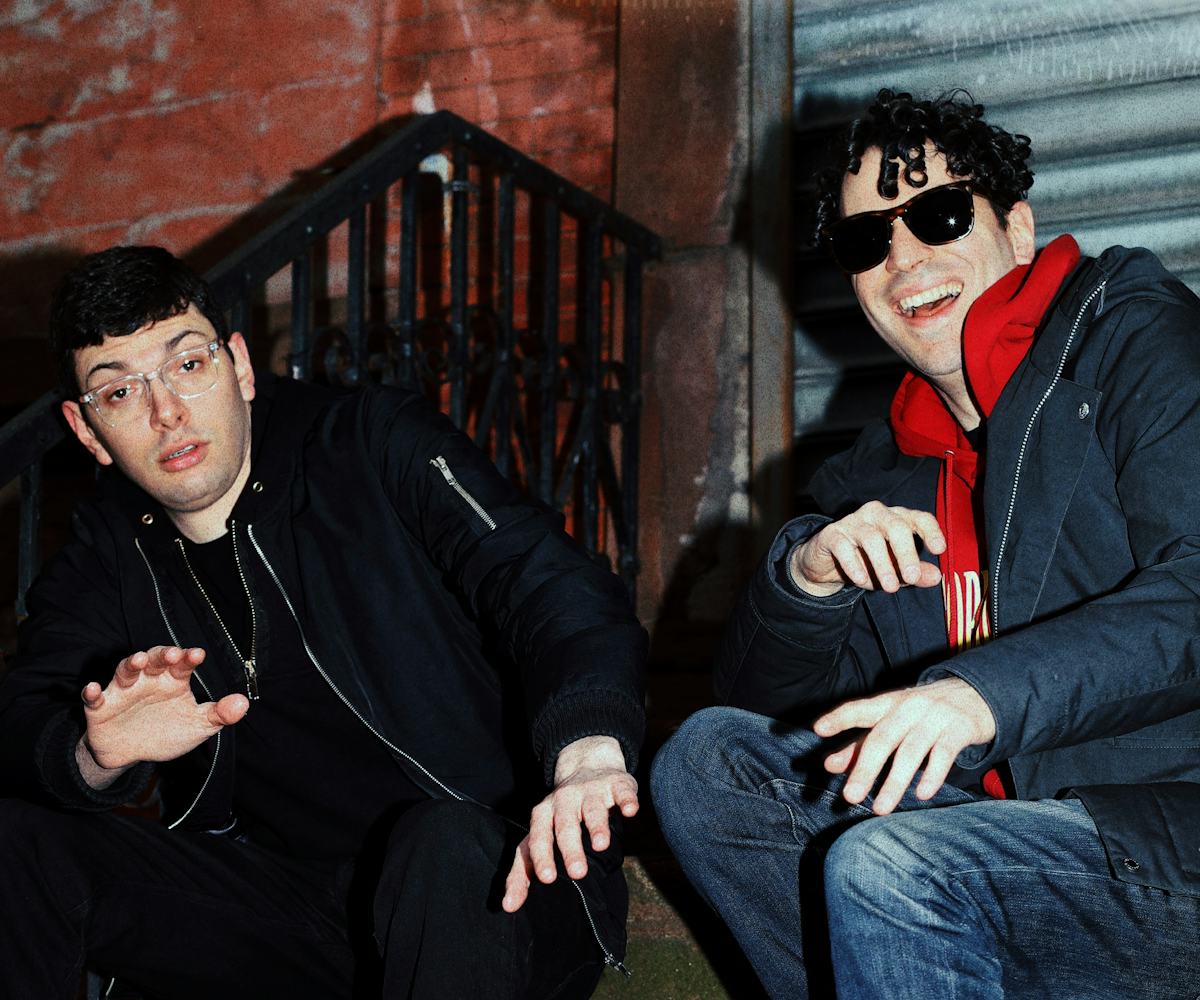 Photographed by Renell Medrano
Rap Comedy Duo ItsTheReal Pack Punch Lines On Their Hilarious Debut Album
'Teddy Bear Fresh' is sick music and killer comedy
Comedy rap has perhaps the smallest margin for error of any subgenre. Most comedians don't have the chops to keep themselves afloat on a beat, and the challenge of building a cohesive narrative and sticking to a central concept versus just raining down punch lines on listeners proves that being able to write quality rap songs is even more important than just being funny. Jeff and Eric Rosenthal, the brothers behind hip-hop comedy duo ItsTheReal, have spent the past decade getting some of the genre's most ice-grilled MCs to open up about their careers and get in on the joke. Their deep reverence and knowledge of rap culture, not to mention chops on the mic, are key reasons why their debut album, Teddy Bear Fresh (out today), is not only killer comedy, but also one of 2017's more complete and enjoyable rap records thus far.
"Certainly when we started 10 years ago we were a rarity; we were the only ones doing what we did," Jeff says. "As Killer Mike said, it was a chance for us and the genre really to smile and show that there was a whole other side of artists' personalities."
The brothers, who were born in Westchester, New York, and currently reside in New York City, got their start releasing sketches featuring major rap figures from the mid-2000s including Clipse, Cam'Ron, Max B, and Joe Budden. They were the first to find a niche in hip-hop culture that they easily could have stayed in and dominated, but the brothers wanted to branch out. They put out a mixtape with DJ Drama in 2013, and also established their podcast, A Waste of Time, in which they delve into the career arcs of rap's most important figures, both in the booth and behind the scenes (guests have included rappers like Migos and Young M.A., as well as The Fader editor-in-chief Naomi Zeichner and influential A&R Sickamore).
In February, they sold out SOB's, an iconic venue in New York rap, and with their bona fides cemented, they decided to partner with Empire, the distribution company/label behind records like D.R.A.M.'s Big Baby D.R.A.M. and Anderson .Paak's Malibu, that also distributed several early TDE projects. Despite taking meetings with plenty of majors and being well-connected across the industry, the Rosenthal brothers wanted a label situation that would let them get their hands dirty in the promotion and not keep their project on the shelf.
"We understand where we are on the depth chart. We're not coming in like 50 Cent was when Eminem signed him, but on the other hand, we know our worth," Eric says. "So if we can do the job ourselves, we can prove ourselves to be bigger artists and more relevant than some of these people might think that we were."
From a lyrical standpoint, the brothers looked to some of hip-hop's wittiest writers but also drew on their own cross-platform comedy experience. A major part of what makes Teddy Bear Fresh such a worthwhile listen is the pride that Eric and Jeff take in their rapping as music, not just a means to get a joke across. On "Waco," they manage to end every single line with the same syllable, while "Sure Did" is surprisingly anthemic, thanks in part to a massive beat from their friend and producer Greg Mayo.
"I think we take great influence from Fabolous, Kanye, Lil Wayne, Lloyd Banks, 2 Chainz. Guys who are great writers," Eric says. "Artists who can really put a joke together with strong delivery, where there's a setup and a punch line. The way that we approach our writing is just the way that we wrote our sketches, we wanted it to have a flow, a beginning, middle, and an end."
The feature list on Teddy Boy Fresh is stellar, including longtime ItsTheReal friends like Bun B and Curren$y, as well as rising rappers Jazz Cartier and Tunji Ige. Cartier flexes about Canada's publicly funded health care system on the hilarious "Blue Cross, Blue Shield," in which Jeff and Eric vow that the only thing that would make them sign with a major label is the promise of health care, while Curren$y's verse on the tooth-rotting candy ode "Sugar High" is vintage Spitta, but his usual litany of weed references are control+F'd and replaced with bars about Sour Patch Kids and Sweet Tarts. 
But the album's most impactful collaborator is Rick Ross, whose specter looms over "Jews for Jesus Piece (Remix)," an addition-by-subtraction banger in which the brothers spend the first two verses promising an appearance from the Miami rapper that never actually materializes.
"We created 'Jews for Jesus Piece,' and we were like, 'Oh man, we should go get the most Jewish name in hip-hop, Rick Ross. There's definitely thousands of Rick Rosses down in Boca Raton," Jeff says. "We pitched a whole thing [to Ross' team], and everybody was into it, but at the same time, Eric and I were performing the song... so every time that we would perform it, we would stop everything and say, 'Hey guys, this is a remix, we have someone coming on it, this is where their verse goes.' Then we would do the song, and the joke would hit, and people would go crazy for it, and we realized that was way better than actually getting him on the song."
The album is filled with choice punch lines delivered with the poise and timing of veteran rappers. "Matching shirts and Nikes looking like a cult/ Whole gang nuts word to Charles Schulz" is a standout from "Like a V Neck," the duo's ode to rolling with an inconveniently large crew. "Exotic living 'cause we made it off of blogs/Now I'm liking Tumblr pictures of Prague," is what passes for a boast on the album's intro track, "Who's Real."
But while Teddy Bear Fresh certainly doesn't take itself too seriously, the Rosenthals noted that the process of putting it together gave them a firsthand appreciation for what it takes to make an album and an understanding that some oft-repeated rap platitudes are actually true.
"We're on both sides of the aisle, we interview rappers, we are rappers, and we're getting interviewed right now," Eric says. "It's funny to hear what you think are clichés, like, 'Oh I recorded 50 songs, and we had to whittle it down to 11,' but I actually understand what they were saying now and appreciate that feeling."
"The only cliché that's missing from this interview is that neither one of us has said, 'At the end of the day,'" Jeff adds.
Still, there was one classic hip-hop trope that they had to address: the head-to-head album sales battle. Lil Yachty's much-anticipated debut, Teenage Emotions, also came out today, and after a little prodding ,I did manage to get Jeff to say on record that "if we outsell Lil Yachty, he should retire," though he quickly walked it back.
"We do not want to diss happy rappers because we are happy rappers ourselves," he says.
ItsTheReal has major plans for the future, including more live performances and the development of a TV show, all of which hinge on not only their unique, well-informed approach to both rap and comedy but also their chemistry and charisma. That's the reason they've been able to turn the niche corner of hip-hop sketch comedy into a career as multifaceted entertainers who have helped make rap a funnier, weirder community to follow.
"Whatever part we've played over the last 10 years, I do think it's more acceptable to hear records like ours, and I think the internet has been very helpful in creating that," says Eric. "Because we've stayed authentic and never sold out, and we've stayed true to the genre and all the artists that we love, and because we're not undermining what the genre and the culture stand for, that's why a record like this is acceptable today, and I think that's why there is a lane for it."