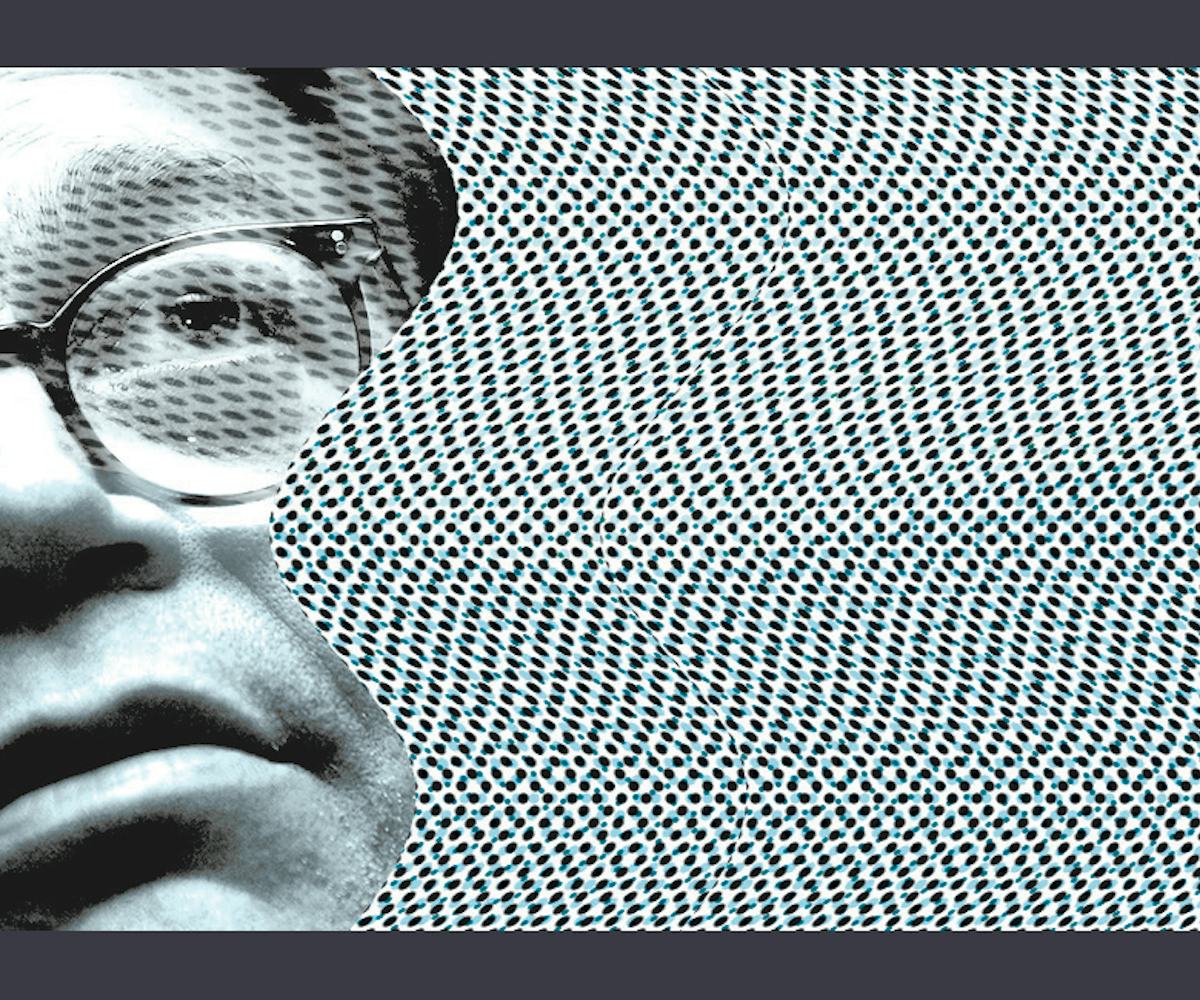 The "In-Between": What It's Like To Live In The Gray Area Of Rape Culture
Not everything has a simple definition
When we hear the word "rape," we often think of violent, bloody, murderous crimes on Law & Order: SVU. More recently, the word has been attached to serial predators who have been accused of it, like Harvey Weinstein and Russell Simmons. Rape, though, delineates a narrow scope of sexual assault, and in our current climate of sexual abuse revelations, it's become more and more obvious that abuse exists on a spectrum. This became undeniable after the allegations against comedian Louis C.K. became public; countless women expressed outrage and disgust because so many of us have been flashed, harassed, or coerced into a non-consensual sexual encounter that wasn't necessarily rape. But many men reacted in a disturbing—yet somehow unsurprising way—claiming that because C.K.'s actions weren't illegal, and he was just sad and desperate, this meant that women were wasting people's time with these type of callouts. As people, we haven't yet wrapped our heads around the right way to handle claims like these. This became all the more apparent when the allegations against Senator Al Franken came to light; suddenly, the Minnesota Senator was being grouped into a category with defeated Alabama Senate candidate Roy Moore, an accused child predator. 
Obviously, there's a larger discussion that needs to be had: Besides rape, what else isn't okay? The answer is—and I can't believe this still needs to be explained—every form of touching, breaching of personal space, revealing, nakedness, force, or coercion. So, while men like Matt Lauer or C.K. didn't rape anyone, we need to redefine how we think about sexual assault, because nothing sexual is okay without explicit consent from each party. But some people resist thinking about things like this, because it might mean that men they'd admired, men who hadn't gone so far as to commit criminal acts, are actually not innocent either.
Enter Franken again. Franken was accused of groping and coercing women into kissing him, things that, in the grand scheme of things, seem mild, but are still evidence of systemic problems that usually don't get fully examined. In fact, one of the most perturbing parts of this debacle was Franken's initial nonchalant response, which implied that he didn't actually believe it was wrong. It was so perturbing because it clearly indicated just how poorly our society handles issues of harassment. But considering how the promotion of rape culture flourishes in our most venerated films, TV shows, and songs, this isn't so surprising. The question is, how do we change it? Because with the recent accusations against powerful men running the gamut from "uncomfortable" to "rape," clearly, we need to talk about the "in-betweens," every gut-wrenching sexual encounter that leaves us thinking, That wasn't okay.
Because the reality is that so many women have experienced the "in-betweens," and many live in that gray area forever after, trying to come to terms with what happened. I know I have.
When I was 20, I visited my friend Rob in college and made out with his best friend. While we were kissing, he grabbed my wrists, shoved my hands down his pants, and wouldn't let me go. I consistently asked him to stop, to which he repeatedly responded, "C'mon." When I finally broke free of his grip, I left his room, but every other bedroom or couch was taken. I fell asleep shaking on the living room floor. 
The next day, I told Rob, but he shrugged it off. To him, it was "boys being boys," just another college night. He couldn't reconcile the idea that his best friend, a man he knows and loves, could be associated with the word "assault." His best friend wasn't the dead-eyed serial rapist he had seen on SVU. This was his buddy, the swoopy-haired, Polo-clad jokester. This was the guy who kissed Rob's mom on the cheek whenever he saw her. He couldn't sexually assault anyone, right? 
Today, those two men are still best friends. They probably don't even remember it, because to them, it was forgettable, no big deal. But that assault changed my relationship with my body and sex forever. It wasn't until months later that I understood the gravity of what had happened to me, or why it felt so bad: I was forced into a sexual encounter to which I had repeatedly said "no." I had been steeped in rape culture for so long that I didn't even trust myself to define what had happened to me. Nonetheless, I had been sexually assaulted, and it wasn't the first time.
It's wrong to make someone feel this way. We need to hold men like that, and men like Rob, accountable. C.K.'s manager, Dave Becky, tried to bury The New York Times exposé about his client before it went public. Men like this are responsible for perpetuating pervasive, systemic rape culture. They are complicit in the normalization or covering up of these encounters because they let their "buddies" get away with acts of malice. As Sarah Silverman outlined in a gripping monologue about C.K, her friend, it's difficult for people to reconcile the men they know as friends or family members with these type of accusations. Because when you think of the word "rape," you can't imagine a person you love committing such a revolting act, an act that is punishable by law. Yet, this happens all the time and, guaranteed, a man you know has committed one of these "in-betweens." And why wouldn't they? Until now, they've had the green light.
Most women—and many men—have had sexual encounters that feel off, weird, or just plain bad, so we justify it to ourselves: "He was handsy," or, "Boys will be boys." On multiple occasions, an ex-boyfriend of mine put himself inside me while I begged or demanded "no." My therapist had to tell me to my face that I was raped, and to this day, I still don't believe her. She looked me in the eye and said, "That's coercion. That's rape." But when I confronted my boyfriend at the time and said I often felt like he pressured me into sex, he responded with this chilling sentence that's haunted me for years: "No, I'm convincing you." 
This is rape culture. Groping women as a "joke" is rape culture. Thinking you'll get laid if you push hard enough is rape culture. There is a fine line between seducing someone and coercing a person into doing something they don't want to do. Thanks to the many brave women who have been outing their harassers, rapists, and abusers, hopefully, that shit won't fly anymore. 
We're experiencing this strange, dark paradigm shift where women are being asked to categorize and rank non-consensual encounters. The photo of Franken groping a woman's breasts is incomparable to the accusations against Moore, Kevin Spacey, or Weinstein, but that doesn't make it okay, and that doesn't mean we shouldn't have a dialogue about it. C.K. masturbated in front of women without their explicit consent. Is that rape? No. Does that mean it's not as big of a deal as other #MeToo callouts? I'm not sure. Maybe it's not. Here's what I do know: The category of "everything but rape" is currently an undefined, lawless free-for-all that, for some reason, needs to start being outlined plainly. Being in the room isn't explicit permission to have free rein over someone's body.
I don't want anyone to respond to me and say, "I'm sorry this happened to you." I don't even want to name my abusers right now. I only want men to read this and understand that, like Franken, they've probably made someone feel bad, too. The #MeToo movement emboldened women to out sexual harassers in the workplace. Now it's time to branch out and open further conversations. If we can name it, we can solve it, and then we can begin to heal.