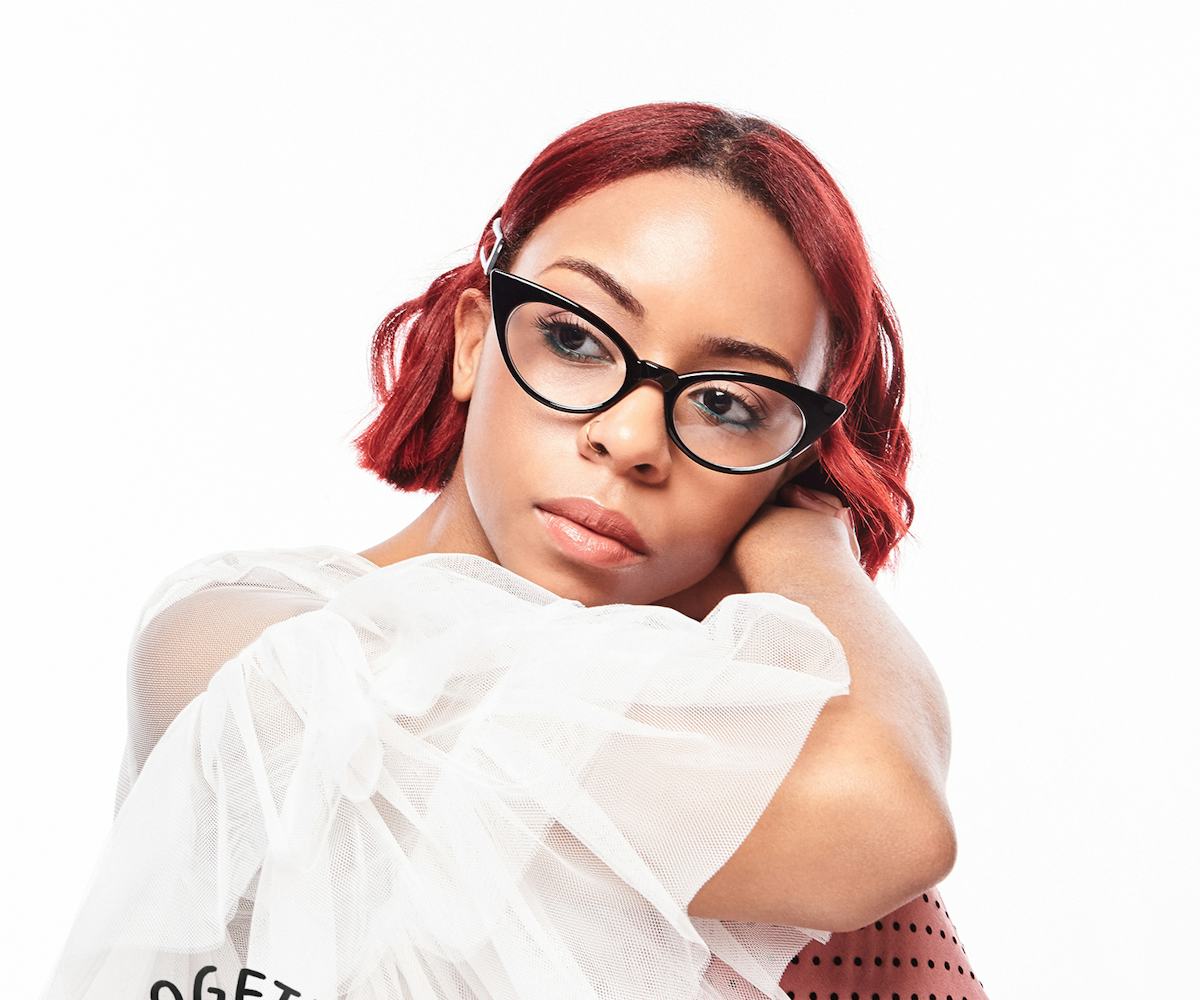 Photo by Jimmy Fontaine
Ravyn Lenae Doesn't Want To Be A Star
Because she's reaching for the moon
In celebration of Black History Month, NYLON is running a spotlight series called UNAPOLOGETIC. Every day, we'll celebrate different aspects of black culture through profiles, interviews, roundtables, reviews, videos, and op-eds. #Blacklivesmatter and we hold that truth to be self-evident.
Even before you notice her head of bright red hair, the first thing that will strike you about Ravyn Lenae is her vibrant energy. The 18-year-old, who is from the South Side of Chicago and has a vocal range that will blow you away, seemingly infuses the air around her with positive vibes. 
The day we met followed Lenae's first-ever performance in New York City on the bill of Pigeons & Planes' No Ceilings showcase. When she graces the stage, Lenae embodies the essence of an entertainer; accompanying her arresting voice is a crowd-captivating blast of pure-hearted charisma, exposing a personality as colorful as the clothes she wears. 
When we get together for our interview, Lenae is wearing an oversized block-colored shirt and red patterned pants with a pink beret, multicolored barrettes, red glasses, and yellow pom-pom earrings. Her outfits are determined by her mood, she tells me, but almost always consist of multiple pops of color.
"I like color, so a lot of times I pick colors that kind of resonate with me that day," she says. "Today, I'm feeling very, very bright. That's why I have all this color on... I feel like our clothes get so boring as we get older. Like, what happened to polka dots and patterns? Why do you have to be boring when you get older?"
Lenae definitely doesn't have to worry about getting old and boring for awhile—she hasn't even graduated from high school, though she's already a full-time artist. Last year, she released her debut EP Moon Shoes. She's already collaborated with other notable creatives like Noname, Mick Jenkins, Saba, Su Na, and Monte Booker. 
Lenae is expected to release her Midnight Moonlight EP sometime soon. In the meantime, get to know more about this teen who is too cool for school in the interview, below.
How early did you develop an interest in music?
From the beginning, I always felt artistically inclined. I always knew I wanted to be an artist of some sort even if I didn't know what an artist was. I clung to the arts. I always watched High School Musical and those type of things. I guess it all started when my grandmother got me a guitar for my 10th birthday, and I started taking lessons from there. As a smaller kid, I was just really flip-floppy. I'd do something one day, and then I'd be like, "Ah, I don't want to do it anymore" the next day. So I quit guitar and I started taking piano lessons. My piano teacher at the time asked me to compose a piece, and before then I had never written or sang or anything. That was a real challenge for me, but I'm glad he made me do that because I didn't know that I was into singing. After doing that piece, I thought, Okay, I think I like singing a little bit more than this. Yeah, the piano's a little lame. Let me do singing. So my grandma enrolled me in vocal lessons, and from there I just fell in love.
Nothing gave me that satisfaction of being on stage and seeing everyone's expression and them crying; it's very heavy. People believe in you. So that kind of gave me that push. Coming out of middle school, I knew that I wanted to make music a career, so my mom and I looked for art schools in Chicago, which there weren't many. It's crazy [because] Chicago is an art city, you know? I decided to go to Chicago High School for the Arts which is in Humboldt Park. I'm a singer now, I've been trained classically, taken acting lessons, music technology; I'm a well-rounded artist, I feel, and I owe it to [school]. So coming out, I feel like I want to take everything [the school] gave me and apply it to who I am as an artist today and go out in the world and basically spill my puzzle pieces. 
Can you tell me more about the Midnight Moonlight EP?
Before I even named it I was listening to the songs, and every time I listened to them, it would always be at night. I would just picture myself sitting on a hill and staring at the moon. So that's where I got the idea for Midnight Moonlight 'cause it would always be around midnight, and I just feel very connected to the moon. My first project was called Moon Shoes. Maybe I'll get off the moon after this one... maybe. I think it's tired of me. So yeah, with this one, I wanted it to be smoother. When you're listening to music late like that, you're not really listening to turn-up music. For me at least, I like to relax and listen to subtle music or dreamy music. So I think this project differs from my first project in that way. The first one was a little more upbeat and fun, whereas this one is more relaxed and poised.
How did you decide on this hair color?
Okay, I'm gonna be honest. I have a scarf that I wear, and back then it used to be red. I would be in the mirror, getting ready for bed, and I'd be like, "Wait. This color's kind of cute." So I kind of pictured the scarf as my hair and my beautician—we're really close—and I was talking about it for a little while. I had a rinse when I was in seventh grade, and for eight-grade graduation, I got get red highlights, and then freshman year, I just dyed my whole head, so it's been red ever since. My grandma told me that she felt that the red hair fits me more than my actual hair color because it's brighter and more lively. My natural hair color is, like, a dusty brown; it's kind of boring. Maybe I'll change it [one day], but I think everybody would be upset. You can never go wrong with a wig, though, so I might do a wig at some point.
Can you tell me about your tattoos?
My first tattoo is a French proverb, and it says, "Dream your life, live your dreams." This was around the time where I decided I didn't want to go to college and I just felt like I needed that push, so I got it tatted on me. That's a really scary decision, and a lot of people are college-oriented at my school, so it's really challenging when everyone else is going to college and applying and they're like, "What are you doing?" You can't really say, "Oh, I'm doing this and this and that," where really, I'm just taking it day by day. The artist life is very spontaneous, and I can't say where I'm gonna be next month or in the month after. A lot of people like structure, so there's definitely a risk with being an artist that a lot of people aren't really willing to take. For a long time, I was questioning myself and doubting that, but I feel like the stars are aligning for me and I need to jump on them. I got [my other tattoo in] September, I think, and it's just a cherry blossom with a raven on it. I think that cherry blossoms are very delicate and soft and elegant while a raven is very daring and bold and wise. I think that it's a great contrast [representative of] me as a person. And, I have another tattoo that's just the Aquarius symbol. 
I'm actually getting another one. Have you ever heard of a saying, "As above, so below, as within, so without"? It kind of stemmed from that. I want to have two feminine hands and then little puppet strings holding stars and moons and suns, basically saying that I'm in control of my universe and how I go about life. Let's say you wake up and you think to yourself, Today is gonna be a good day. It'll be a good day simply because you put that in the atmosphere. You're in control of how you respond to certain situations. So that's what that one means. 
How did you become so sure of yourself?
I think a major part of it is the people you surround yourself with. A lot of peoples' parents aren't very supportive; my mom is super supportive. She's here right now, and that plays a major role. People seek the approval of their parents and [other] people in their life who hold value, so when they don't get that, it just kind of diminishes the entire situation. I think that played a huge role in me being confident in my skin.