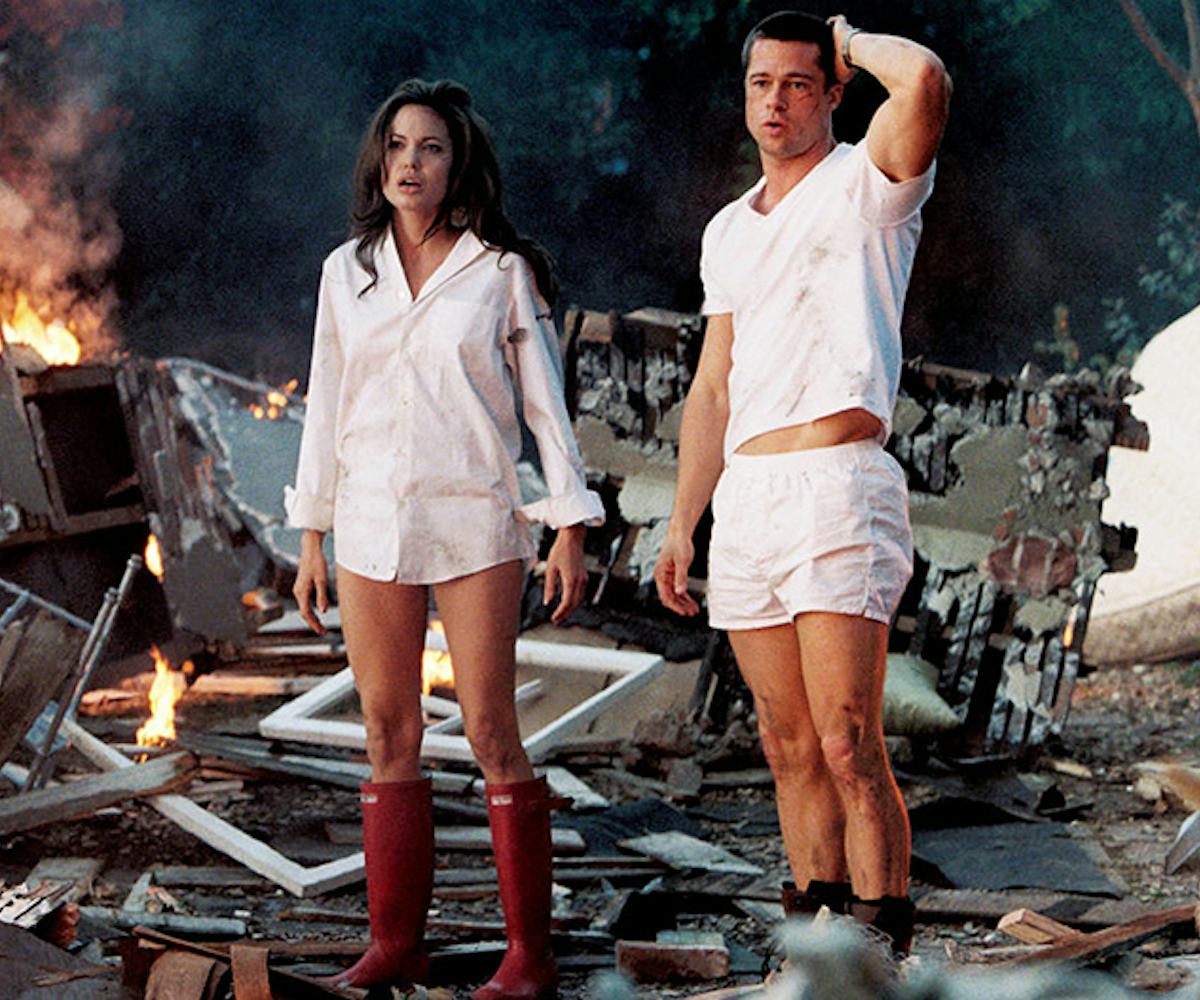 Photo: Courtesy of 20th Century Fox.
The Hottest Real-Life On-Screen Couples
We're taught that we should never mix business with pleasure, but according to Selena Gomez, the heart wants what it wants. So, we take a chance and dip the proverbial pen in the company ink. It happens to the regular Jacks and Jills of the world, and those in Hollywood, too. For better or worse, on-screen couples that happen off-screen make the fantasy of their movies seem a little bit more real. That makes us feel good. (Though, this can be troubling at times. Just ask Twilight director Catherine Hardwicke.) Sometimes, the movies bring the couple together forever, and sometimes only for a little while. Thankfully, we'll always have the celluloid to escape to when the flames fizzle.
Ahead, some of our favorite on-screen couples that made the real world a fantasy.
Couple: Channing Tatum + Jenna Dewan
Movie: Step Up
Nickname: None
After dancing together and doing that Hollywood stuff, Tatum and Dewan got married in 2009. Together, they have a daughter named Everly.
Couple: Will Smith + Jada Pinkett Smith
Movie: Ali
Nickname: None, but you could call them the real Mr. & Mrs. Smith
Before filming Ali, Will and Jada met on the set of The Fresh Prince of Bel-Air in 1994. She auditioned for the role of Will's character's girlfriend. Jada didn't get the part, but she did get Will.
Couple: Sarah Michelle Gellar + Freddie Prinze Jr.
Movie: I Know What You Did Last Summer and Scooby-Doo
Nickname: None
Gellar and Prinze Jr. dominated the high-school film scene, and in 2002, three years after they met on the set of I Know What You Did Last Summer, they got married. "We are each other's best friend," Gellar told People. "He is my first love." They've been together ever since. Aww.
Couple: Blake Lively + Ryan Reynolds
Movie: The Green Lantern
Nickname: None
When these two were filming The Green Lantern, Reynolds was married to Scarlett Johansson. Sparks apparently flew on-set, and he left Johansson after filming wrapped. He married Lively in 2012. Together, they have a daughter named James.
Couple: Miley Cyrus + Liam Hemsworth
Movie: The Last Song
Nickname: Miam
Ah, young love; how fickle are thee. Cyrus and Hemsworth met in 2009, started dating, broke up a year later, got engaged, and then broke up in 2013. "Wrecking Ball" is probably about him, and possibly a slew of songs off Cyrus' new album, Miley Cyrus & Her Dead Petz. He's got nothing but good things to say about her, though. He told Men's Fitness: "We were together five years, so I don't think those feelings will ever change. And that's good because that proves to me that it was real. It wasn't just a fling. It really was an important part of my life and always will be." What a roller coaster.
Couple: Brad Pitt + Angelina Jolie
Movies: Mr. & Mrs. Smith and By The Sea
Nickname: Brangelina
If you were alive from 2004-2006, chances are, you know Brad and Angelina's backstory. Long story short, the two fell in love on set, despite the fact that Brad was married to Jennifer Aniston at the time. Everyone was either "Team Jennifer" or "Team Angelina." Sigh. But the general public seems to have gotten over their hang-up on their relationship, and Jolie-Pitt have been changing the world for the better since, both artistically and charitably.
Couple: Freida Pinto + Dev Patel
Movie: Slumdog Millionaire
Nickname: They were too sincere for one
When two relatively new actors (Patel was in the cult-classic Skins) star in their first movie, and that movie just so happens to be one of the most seminal films of the 2000s, well, things can be a bit intense. Their characters fell in love on screen, and they embarked on a sweet, six-year-long relationship. Since ending their relationship in 2014, the two have remained extremely supportive of each other. "We are extremely close," Patel said in an interview with Guardian. "She's just a really generous, patient human being who has been one of the most impactful people on my life. A lot of my motivation has come from her, from being with her, and knowing her." Pinto has also said in an interview with USA Today, "Dev and I are best friends. That's never going to change."
Couple: Emma Stone + Andrew Garfield
Movie: The Amazing Spider-Man 1 & 2
Nickname: Stonefield
The couple that has superpowers and mocks the paparazzi together doesn't always stay together. These two met on the set of the reboot of the Spider-Man franchise and were everyone's favorite couple for, like, ever. They were on-off for a while, but have recently confirmed they're no longer together. A source close to the couple said, "They remain close and are on good terms."
Couple: Dax Shepard + Kristen Bell
Movie: When in Rome and Hit and Run
Nickname: Nothing we know of, but if there is one, it's probably good
Shepard and Bell met at a Detroit Red Wings hockey game and, according to him, have been "pretty inseparable." They went on to star in a few movies (and commercials) together, and most recently, had a baby together. They married in 2013. Speaking to Good Housekeeping, Shepard said, "There were hurdles, things she didn't trust about me, things I didn't trust about her. I just kept going back to 'This person has the thing I want, and I have to figure out how we can exist peacefully.'" Write a book, you two.
Couple: Penelope Cruz + Javier Bardem
Movie: Jamon and Vicky Christina Barcelona
Nickname: None!
These two met in 1992 on the set of Jamon. Woody Allen reunited them on the silver screen in 2008. Despite never confirming their engagement, they wed in 2010, and have two children together. The couple is pretty low-key and put family first. Cruz told The Mirror, "You need to have time for your own life and as a mother that changes even more. Family is the most important thing for me, and if you have children you want to raise them yourself."
Couple: Chris Pratt + Anna Faris
Movie: Take Me Home Tonight and Movie 43
Nickname: None yet
Though Faris' character ultimately leaves Pratt's in their first movie together to pursue her dreams, they both get to do it together IRL. After meeting in 2007, they got engaged in 2009, and married that same year. Together, they have a son. During a reddit AMA promoting Jurassic World, Pratt said, "Anna and I are meant to be together. Our relationship has made me believe in divine intervention and destiny, just as much as my crazy career and the way I fell into this life." Sigh. All of the sighs.
Couple: Johnny Depp + Winona Ryder
Movies: Edward Scissorhands
Nickname: This was pre-nickname
If ever there was a couple that encapsulated the '90s, Depp and Ryder were it. Both indie darlings and badasses in their own rights, these two started dating in 1989 after meeting at the Great Balls Of Fire! premiere and became engaged less than a year later. Their engagement went on for three more years, during which time they made Edward Scissorhands together, and Johnny got "Winona Forever" tattooed on his arm. After they broke up, Johnny dated Kate Moss and changed the tattoo to say "Wino Forever."
Couple: Zac Efron + Vanessa Hudgens
Movie: High School Musical 1, 2, and 3
Nickname: Zanessa
They were all in this together…until they weren't. Though their relationship on-screen seemed perfect, things off-screen weren't. Hudgens recently opened up about the jealousy that got in the way of their romance and ultimately led to their breakup in 2010. "I went through a phase when I was really mean because I was so fed up," she told the Times. "Girls were running after him, and I was giving them death stares. Then I realized that's not what that's about."
Couple: Reese Witherspoon + Ryan Phillippe
Movie: Cruel Intentions
Nickname: None, but you could call them a Bittersweet Symphony 
Reese and Ryan actually met before the silver screen, at the actress' 21st birthday party. They later starred in Cruel Intentions together, which was easily one of the hottest, most twisted movies of the late '90s. Yet somewhere in the cocaine and incestuous fog, Reese and Ryan fostered a longtime love. They navigated the public eye as one of Hollywood's most beloved couples, and married, had children, and divorced in the public eye. Looking back on their relationship, Reese told UK ELLE, "I was so, so young. I was, like, ridiculously young. I learned a lot, though. It was an excellent opportunity for me to really find out what it means to be a partner and to be in a marriage, and it's not anything that I thought it was."
Couple: Lauren Bacall + Humphrey Bogart
Movie: Key Largo, The Big Sleep, Dark Passage, and To Have and Have Not
Nickname: There was no such thing!
Some have said Bogie and Bacall's relationship was the best love story, ever. They met when she was 19 and went out after he asked for her number on a matchbox. (Talk about tinder for the heart.) They made four movies together and had two kids. Bacall has said they were "blissfully happy." Film historian Leonard Maltin described their marriage as "one of these instances where it's quite possible that we are eyewitnesses to an actor or actress falling in love, and while good actors make us believe that all the time, there has to be some extra kick when it's real."
Couple: Tom Cruise + Penelope Cruz
Movie: Vanilla Sky
Nickname: Cruise Control
Tom Cruise and Penelope Cruz dated for three years before she ended it. He was apparently ready to propose, but she felt the Church of Scientology played too much of a role in their relationship. Cruise and Cruz began dating after Tom's divorce from Nicole Kidman. They met on the set of Vanilla Sky, though Cruise was still married to Kidman during filming. A source close to the couple said she "admired Tom's dedication to [the Church], but it wasn't her cup of tea and wasn't something she wanted to give her life up for."
Couple: Katharine Hepburn + Spencer Tracy
Movie: Guess Who's Coming to Dinner, Keeper of the Flame, Desk Set, Woman of the Year, Pat and Mike, The Sea of Grass, Without Love, State of the Union, and Adam's Rib
Nickname: None. Zero. Zilch.
Hepburn's romantic history is a complicated one, to say the least. She and Spencer Tracy's affair lasted 25 years, though he was married to Louise Tracy the entire time. It wasn't until after his wife's death that Hepburn publicly acknowledged their romance. (They lived apart most of the time.) They met at MGM and went on to make nine movies together. Of their relationship, Hepburn has said, "I was perfectly independent, never had any intention of getting married. I wanted to paddle my own canoe." Though she did say she found him "irresistible."
Couple: Angelina Jolie + Jenny Shimizu
Movie: Foxfire
Nickname: Not applicable
Jolie and Shimizu first met in 1996 on the set of Foxfire, the story of a high-school gang that goes after a teacher who sexually harasses them. Of the relationship, Jolie has said she "would probably have married Jenny Shimizu if I hadn't married my husband." (This was in 1997, and Jolie was married to Johnny Lee Miller.) "I fell in love with her the first second I saw her." A few years later, Jolie told Barbara Walters that she was "surprised" by the sexual feelings she started having after meeting Shimizu. According to Shimizu, she showed Jolie how to make love to a woman.
Couple: Ryan Gosling + Rachel McAdams
Movie: The Notebook
Nickname: None, but they will forever be Noah and Allie
For a couple as passionate as they were in their movie together, Ryan Gosling and Rachel McAdams sure did have a rough start. Apparently, he wanted her kicked off the set of The Notebook. The film's director said Gosling told him he wasn't "getting anything from [her]." Well, he must have gotten something because their on-screen love convinced millions of they were in love IRL. And they were. Gosling told GQ the movie "introduced [him] to one of the great loves of [his] life." He went on to say, though, that by the public assuming they "were anything like the people in that movie," they were doing both actors a disservice. Rumors of a possible engagement were even flying around. The two ended up breaking things off amicably.