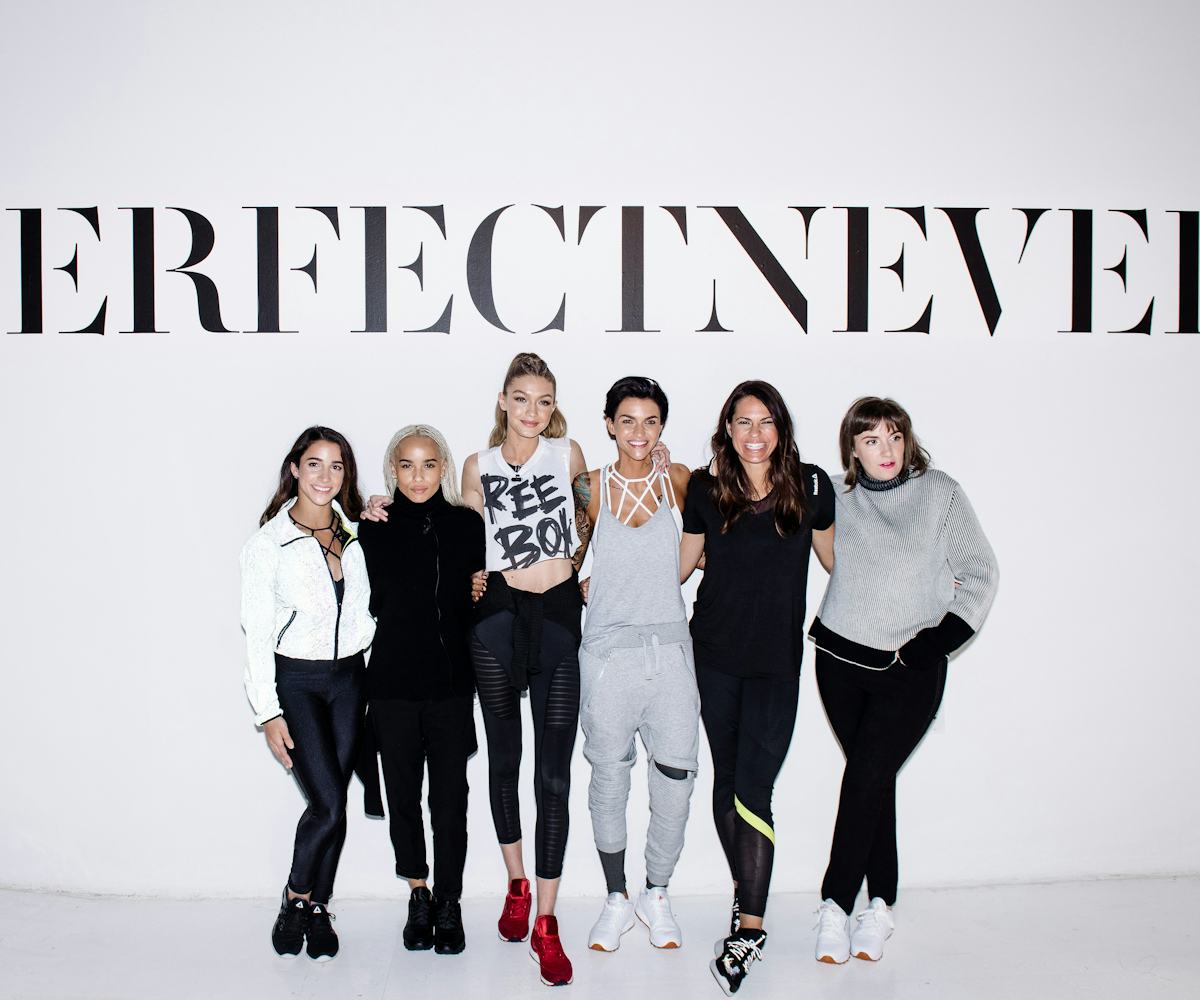 Photograph by Nina Westervelt.
Gigi Hadid, Ruby Rose, Lena Dunham, And More Explain Why Perfection Is A Lie
There is no such thing as perfection. Just ask some of the most empowering, trailblazing, and seemingly "perfect" names of today.
Last week we had the opportunity to do just that when Reebok hosted an event aimed at crushing the unrealistic expectations surrounding the unattainable notion of perfection. Empowering attendees to be "more human" and better versions of themselves, not just physically but also mentally, the five-hour #PerfectNever Revolution was led by Reebok's newest campaign spokesperson, supermodel Gigi Hadid. Kicking off with a group self-defense class hosted by Hadid and her trainer and founder of Gotham City Gym, Rob Piela, the event was followed by a panel discussion between Hadid, Girls creator and co-founder of Lenny Letter Lena Dunham, Olympic gymnast Aly Raisman, actor Ruby Rose, and musician Zoë Kravitz. During the panel—moderated by baseball commentator Jessica Mendoza, a pioneer in her own right as the first female ESPN MLB game analyst—the power group flipped the conventional definition of perfection on its head and celebrated their own imperfections and the challenges that contributed to making them the strong women they are today.
Rose touched on the impact high school bullying had on her. "I wouldn't take back my childhood for anything because it taught me so much. All the time that I got to spend working on myself, the girls and boys that were spending their time bullying me and giving me all their attention weren't working on themselves," she said. "All the things that everybody teased me about are what have gotten me so far in my career today." Raisman chimed in, revealing that in middle and high school, she was teased about how strong her arms were, with insults ranging from "gross" to "disgusting," something that she was self-conscious of until this summer. "It wasn't until this past August, during these Olympics, that I started loving the way my arms were and how strong they were," she said. "It took me being able to compete two times at the Olympics and being one of the best gymnasts in the world to take a step back and really think about how I have to be confident and how this body has made me into the gymnast that I am."
While Hadid, once again, revealed that she finds her "tranquil place" and drowns out negativity through boxing, it turns out, she isn't the only one who finds her confidence and determination in the sport. Rose said that after high school, her "whole life changed," and she turned to boxing as a way to find strength and something "worth striving for." "It gave me discipline and really focused me on being strong," said Rose, who also credited therapy for getting her to a happy place that she's in now—a comment that prompted Raisman to reveal that she tried out therapy for the first time the day prior to the event. Hadid jumped in, saying, "I think a lot of people are scared to get help. And it's so inspiring to hear when people say, 'This has really helped me.'" 
Kravitz also pointed to mental inner peace as the pillar of one's strength. "My mom's taught me that women are so strong, but the most important part of strength is being gentle. It's so important to be gentle with yourself and with other people," she continued. "You can go down a rabbit hole of being mad at being mad. And what the world right now needs so badly is to be gentle with our self and be gentle with other people, and that's where I think a woman's strength lies." Dunham similarly looks to meditation as her coping mechanism: "My mom got me into transcendental meditation when I was nine because I was such an anxious child. That's where I'm whole." Dunham, who's been vocal about her struggles with anxiety in the past, said, "That's a place for me where things are just boundless, and there's no judgment from myself of myself."
The panelists also touched on the double standards they see when it comes to how the public treats women. "We [as women] always have to be happy. If you watch the Super Bowl and the quarterback doesn't win, they're allowed to be in a bad mood," said Raisman, perhaps alluding to the scrutiny that fellow gymnast Gabby Douglas underwent. "I think it's really unfair to us, as women, that we're not allowed to show emotion, but men are allowed to be in a bad mood." Dunham seconded that sentiment, pointing to the stigma surrounding mental health and women as evidence of the double standard: "We see it all the time in Hollywood with men going to rehab and people are like, 'Great, I hope he does well.' When women go to rehab, it's like the beginning of a downward spiral." Dunham emphasized the importance for the "24-hour woman" to take care of herself and seek help when the challenges and pressures of the everyday life feel too great.
All the women agreed that, despite what it might look like from the outside, they are affected by the internet trolls. "I don't look at my Twitter anymore," said Dunham. "I don't need to go on there and see a million dudes telling me to go kill myself." While Dunham keeps her "environment safe" and escapes the negativity by ignoring the hateful comments, Rose advised to not take the comments close to heart to begin with. "Don't take advice from an egg. It's always an egg that is saying things to you," she said. Kravitz agreed: "It's hard, and it's really difficult, but we have to have compassion for those people who are saying negative things because those people aren't happy."
Nearing the end of the panel, Raisman reinforced the idea of perfection as being problematic when it comes to how people view public figures. "I think that everyone thinks that anyone who is in some sort of the limelight, that they're perfect all the time, they don't have feelings, they don't have emotions, and they don't care if they see a comment that's negative. I don't know why or how it got to that point, but I think it's so unrealistic," she said. "Before you go out to compete, you feel like you're gonna throw up, you feel like you're gonna start crying because you're just so scared, you're so nervous. You have a minute and a half on a four-inch wide beam, and if you make a mistake, then you're done."
Kravitz emphasized that in times like this, you cannot let self-doubt get in the way. "I'm not constantly feeling confident, but I had to find a way to clear that energy away from me for the most part, or as often as I can, because, genuinely, it gets in the way of me being creative," she said."I kind of always have to, over and over again, remind myself I am worthwhile. I am supposed to be here, and I do have something to offer. I do have something to say."
At the end of the panel, Raisman summarized Reebok's ethos—be more human with all the flaws and imperfections—best: "I think it's time that women stop being so hard on themselves and I think that parents, with the next generation, they need to teach their kids to be more accepting, be more loving." Watch the video from the event, below, and click through the slideshow to read about some of the other things Hadid revealed during the event.
On being the face of #PerfectNever: It might kind of seem strange that a model, who's supposed to be perfect, is the face of a Perfect Never campaign, but that was the point to me. Everyone calls me perfect, and I'm just not. I am like everybody else.
On dealing with internet trolls who comment on looks: I think the turn off comments thing is a really good addition to Instagram. Besides that, develop confidence in yourself that doesn't come from how you look. At the end of the day, how someone looks is an opinion. You have to find the other things that you already know about yourself and be confident that that is what you know and that is a fact. When I am at the gym, it feels so much better to hear, "Wow, that was such a good punch," rather than "Wow, she looks so good doing that." You find the little things not based on opinion; that is a good punch because that is a good punch. And you are a good person because you're a good person.
On being comfortable in her body: I am growing up, and my metabolism is changing, and I am becoming older, and I have a thyroid problem, and I am finally learning how to deal with that with hormone medication, and that changes your body. Maybe I am skinnier now, but I am working on my butt; I am eating burgers, and I am doing squats. I am happy with my body, and I am happy with myself, and I am happy with what I am putting out there. Don't waste your time on negativity because I am going to keep working and I am going to keep doing my thing.
On the importance of being nice: I make a conscious effort every day to be someone that people like to work with and that people like to be around, and that has helped me more than I can ever express. I also can't say enough how much more it means to me for people to come up to me at the end of a shoot and say, "We had a great day with you more than we love the pictures." The pictures are what I'm there to do obviously, and I put everything I can into every single picture that I take, but I think it's so important to be kind and to give energy to the people that you work with.
On the fashion industry: I think the world isn't giving the fashion industry the chance. The fashion industry is so much more accepting and revolutionary than people give it the credit to actually be. Because within it, we are very accepting, we are very accepting of different genders, of different cultures, of different things, and so I would say, pay attention to the good people in fashion. I wish people would stop judging fashion in terms of good and bad people and realize that everything we do is in celebration of what we love and what's inspiring us.
On her role model: My mom [Yolanda Hadid] takes on everything for me when I'm not strong enough to.
On whom she leans on when negativity starts to get to her: I have certain friends, like Lena [Dunham], that I call. They're the people I go to for advice. If they say you did a good job that day, you did a good job because they know that you worked hard for it. And you have to be able to take criticism. Take criticism from the people that actually know you.
On her athletic past: I was a really competitive horseback rider, and I started playing volleyball in third grade. My varsity team went to the junior Olympics for two years, and so that was a huge part of my life. When I have to wake up early for work every single day, it goes back to the discipline of my tournaments when we had to wake up at three in the morning or take ice baths after practice and all that stuff that I still have to do now, because, at the end of the day, when I go on the Victoria Secret runway, my muscles have to look the same as they did after the ice bath at junior Olympics.
On getting nervous before interviews: I always get made fun of on social media because my voice shakes, but if you ever hear my voice shaking, it's because of my anxiety. It's something that you have to breathe through and get it out.
On combatting anxiety before a shoot or an event: Screaming into pillows is good. Also, you are there for a reason. You are there because you deserve to be in that room at that time. In that time, the doubt has to go. You need to somehow force it into your brain: "I'm badass. I deserve to be here."
On taking a social media break: I'm taking a month off social media in the new year. I'm not deleting my accounts; I'm just taking them off my phone. It's very healthy.
On what she eats: I was always taught to pay a lot of attention to my body and the foods that make me feel good. I feel like if it's well-rounded meal, and comes from good ingredients, that is what makes me feel good and that is what I go for. I like to make tomato soup from scratch with organic ingredients and orzo, and I love grilled cheese dippers on the side. I also love spaghetti bolognese.
On staying in: When I am home, it's very therapeutic for me to cook; it takes up my time, and it's really fun, and I like asking my boyfriend [Zayn Malik] to just name a random thing that he feels like. I don't know if I will be able to make it, but it's just like a fun thing to do and try and challenge yourself, and it's also just so much more fun to stay in. I am super into staying in right now.
On winning Model of the Year award: That was voted on by 1000 people I worked with this year. I think maybe they said, "I had a great day working with Gigi, she tried to understand the concept and gave all her energy," and I hope that's 50 percent why I got the award and not just about the pictures or what I looked like this year. I hope a lot of that is about who I am.