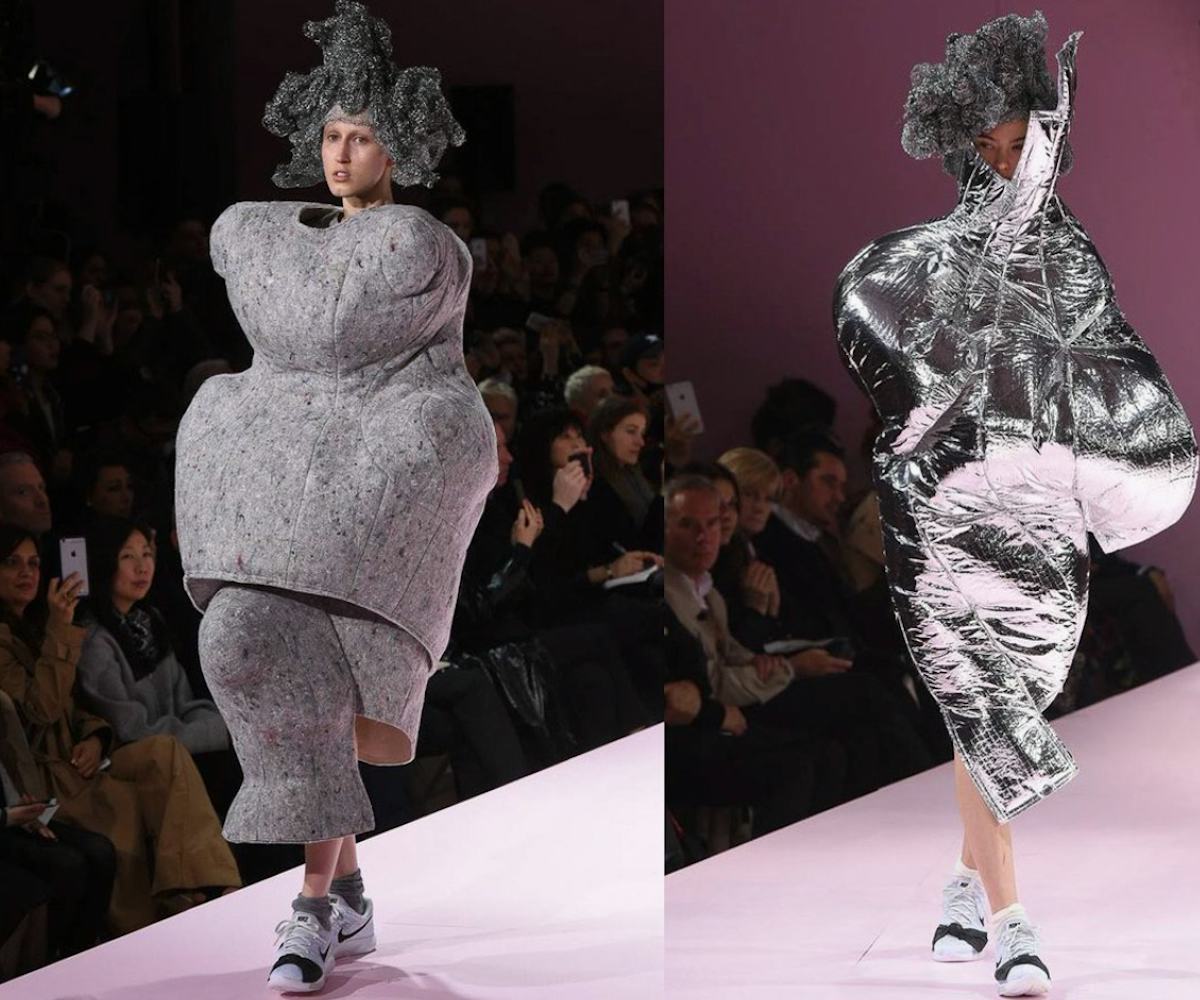 Photo via @okjanelle/Twitter
Rei Kawakubo's Newest Collection Confused And Amazed Just About Everyone
Serving ball of lint realness
Have you ever wanted to look like a cloud escaping a trash bag? Or a nugget of marijuana with a hat made of steel wool? Or maybe a ball of lint and dust from under the couch? You're in luck! Rei Kawakubo, the head designer of legendary fashion house Comme des Garçons, has created an astounding and confusing collection of avant-garde looks that have the fashion industry and general populous both amazed and bewildered.
Here's photos and footage of the designs walking (ambling? galumphing?) down the runway at Paris Fashion Week:
Kawakubo is known for her rule-breaking looks and designs, but this latest oeuvre seems to be from a whole other planet. Hints of Jeff Koons, Leigh Bowery, Nick Cave, and Gareth Pugh abound, mixed in with Kawakubo's deconstructionist genius in strange, otherworldy fabric cocoons. Is it wearable for a normal human from Earth? No, probably not. Is it art? Hell yes.
Many experts haven't quite penned fully-formed thoughts on the stunning display, but WWD is already gushing. "There were gray swirled blobs that looked like they were crafted from the matted insulation used to line attics; an hourglass form with narrow shoulders and curved, jutting hips in curlicue embroidery; a structured tent of a bulbous, crinkled and bunched dress that looked like a paper bag; silver Mylar blobs, and a red velvet 'jumpsuit' that was molded to the body like aregal cast. The paper bag aside, the looks came out as pairs, or groups of three... In the future, silhouettes communicate," wrote Jessica Iredale, noting the ways the models subtly acknowledged the audience's—and each other's—presence.
Kawakubo will be honored with a 2017 Metropolitan Museum of Art Retrospective later this year.