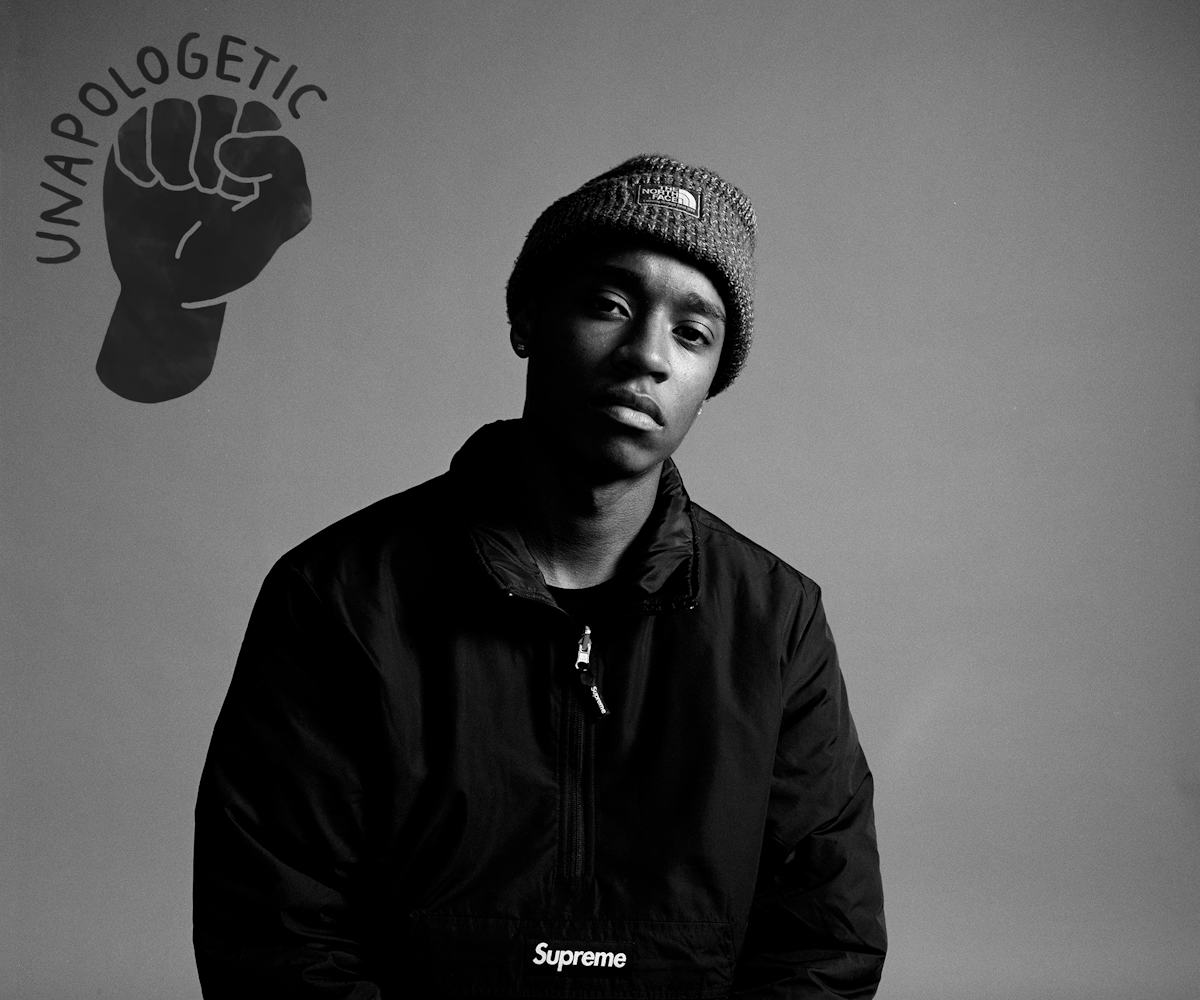 Photo by Will Robson-Scott
Rejjie Snow Is A Man Made For The Stage
"I'll just let the music speak for itself"
In celebration of Black History Month, NYLON is running a spotlight series called UNAPOLOGETIC. Every day, we'll celebrate different aspects of black culture through profiles, interviews, roundtables, reviews, videos, and op-eds. #Blacklivesmatter and we hold that truth to be self-evident.
When you think about the origins of rap and hip-hop, cities like Atlanta, New York City, Los Angeles, Chicago, Detroit, and London tend to come to mind; the last place that probably pops up is Dublin, Ireland. But it's the city that raised Rejjie Snow and turned him into a prophetic rapper.
Before the 23-year-old claimed his stage name, he was known as Alex Anyaegbunam. He started participating in theater productions at a young age, an early indication that he was destined to be a part of the performing arts. In 2011, he left the comfort of Dublin to play varsity soccer in the U.S. at Montverde Academy before being offered an athletic scholarship at Savannah College of Art and Design. He balanced studying film and design with playing soccer to keep up his athletic scholarship. 
It didn't take Anyaegbunam long to drop out, but it wasn't that simple—he had a plan that he was determined to fully execute; soon after, he moved to London to kick-start his rap career. In 2013, Anyaegbunam released the Rejovich EP under the moniker Rejjie Snow. The project featured other U.K. artists on the rise like Loyle Carner and Jesse James Solomon. 
As a rapper, Anyaegbunam shares narratives from his own personal experiences; "Blakkst Skin" tackles a complicated interracial relationship with a white woman, "D.R.U.G.S." reflects on a relationship that revolved around the use of various drugs, "Pink Beetle" touches on different aspects of religion, and "Crooked Cops (feat. Tish Hyman)" is about police brutality against the black community and the problem with #AllLivesMatter.
Since he initially broke out on the scene, Anyaegbunam has worked with other notable entertainers like Lily-Rose Depp, who co-starred in his music video for "All Around The World." Music isn't the only industry that he's breaking into, though. Last year, the rapper was featured in Luxottica's Class Of 2016 campaign alongside pop culture icons like Hari Nef and Iris Apfel. His interest in fashion continues to grow, and he's got some big ideas about how to go about navigating that world next.
This year, Rejjie Snow is expected to drop his long-awaited debut album, Dear Annie. We hopped on the line with the rapper to learn more about how his humble beginnings molded him into the creative individual that stands before us today. Get all the facts straight from Anyaegbunam in the interview, below.
What was growing up in Ireland like?
I had a really really good childhood. I felt so free, there was kind of like endless things to do. Even though it's kind of like a dangerous place, I always felt safe and like I could do anything. Growing up, I always wanted to get out of there and escape and go somewhere new, so from a young age, I always had my eyes on getting to America, to London, or something. Just 'cause I felt people there kind of get me a bit more and stuff. Especially like my friends never really had like similar interests growing up. I was definitely the black sheep growing up; I was always different, but at the same time, I was always super popular. I'm not sure if it was because I was different, but I was always mad popular in school, so that was something inside I kind of hated 'cause I was so insecure. I excelled at sports and shit, [but] I was like the kid that's different, [so] he's cool... But it kind of gave me tougher skin in the long run.
Can you recall your earliest exposure to music?
My mom put me in stage school, so that was the first time I had to learn something in terms of [the performing arts]. I use to do a lot of dancing and stuff and learn a piece of dance and then take it to a stage. That was something I did for a couple years. I just remember always hearing dope music, but I never asked my parents what it was. Even years later, I'd hear the same song, and it would just mean so much, and I'd be like, "Oh this is so sick!" And then I'd become a fan of that person, so it's kind of funny in that sense. Definitely people like Queen, I always loved Queen and the energy. From there, I fell in love with [hip-hop], the expressions and the lifestyle. Obviously, all those guys were black, so I kind of was like, "Yeah, they're the same as me." [Laughs]
How old were you when you first started rapping your own stuff?
Super young. I remember I just spent hours on the internet, just like on MySpace and YouTube, just watching videos of these people—it must have been [when I was a teenager—and mimicking everything I saw, and I was like, "Damn, I could do this." From there, I just kind of started this master plan. I always knew at a young age I was going to maybe not be a rapper, but do something performance. [When I was] 13 or 14, I used to just study people and how they looked, and it was like an obsession for a while. For a while, I wasn't really into music. I was doing other stuff, playing all the sports. But honestly 'cause I love it, it was always something I couldn't escape, so I just came back into it when I was 17 or 18.
You went to the states for college and then you ended up dropping out to pursue music. What was going on in your mind at that time?
There was some "What's going on?" for sure. I felt pressure from different places, because with my sports, I was excelling, so I had people from the outside trying to suggest things to me. And then, I always knew what my best interest was in my head. Obviously, I wasn't anybody then or nothing substantial was happening, so I just had to choose myself as much as possible and tell the people that care for me, "I've got a plan, and you have to just trust me somehow." 
It just felt like the right time for me to break away from school; it can get to a really detrimental stage where you're just kind of stuck between doing something for someone else and then fake caring about something you don't even really care for. I felt myself having all these interests, but I didn't really love them as much as music, so I just said, "Fuck it, I'll just drop out," and then got going with it. I always trusted myself and [that] it'll work out somehow where I can at least get an opportunity to do this. It wasn't easy, with my parents especially, but luckily they're super supportive, so they trusted me dropping out.
Can you tell share any details about your forthcoming debut album?
It's very musical. When you first listen to it, it sounds like you're just in some world. I really tried to create that kind of imagery, that kind of color with the music. It's sick. It kind of feels like when you're watching Willy Wonka or something—you don't really know what's going on, but you know it's just sick. It's not a lot of personal things. I feel like I'm still finding myself with the whole music thing. I think my next record will be like better in its debut. I'm proud of the work I've done, and I think it's decent music, so I'm just excited to see people listen to it fully, and see what the reaction [is]. I definitely put a lot of my soul and energy into it.
Why is the project titled Dear Annie?
No reason honestly. I always liked the name Annie, and [with] the things I'm talking [about], it just kind of made sense to. With the album, I've got an imaginary friend, so she's called Annie and she just represents struggle, especially with myself. When you're young and going through things, it's just kind of like the out thinker that was there throughout the whole journey. I just like the name too, aesthetically. It was cool. 
Are you doing any other fashion stuff?
Yeah, I'm trying to bring out a clothing thing kind of on my own terms. It's a mix between merch, but more kind of lifestyle. I'm just trying to do that, and I'm not sure what to do, but I'll figure it out 'cause I've got like a really nice vision of everything, so I hope I'm able to do that. I think it would be sick. I'm doing like a Converse campaign, and there is a bunch of other things, but they're not confirmed yet. Hopefully, it happens 'cause I'm definitely trying to master the fashion world.
What else is on the agenda after the album drops?
I'll be touring when I offer the album and trying to get the vision out as much as possible. Short films... Right now, I'm writing a pilot for a TV show [and] getting ideas that I want to do back in Dublin. I'm trying to do everything that I think about and get it out there and not just spit out ideas anymore. I feel like this is the year that I need to show people what I'm able to do. I'm just really down for work and taking this opportunity. I'm really grateful that I get to rap or get paid to speak. It's just mad to me... I'll just let the music speak for itself. People will understand me more.