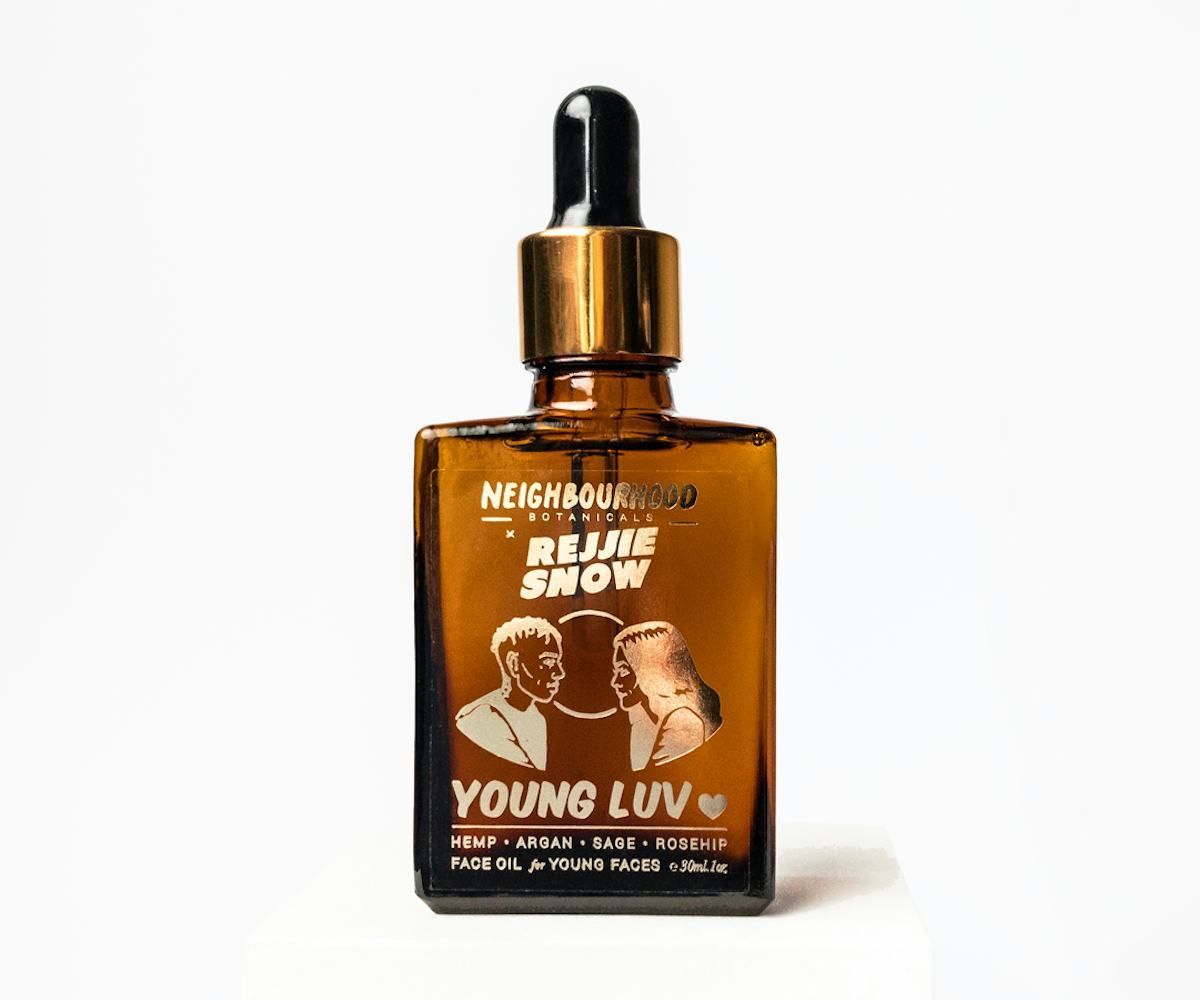 Photo courtesy of Neighbhourhood Botanicals
Rejjie Snow Has Officially Crossed Over Into The Beauty World
Get all the info on his Neighbourhood Botanicals collab
Everything about Rejjie Snow is smooth—including his face—so it makes sense that he would team up with Neighbourhood Botanicals on a limited-edition facial oil. Though he'll claim you're lying for complimenting his complexion, the 23-year-old artist is sort of the perfect face to represent a product of this nature. Marketed as a unisex "face oil for young faces," Young Luv is an all-natural and hypoallergenic moisturizing oil that promises to work its magic on all skin tones and types from oily and combination to eczema and acne-prone skin.
If you weren't already familiar, Neighbourhood Botanicals is a Berlin-based luxury, natural, and vegan skincare brand catered to "fancy ladies and handsome men." The brand aims to be "playful, accessible, and affordable" while also educating its customers about the benefits of natural beauty through a line of "silky oils" that provide "aromatic bliss."
Young Luv's ingredients include argan oil, hemp seed oil, linseed oil, oat lipid E, kukui oil, rose hip oil, cedarwood oil, clary sage oil, juniper oil, lavender oil, vanilla oil, and vitamin E. The combination of all of these antioxidants and plant and flower extracts nourishes and hydrates the skin while also treating issues like inflammation, scars, rosacea, eczema, and acne.
We caught up with Snow fresh off an international flight (and the release of his The Moon & You mixtape) to get all the details about this delectable collaboration. Read on in the interview, below. Young Luv is currently available to purchase at Neighbourhood Botanicals for €30.
How did this collaboration with Neighbourhood Botanicals come about?
The collab came about over dinner. I was with the owner and I was discussing my love for face products and thus the idea arose that we would potentially make one down the line, but we had some free time so we made it happen right away.
How involved were you with the blend process of this oil? Did you select some of the ingredients?
Not too much, I left most of it up to the creator. I know that I love argan oil so I made sure she included that.
Why was it important for your product to tackle acne-prone, eczema, and problematic skin?
It ain't. Everyone has their own skin routines and different skin types. I ate goat meat last year for the first time and my skin broke out like crazy so it's just a product that is harmless and innocent and smells really good and wasn't tested on any animals. We don't fuck with that shit.
Of all the products you could possibly create, why a facial oil?
I made a face oil as I'm heavily invested in them at the moment. I have all types, but I figured why not make my own when my tour manager makes them? She's dope.
Are you planning on releasing more products of this nature down the line?
Definitely. We wanna cover so many sides of the business, wanna make sure everybody is eating. I think I'm gonna fuck with a vanilla scrub next.
Why did you name the oil Young Luv?
'Cause no better feeling than being young and in love.
Can you tell me about the design on the bottle?
The picture was taken from an illustration I had made for a song, but never came out so it found its perfect place.
What are you hoping to accomplish with this release?
There are no goals or accomplishments. For me, it's about turning ideas into realities—independent hustle. You can do anything once you mesh the right things together, but it's about giving people who fuck with me something to have. Kinda like a collectable.