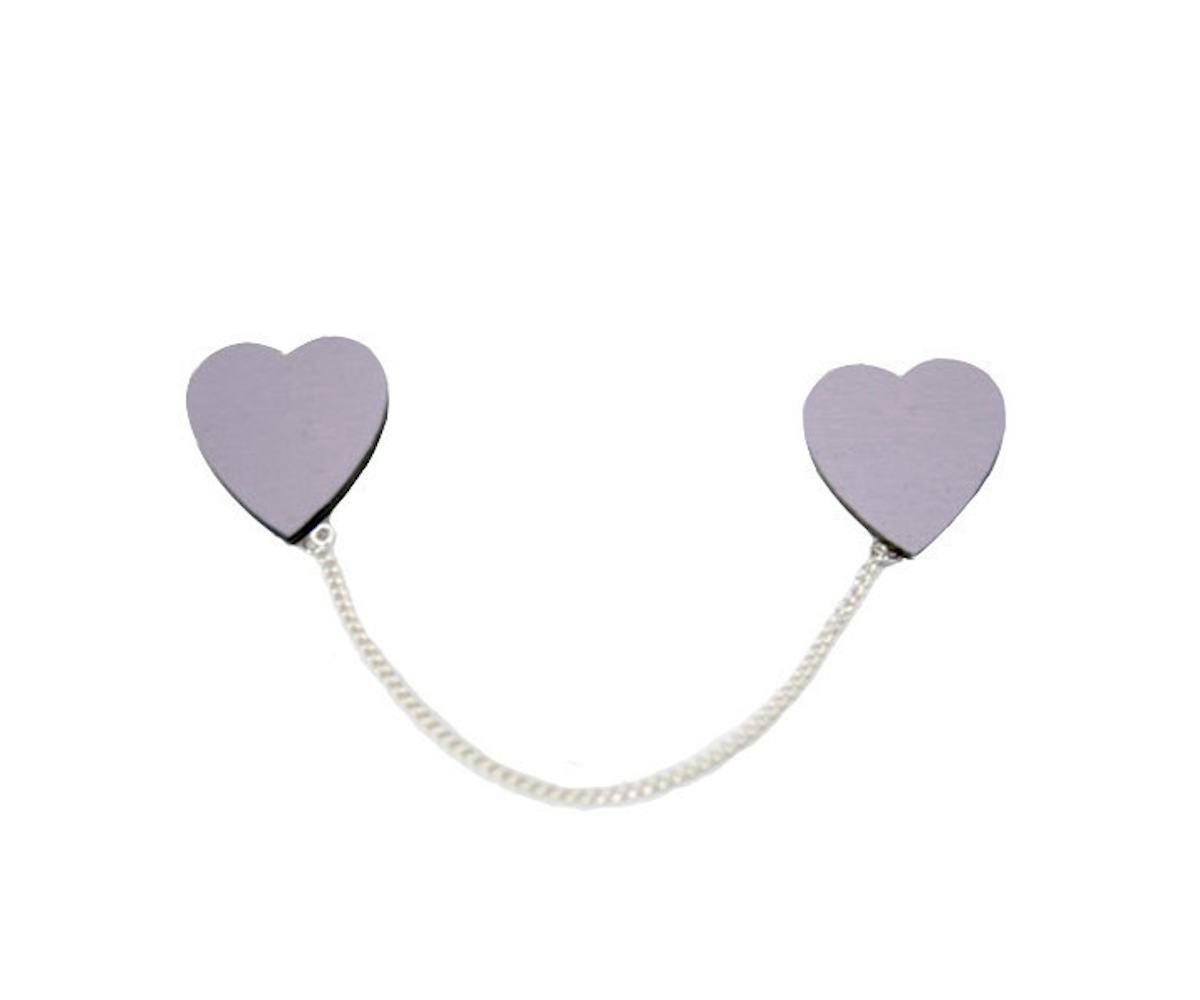 editor's pick: heart to heart
the retro accessory that will have your ticker skipping a beat
We've all been there--standing in front of the mirror eyeing your own outfit up and down thinking, "This needs something else." Whether it's a dab of lipstick, an extra stack of rings, a backwards hat, or some funky socks, there's always something that just pulls everything together.
Like the cherry on top of an ice cream sundae, you've got to have that one thing that just takes your outfit to the next level. Lucky for you, I've found one pièce de résistance that tops off any look--as long as your shirt has collars.
I'm talking about those retro-inspired collar clip chains you see on all of your fave bloggers these days. They're not quite a pin and not quite a necklace, and can be customized any way you want. From two feathers, to two kittens, to two letters, the world of collar clip chains is literally your oyster. If you ask me, these Purple Heart Wooden Collar Clips by Ladybird Likes are the perfect addition to any outfit with a collar. The hearts are subtle enough not to take away from the rest of your outfit, while the silver chain crossing your neck adds that pop of jewelry that you might be missing. I can't help but imagine these with black and white high-wasted polka dot pants, red flats, a white collared shirt, a mustard cardigan, and red lips. In all honesty, though, this is one accessory that goes with everything.
Go scoop up your very own heart collar clips, available right now in the NYLON Shop, over here. My advice? Keep them in your bag for those days when need a break in the bathroom, look yourself in the mirror, and think, "Ugh! Something is missing." Have a quick heart to heart with yourself, whip out your collar clips and pin them on, because chances are, they're cute enough to fix almost anything.
Forever 21 Posh Polka Dot Woven Pants--$19.80
Topshop KIKI Suede Tassel Loafers--$84
7 for All Mankind Back Vent Detail Shirt in Blanc de Blanc--$198
ASOS Les Prairies de Paris Oversized Cashmere Sweater in Mustard--$484