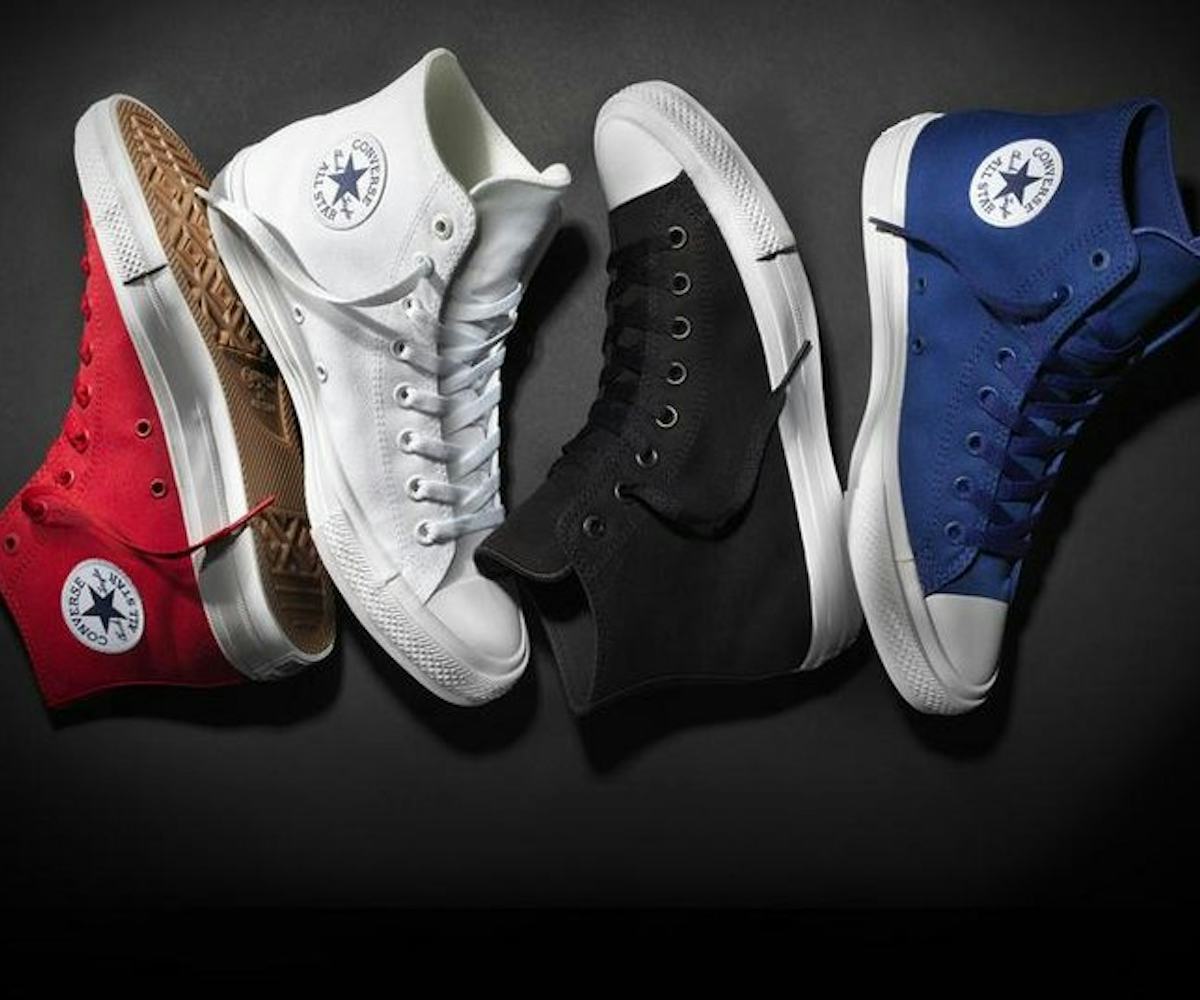 we wore the chuck 2 all weekend so you don't have to (but you probably should)
By now you've probably heard that last week, Converse began the next phase in its 107-year history when it unveiled the Chuck Taylor All Star II. I was one of over 100 journalists from around the globe who were invited to Boston—site of Converse's impressive global headquarters—for the introduction of what the shoe company was calling its most important product launch ever.
That's not hyperbole. Converse rented out a cavernous warehouse for the launch event, and President and CEO, Jim Calhoun, Vice President and General Manager of Converse All Star, Richard Copcutt, and Bryan Cioffi, Vice President and Creative Director of Global Footwear, were all on hand to address the media. Clearly, the company has a lot riding on this.
The Chuck Taylor is arguably the most iconic sneaker in the world, undergoing an unprecedented evolution in the cultural landscape since its debut in 1917. A popular basketball shoe for much of the 20th Century, somewhere along the way the Chuck became a signifier of a certain kind of cool, coveted by rockers, skaters, rappers, and anyone with a rebellious spirit. Messing with such an iconic product represented a huge risk for Converse, a fact that was emphasized by the extensive market research that was done before creating the Chuck II.
Copcutt, who told us that he got married in his Chucks, said the company spoke to "actors, dancers, chefs, designer, graphic artists, graffiti artists, screenwriters, butchers, bakers," searching for feedback on the sneaker's role in their day-to-day lives. In the end, their mandate became not necessarily to upgrade the shoe's look—which they managed to do, albeit subtly—but instead, to concentrate on how the shoe feels once you put it on. For all its culture cache, the Chuck has never been the most comfortable shoe to wear, which the brand acknowledged. With the Chuck II, that's changed.
After the presentation, which ended with Cioffi detailing the extensive upgrades his team made to the Chuck, every journalist was given their own pair of high tops ahead of the shoe's July 28 on-sale date. I was curious if Converse would be able to justify consumers paying more—$70 for low tops and $75 for high tops—for shoes that look almost identical to their predecessors to the naked eye, and whose low price tags have always been one of their biggest selling points. Unless you try them on, they probably can't. But that's the thing: Once you try them on, it becomes almost instantly clear that with the Chuck II, Converse has accomplished its mission.
I've been wearing the Chuck II for three days now—riding my bike in them, walking across New York City in them, writing this article in them. The entire time I've been wearing them, I'm surprisingly conscious of the improvements that Cioffi detailed in his presentation. The foam-padded collar and memory foam-padded tongue, the perforated micro-suede lining, and the premium canvas didn't mean much to me when he laid them all out, but when you wear the shoe, the materials are noticeable. They add up to a shoe that feels more fortified, substantial, and intricate.
But like Cioffi said, that wasn't enough. The Chuck II needed what he referred to as a "game changer." I was skeptical when Cioffi said those words, thinking that after he spent 20 minutes detailing the Chuck II's features, there was no way there was still room for a so-called game changer. But to ensure they got what they were after, Converse reached out to their parent company, Nike, which has owned the brand since 2003. Basically the NASA of sneaker technology, Nike created a Lunarlon sockliner for the Chuck II that was meant to solve the original Chucks' problem of hurting the soles and heels of your feet after extensive wear. Basically, you can now wear a Chuck with a foamy cushion for your feet, and it makes all the difference.
All of this adds up to an uncanny sensation of familiarity mixed with estrangement. When you look down at your feet, you see what looks like a classic Chuck. Yes, the iconic patch is embroidered now instead of painted on, and the overall look is more streamlined, but it's still instantly recognizable as a Chuck Taylor, which was always Converse's intention. But it doesn't feel like a Chuck Taylor—also Converse's intention. In that sense, they've accomplished what they set out to do.