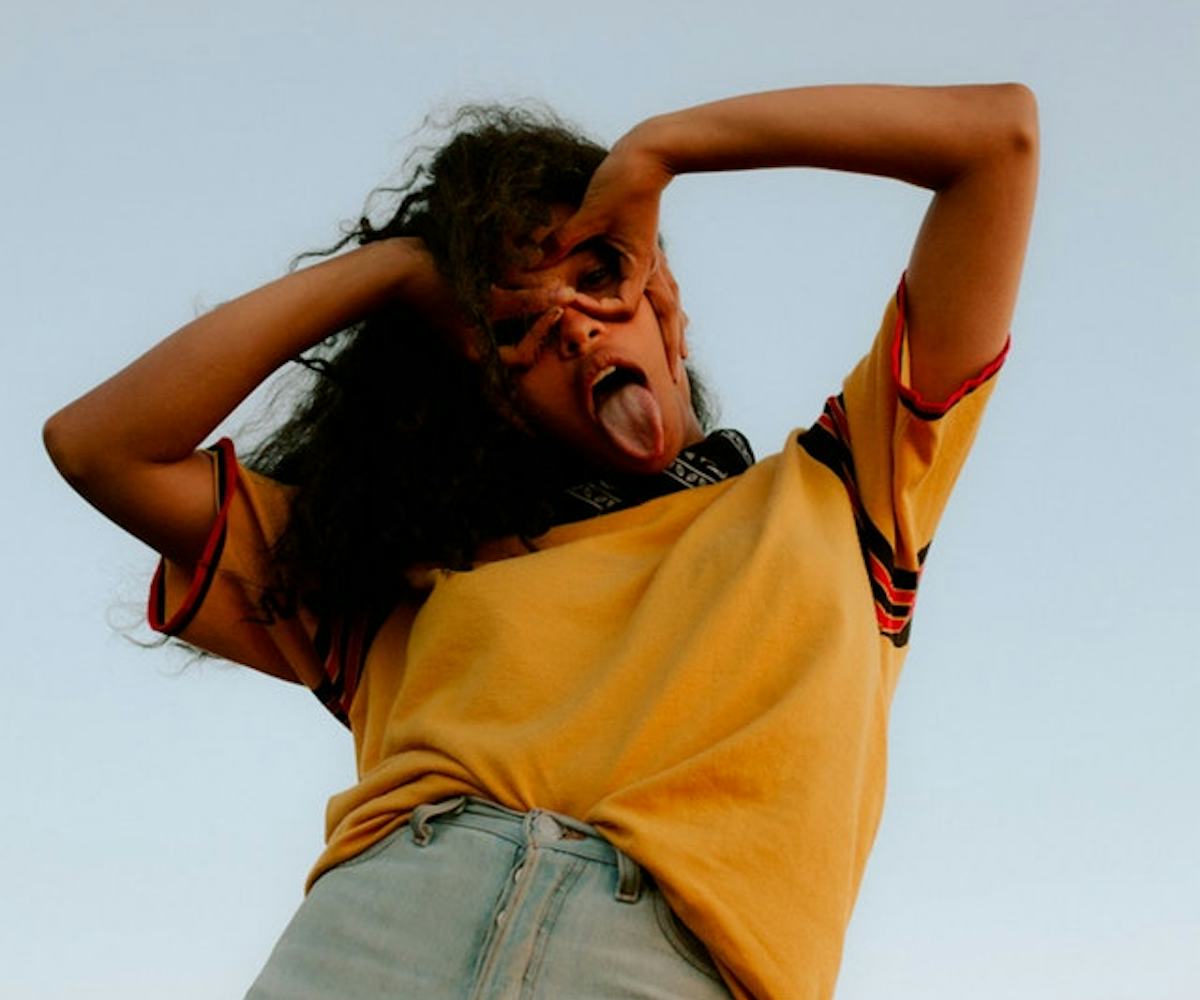 Photographed by Amy Harrity.
Style Star Rewina Beshue On How Social Media Helped Her Come Out Of Her Shell
This Bay Area-based babe is as cool as they come
The following feature appears in the August 2016 issue of NYLON.
"Right now, I'm working on a zine with my friend about emotions and crying," says Rewina Beshue. It's not what you'd expect to hear from the upbeat 23-year-old art student whose bright, energetic graphic aesthetic has already led to shows at the likes of Alt Space gallery in Brooklyn, and whose signature look has attracted modeling and sponsorship gigs from brands such as Levi's and UNIF. "I know, it's so weird, but I'm a closeted emotional," she admits. "You will not see me cry. I only cry to my family and they think I'm a crybaby. I'm still trying to figure that out, so I'm putting it into a zine to define different emotions and how we can all understand each other."
It's a Tuesday morning and Beshue is enjoying some pancakes at San Francisco's oldest ice cream parlor (which is now more of a full-service diner), St. Francis Soda Fountain. She's sporting pin-laden denim overalls, an athletic-striped UNIF top, Doc Martens, and a neckerchief. "Social media has helped me come out of my shell," Beshue explains of her rise to fame on Instagram, where she posts images of her work alongside shoe pics and selfies under the handle @rgb_. "I'm naturally a shy person when it comes to showing people my art. It's easy to show my work to my friends, but a good response from strangers motivates me. Criticism doesn't always work well for me, even though I have African parents and they're always quick to criticize me on anything! 'Rewina, your pants are too short, your hair is too long….'"
Beshue's mother and father both emigrated from the same Ethiopian region to North America separately and found each other after a couple of (pre-digital age) missed connections. They raised her and her three siblings in Section 8 housing in San Francisco's Fillmore district, once the center of the city's jazz scene, but they didn't take to their daughter's artistic endeavors right away. "In third grade, we learned about a tribe from the Stone Age and we had to draw a booklet about them. I took it so seriously—I got colored pencils from the corner store and went in on my book," she recalls. "That summer, we got a message on the answering machine from the Yerba Buena Center for the Arts. They got a hold of my booklet from school and wanted to put it in a kid's art show. I didn't know what a kid's art show was, and my parents definitely didn't, so they were like, delete!"
Click through the gallery to read the rest of the feature.
Today the Beshues, who own a beloved Ethiopian bar in the city called Club Waziema, totally understand and support their daughter's chosen field. After teaching herself various design programs, Rewina enrolled at San Francisco State University to study animation and visual art. Some of her favorite themes are cubes, graph paper, primary colors, and what she refers to as "doodles." "Keith Haring was a really big inspiration to me," she says. "I went to the Haring exhibit at the de Young museum a couple months ago and I did something so disrespectful." Her eyes widen mischievously and she whispers, "I touched one of his paintings."
Beshue is especially proud of her animations, which feature everything from a blooming rose to a gabbing gap-toothed mouth ("They take months [to make]!"). In a project shown at Tyra Mitchell's Brooklyn show Girl Artist Takeover, she created animation over Pharrell's official video for "Frontin'." "People were like, 'Was this his video? Did he put it out?' And I was like, 'Nah, I did it!'" says Beshue.
Any word from Mr. Williams yet? "Oh my god," she says, slumping down in her seat. "My friends and I are huge fans of N.E.R.D., like The Neptunes, Star Trak, Clones. If he ever reached out to me or my friends, I would have a heart attack!" She might even cry.
Beshue's Musts
Wearing: I got some great men's Levi's at Painted Bird in the Mission recently. And I have so many denim jackets, but my favorite at the moment is a black one by Gap 1969.
Eating: The fish tacos at Lolò Cevicheria.
Dancing: Cumbia night at Make Out Room! I also went to Selena night recently. Every night is fun, though; you can always vibe to what they're doing.
Relaxing: At Stow Lake in Golden Gate Park, where you can rent canoes for about 20 bucks.
Beautifying: My hair is a beautiful struggle. I use mostly Pantene, and I blow-dry it on cool air to stretch it out, then put in Eco Styler Gel and twist it up.
Traveling: I went to Ethiopia once for three months, and I can't wait to go back. It's developing so quickly and I feel like other countries are dipping their hands into it, but it's important for the diaspora to come back.
Reading: I really love Kahlil Gibran. He writes a lot about the prophet of love. It's corny, but the things he says are amazing. He breaks down what love really means.
Coveting: My mom's closet from the '80s!
Listening: On my way to this interview I was listening to a playlist that had, like, Isley Brothers' "Voyage to Atlantis." I like mood music, or, like, Roy Ayers' "I Am Your Mind (Part 2)." I've also been listening to '80s sad-boy music like The Cure and Billy Idol.
Bartending: I really like making a Manhattan. I don't like the taste, but shaking stuff up makes me feel cool.