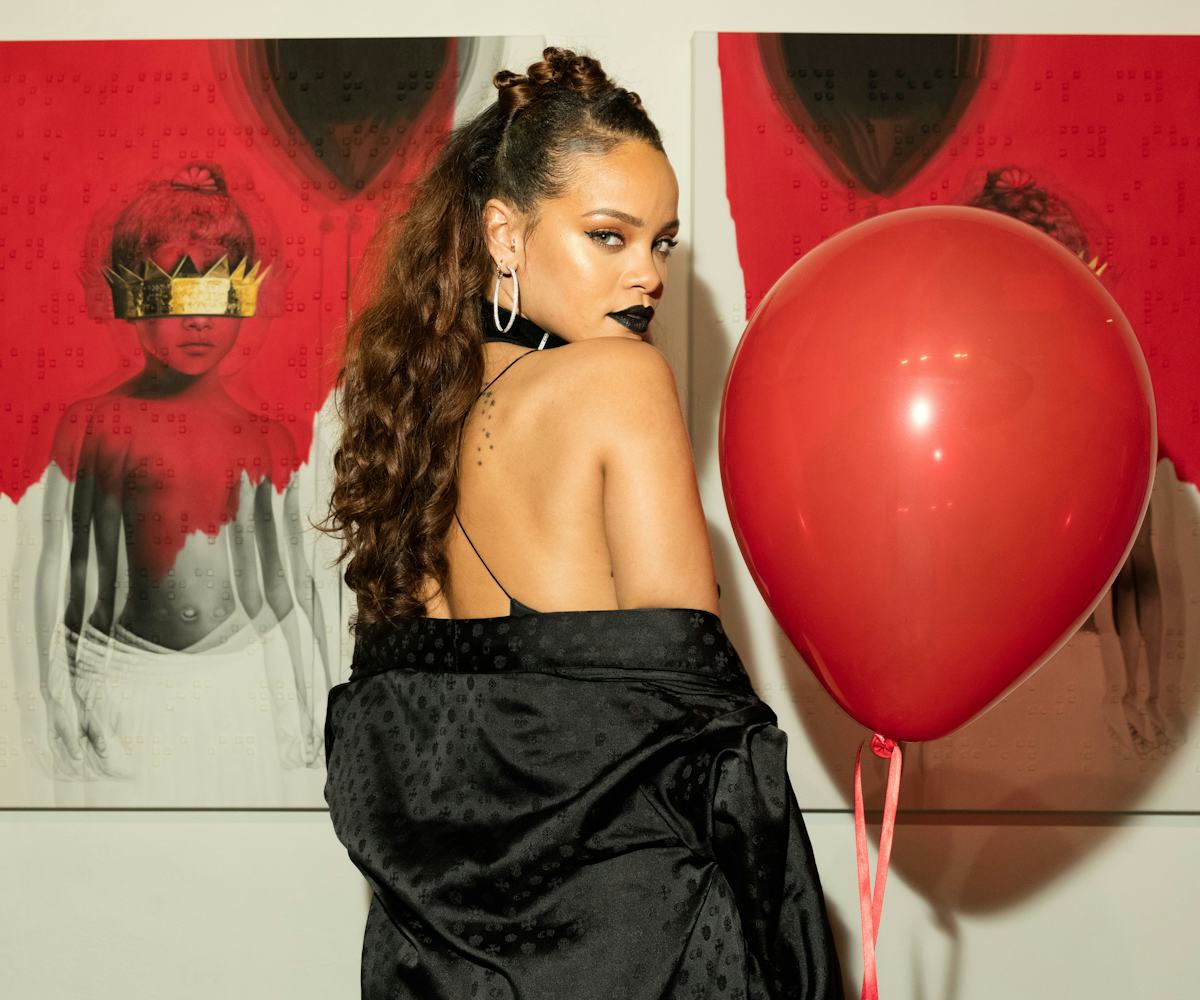 Photo by Christopher Polk/Getty Images for WESTBURY ROAD ENTERTAINMENT LLC.
With 'ANTI,' We Finally Meet The Real Rihanna
It's been three years since Rihanna released her last album. And in those three years, pop's resident Bad Gal mastered the art of teasing. She wrapped the world around her finger tighter than ever before, got it to buy the products she endorsed, made history in Dior, and put out a few polarizing songs that may have hinted at an album. But with each passing single and corresponding video, the likelihood of Rihanna's eighth studio album ever happening slimmed. "Soon," she told us. The buzz of producers dropping off the project and her being in and out of the studio didn't help. ANTI was on its way to becoming the anti-album.
Rihanna will do what Rihanna will do, though. She stated back when "American Oxygen" came out that she "wanted songs that [she could] perform in 15 years." The word "timeless" was thrown around in that MTV interview, and after listening to ANTI—like, the actual album—it's safe to say she achieved that goal.
ANTI is not an album of "We Found Love" fist-pumpers. It's a complex LP that dances across a variety of genres. There are the island vibes of "Work"; lite industrial of "Woo"; slow burn R&B of "Needed Me"; acoustic guitar laden "Love On The Brain"; rock-pop of "Higher." Compared to Rihanna's past projects, ANTI strips Rih of the heavy productions that, at times, got lost among the Top 40 tracks her contemporaries were releasing. ANTI is not an album of Top 40 singles—for now, at least. It's a project that feels like, for the first time, Rihanna, the individual and Rihanna, the recording artist have aligned. Tracks like "Close To You," a piano ballad that wraps the album, put the spotlight on Rihanna's vocal abilities. Her patois is out to play here. She's not forcing her voice to be anything it isn't with this project. She is not forcing her sound to be anything but the sound she wants. Her lyrics are sharp, introspective, and personal. The days of pouring it up aren't behind her, but they aren't her main focus. She's still cocky, but she's matured that part of her personality. The spectacle of it has diminished and in its place is an independent woman thriving off her own success without condescending those around her. 
ANTI, as it turns out, is not the album many people wanted, but it's the album Rihanna needed. The 13 songs that make up ANTI's current iteration—a 16-track deep deluxe edition will be released later—mark a shift for Rihanna creatively. This is Rihanna unfiltered, at her most confident, and most in control. It's not about pleasing the charts anymore. It's about doing things her way. This is the reintroduction to Rihanna. Say hello.
Rihanna is currently giving away free downloads of ANTI (and 60 day trials of Tidal) here.