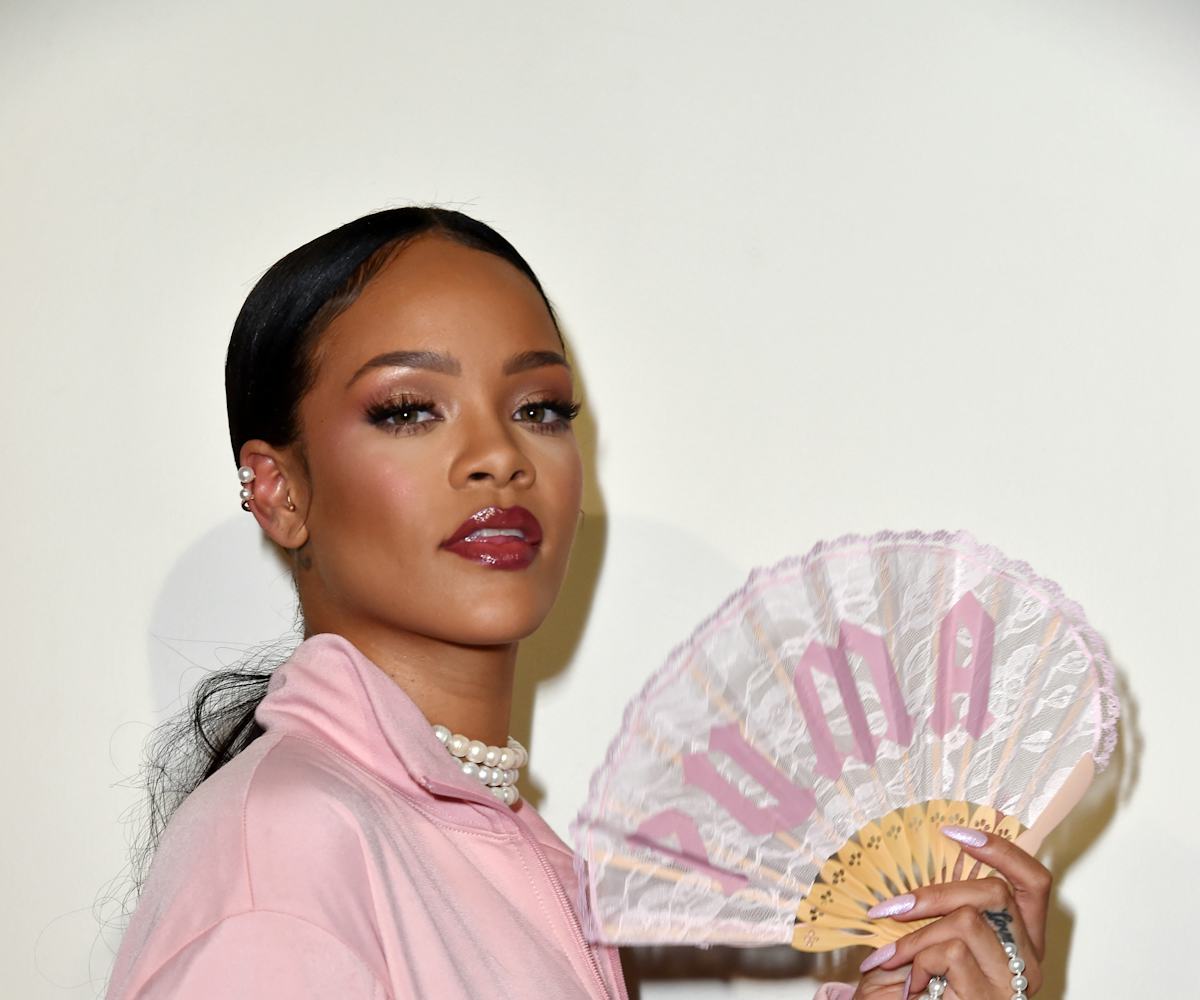 Photo by Pascal Le Segretain/Getty Images
Rihanna's Newest Puma Shoe Line Is Dropping Next Week
Pink satin bows for everyone who can afford them
Our reigning queen of health goth is gracing us athleisure-loving plebes with a new line of sneakers! That's right: Rihanna will finally be dropping her latest footwear, featuring the much-anticipated satin bow ballet sneakers and slides, on March 9 at 10am Eastern Standard Time.
According to Hypebae, the new Fenty x Puma collection will officially be shown in Paris on March 6, with a pre-spring release (which includes the already-legendary bow sneaker and bow slide) coming to select stock lists like Asphalt Gold. Puma's website began teasing images of the new collection only a few days ago.
Rihanna's clothes have been leaning towards softer color palettes as of late, and her Marie Antoinette-inspired streetwear is somewhat of a departure from the plethora of all-black options currently available through Puma. "To me, spring should feel like something fresh, even though I'm not going to stop wearing black altogether," said Riri back in September. "But I didn't want it to be super bubbly, so I kept it a bit street—everything was super-sporty and definitely highly influenced by 18th-century French culture, and the style of that time—mainly Marie Antoinette and the Palace of Versailles. She just had this regal way about her, and everything she did was big. I wanted to mix that in with sport. I thought it would be a challenge, and it was! But I enjoyed it, and I hope that people do, too."
US Prices of the new shoes are still unknown, although if we take her previous collections into consideration they'll probably be somewhere between $100 and $200 a pair (Asphalt Gold lists the prices as €159 for the sneaks and €89 for the slides). Much like Rihanna's signature creeper line, we're fully expecting these latest shoes to snatch trophies, too. 
We're also fully expecting the shoes to sell out immediately, but Harper's Bazaar suggests that more of the styles shown off in Rihanna's collection last year (including the heels seen in the image above and a few others) will be released through June.