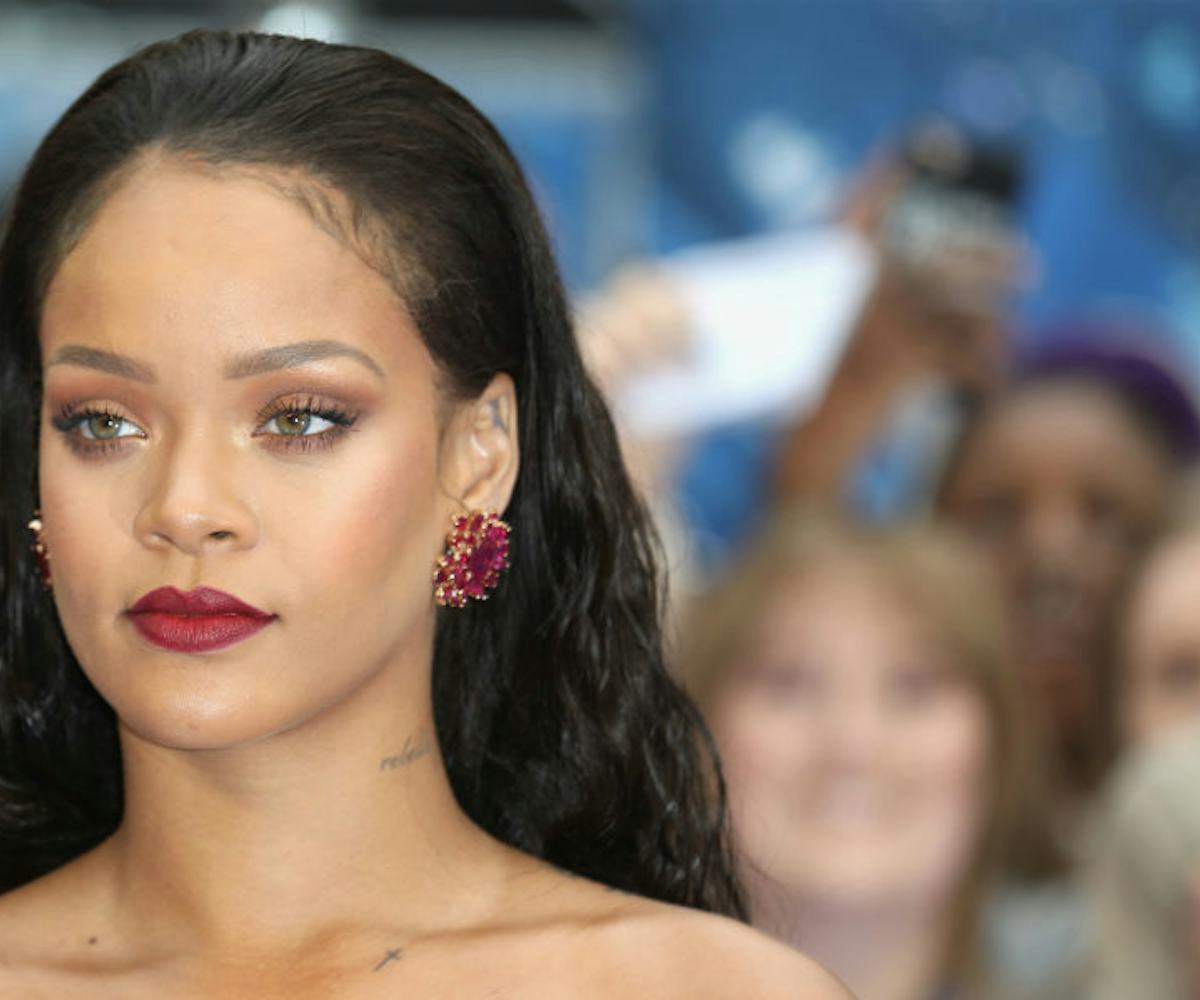 Photo by Tim P. Whitby/Getty Images.
Big Eyebrows Are Out If Rihanna Has Anything To Say About It
The singer shaved hers off for the cover of 'Vogue'
Just when we were starting to make progress growing out the eyebrows we tweezed to death in our youth, Rihanna shows up on British Vogue's September issue without any.  
The cover image shows the singer wearing a flower crown with glossy gradient lips, luscious lashes, and super-skinny drawn-on eyebrows. The picture was shot by Nick Knight and styled by the publication's editor-in-chief Edward Enninful. The cover is stunning on its own, but it's even more impactful once you learn that Rihanna is reportedly the first black woman to front British Vogue's September issue. (Beyoncé is also set to make Vogue history by hiring the first black photographer to shoot a cover for the U.S. magazine's September issue.) This is also Enninful's first September issue for the publication. He speaks on his decision to cast the star in his editor letter, writing: "I always knew it had to be Rihanna. A fearless music-industry icon and businesswoman, when it comes to that potent mix of fashion and celebrity, nobody does it quite like her."
It's wild how things can change in a couple of years. For her "Bitch Better Have My Money" days, Rihanna was rocking straight-across, thicker-than-Cara Delevingne eyebrows. Now, she's out here making a case for shaving them off and drawing them in. Just kidding, don't do that. While we love the '90s and all it's given us, this is one look we're willing to leave behind. Not to mention, Rihanna is in her own sphere when it comes to pulling off varying beauty moments. "No matter how haute the styling goes, or experimental the mood, you never lose her in the imagery. She is always Rihanna," Enninful says. "There's a lesson for us all in that. Whichever way you choose to dress the new season, take a leaf out of her book and be yourself."
Check out more pictures from the shoot here.