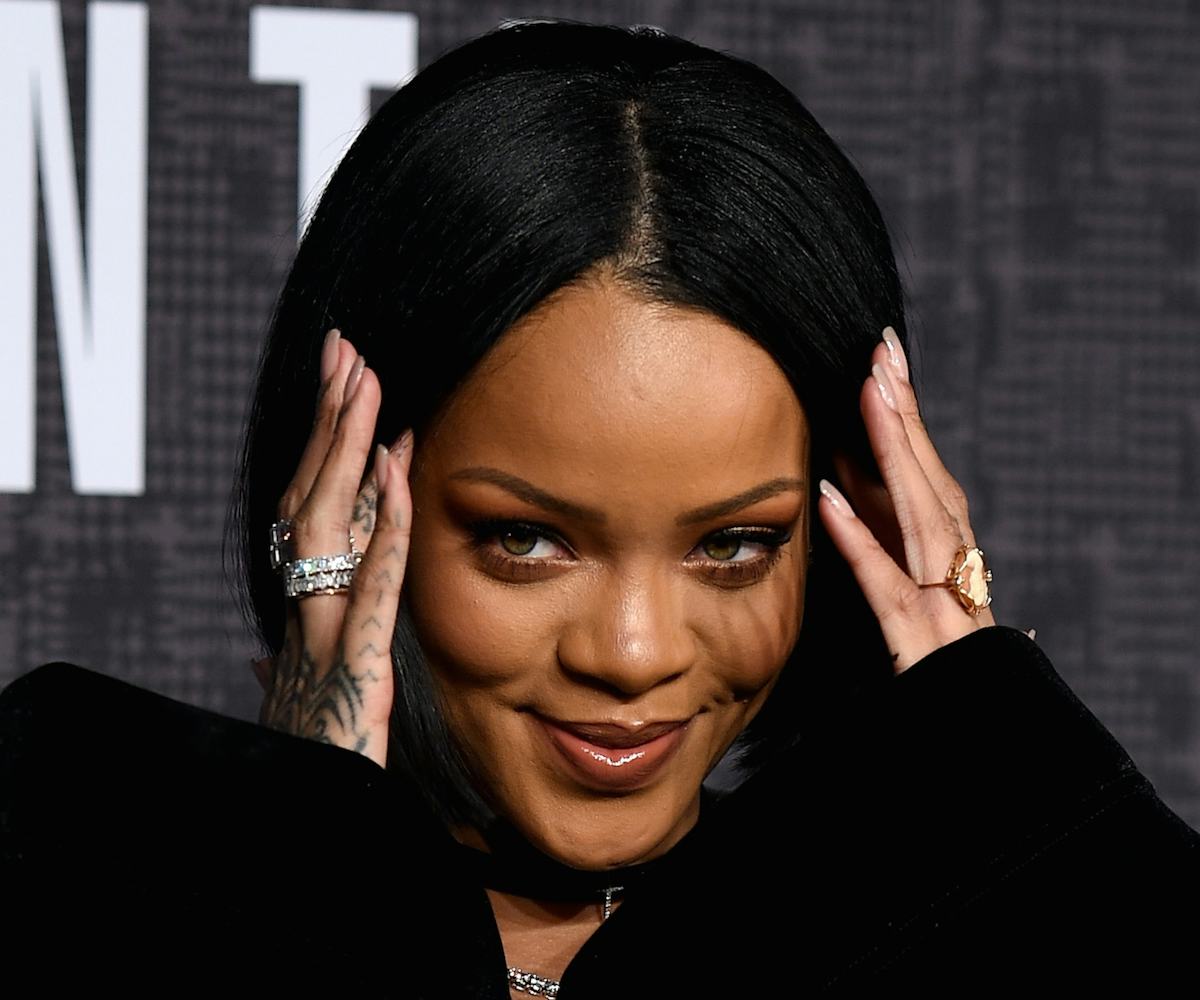 Photo Dimitrios Kambouris/Getty Images
Rihanna's Biggest Regret In Life Is Very, Very Rihanna
So is her response to her supposed rivalry with Beyoncé
Vogue magazine hooked Rihanna for their April 2016 cover and delivered a wide-ranging interview that covered all things in the world of Ri. Writer Abby Aguirre toured us through her thoughts on relationships, creation of Anti, fashion, and, yes, that supposed rivalry with fellow goddess Beyoncé. It was some hot tea.
Speaking during a photo shoot, at the stately home of ex-Real Housewife of Beverly Hills Carlton Gebbia (we know, right?), Rihanna talks about her schedule which included—at the time—prepping for her Anti tour and the runway show for her PUMA Fenty line during New York Fashion Week. Remember, that all that comes with the daily grind of just being the singing, fashion-ing, slaying Rihanna we all know she is.
"My schedule is so crazy right now," she told Aguirre, "It's definitely going to be a challenge when I do decide to pursue a relationship… but I have hope!" Hope for Drake? Hope for someone else? She isn't clear, but it's easy to relate. "I wanted to have a year to just do whatever I want artistically, creatively," she says. "I lasted a week." Sad face.
There's a lot to peruse in this interview which you can (and probably) should check out right here: But two lil' bits really stick out. First, Rihanna finally addresses that whole narrative which sees her relationship with Beyoncé as a rivalry. Remember, that doesn't just include people yammering about how the drop of "Formation" was supposedly a way to shade Anti's shine. This one goes way back and includes rumors of Ri hooking up with Bey's husband, Jay Z. 
Of all those people who spin all that bad buzz, Rihanna says, "Here's the deal…They just get so excited to feast on something that's negative. Something that's competitive. Something that's, you know, a rivalry." She continues, "And that's just not what I wake up to. Because I can only do me. And nobody else is going to be able to do that." Sounds like a final answer in that Ri seems not to give a damn in any way and, more importantly, doesn't even mention Bey by name (because, hey, Bey isn't behind this). We'd love to hear Beyoncé's reaction to the non-rivalry, but the woman almost never speaks, so…
The best nugget from the whole piece, however, dances around Rihanna's number one (and perhaps only) life regret. We're just going to get out of the way for this one:
Just consider the dress she wore to accept the Fashion Icon Award from the Council of Fashion Designers of America in 2014, a sheer, Swarovski-encrusted fishnet number by Adam Selman that left little to the imagination. "I just liked it better without the lines underneath. Could you imagine the CFDA dress with a bra? I would slice my throat. I already wanted to, for wearing a thong that wasn't bedazzled. That's the only regret I have in my life." Wearing a thong that wasn't bedazzled is your greatest regret in life? "To the CFDA Awards. Yes."
No words. Perfection.
(via Vogue)