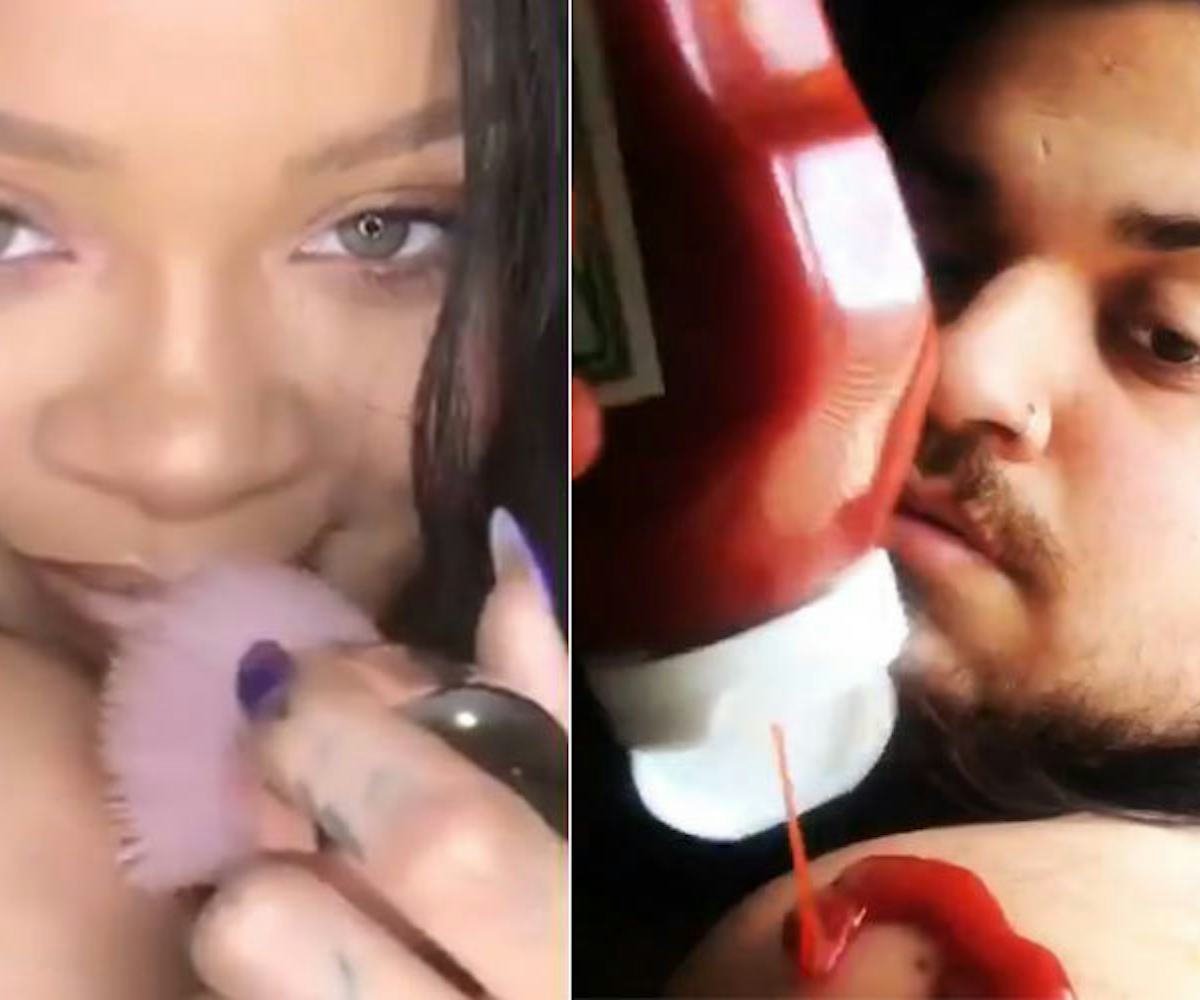 Photo vis @fentybeauty/Twitter; @JoeyGentile1992/Twitter
Watch Men Recreate Rihanna's Body Lava Demo Video
Fenty boys, Fenty girls, Fenty funnies
Beauty tutorials are made better when Rihanna's involved. That is fact. Who needs expensive lighting, glam rooms, and perfectly applied swatches when Rih plops herself in front of a single ring light and uses the hands-free Instagram Story mode for a cute 15 seconds? We love beauty on a dime! Case in point: Rihanna's unveiling of her latest Fenty Beauty must-have, the "body luminizer," better known as Body Lava.
Rihanna shared the video, debuting the all-over highlighter and a new kabuki brush, a little over two weeks ago. It's an effortless piece of beauty content, frill- and phuck-free. Ever since, people have been getting creative on the internet, recreating the vibe using products that are decidedly not the $59 Body Lava and $34 brush. From pink shaving cream to ketchup to Lush products to, uh, laundry detergent and giant brooms, men (and a few women!) have been flexing their own takes on Rih's unfiltered beauty demos to wholesome, feel-good effect. A pop of the shoulder, a flirty vibe, and some viscous liquid and you, too, can live that fantasy. 
Try it with condiments and lunch.
Try it with oil, laundry detergent, and a Q-tip.
Or go more traditional and use lotion but make it fashion by using a house broom.
The opportunities are endless—just look at this guy who "body lava'd" both shoulders.
Now, if anyone has tips on how to keep your bed from turning into a Body Lava pit, please share.