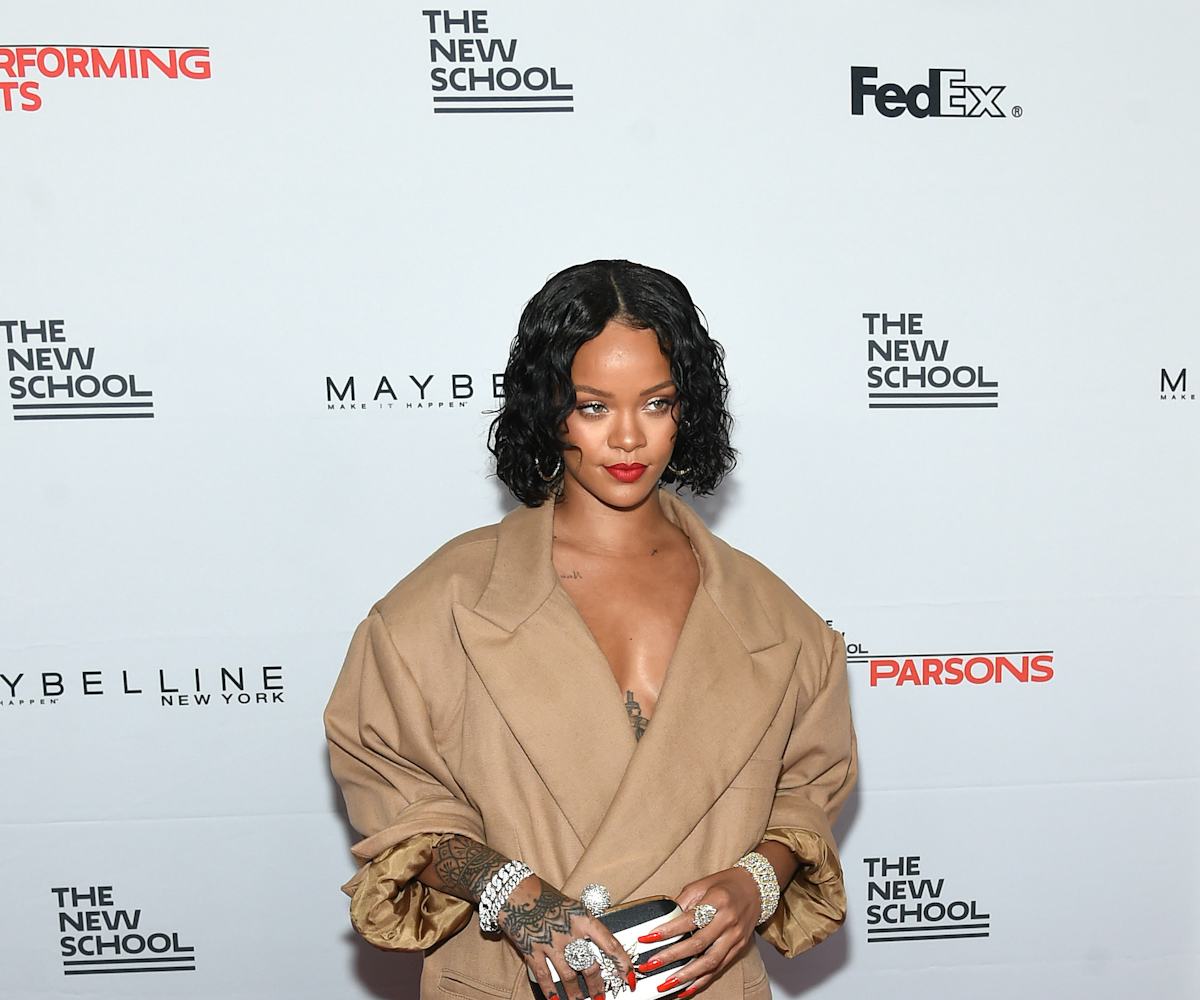 Photo by Jamie McCarthy/Getty Images
Rihanna Was Honored At Parsons' Annual Benefit
While clad in the most killer pantsuit, of course
Rihanna is pretty much slaying at life. In addition to, you know, just being Rihanna (and becoming a soon-to-be live-action meme), she added Harvard's Humanitarian of the Year award to her resume earlier this year. Now, Parsons School of Design has chosen to honor her as well—alongside fashion designer Eileen Fisher and Karen Katz, CEO of Neiman Marcus—for her musical talents, fashion influence, humanitarian efforts, and, most of all, for championing of young designers.
Last night the Bad Gal herself took the stage at the school's 69th Annual Benefit, where she sang praise to the aspiring designers that filled the audience—noting the struggles and hardships that the younger set face in today's world. "I don't think you get celebrated enough," she said. "You should be celebrated for every aspect of your growth and your growing pains. You should be celebrated for your creativity, for your fearlessness, your persistence, and your determination…for being different, for not being given credit. For not having to use eye cream."
As if that wasn't inspiring enough, she also had a word of advice for the future of the world: "We often tear our youth down when we should be building them up," she said. "You are all the next generation. We need to invest in you."
She finished off by letting the young talent know that she cares and that she's there, closing her speech with, "I'm here to say that I'm listening, I'm watching, and you're up next." Well, if Rihanna's got your back, then you're without a doubt destined for success.
Of course, being the fashion force she is, her speech wasn't the only noteworthy part of the evening. She turned heads in the ultimate pantsuit: a dramatically oversized tan blazer and wide-leg pants by Parsons alum Matthew Adams Dolan. She finished off her look with some icy wrists and fingers, a simple clutch, and white pointed toe pumps, keeping her hair and makeup effortless with simple wavy hair and a red lip. Elegant and poised, she still managed to look ridiculously cool, like the true icon for fashion's future that she is.