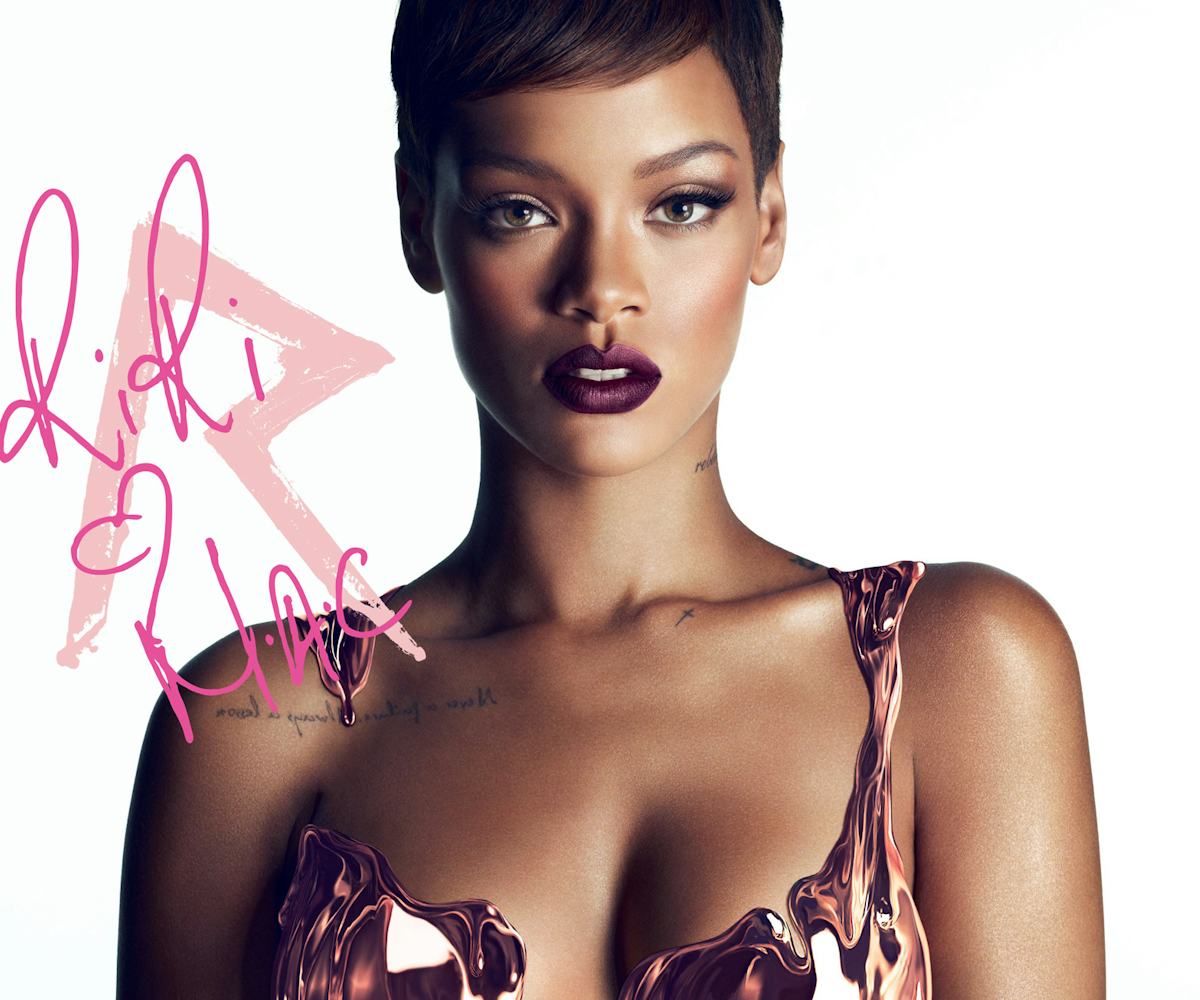 good girl gone beauty
a few pointers for putting the rihanna x mac collection to use.
by rebecca willa davis and rachel hagan
Though Rihanna's songs tend to stay on the Billboard charts for weeks. we don't expect her fall makeup collection for MAC to last very long (for her first go-round, her RiRi Woo lipstick sold out in mere hours). It's not just because RiRi Hearts MAC looks amazing--though, hello, have you seen the rose gold packaging?!--but because it's actually super-wearable. Think a dark lipstick that would look good on everyone, a cream blush that helps you shine bright like a diamond, and brow pencils perfect for getting that throwing shade arch.
Want proof? Look no further than Rihanna herself; we dove deep into the good girl gone bad's beauty archive to find the looks that just might have led to the line. Find your inspiration, and then get ready to act fast: It hits MAC stores tomorrow (Thursday, September 26), then online September 30, and then in all other locations October 3.
Why We Love The Look: Rihanna looked stunning on and off stage at last year's Victoria Secret Fashion Show, thanks in part to a daring, dark lip. The Product You Need: RiRi Hearts MAC Lipstick in Talk That Talk
Why We Love The Look: How do you upstage a red lip? With perfectly shimmery, bronze cheeks of course. 
The Product You Need: RiRi Hearts MAC Cream Colour Base in Diamonds
Why We Love The Look: You don't need to be dripping in diamonds to shine bright. A smokey eye can be the right choice to make your look stand out. The Product You Need: RiRi Hearts MAC Eye Shadow x 4 in Smoked Cocoa
Why We Love The Look: Dark liner, light lips? Yes, RiRi shows us how it's done. The Product You Need: RiRi Hearts MAC Pro Longwear Lip Pencil in Talk That Talk
Why We Love The Look: Finding that perfect bronzer-blush balance is tough, but Rihanna nails it here. The Product You Need: RiRi Hearts MAC Powder Blush Duo in Hibiscus Kiss
Why We Love The Look: The key to Rihanna's throwing shade arches? A good brow pencil The Product You Need: RiRi Hearts MAC Veluxe Brow Liner in Deep Dark Brunette
Why We Love The Look: Think that you either go with a bold lipstick or a bold eye? Think again. The Product You Need: RiRi Hearts MAC Liquidlast Liner in Pointblack
Why We Love The Look: At the 2013 Grammys, Rihanna updated her classic red lips with a golden shimmer tint. We're pretty sure you can steal her idea and do a little layering. The Product You Need: RiRi Hearts MAC Lipstick i
Why We Love The Look: Rihanna wears bold well, but there's always something subtle to keep things from looking too over-the-top. A neutral eye is a good option. The Product You Need: RiRi Hearts MAC Her Cocoa
Why We Love The Look: Rihanna's nude lip at the 2012 Brit Awards is all sorts of subtle--in a good way. The Product You Need: RiRi Hearts MAC Lipstick in Nude
Why We Love The Look: When Rihanna launched her collection for River Island, the only thing that could draw your attention away from the clothes were her luxurious, long lashes. The Product You Need: RiRi Hearts MAC Lashes in 35 Lash