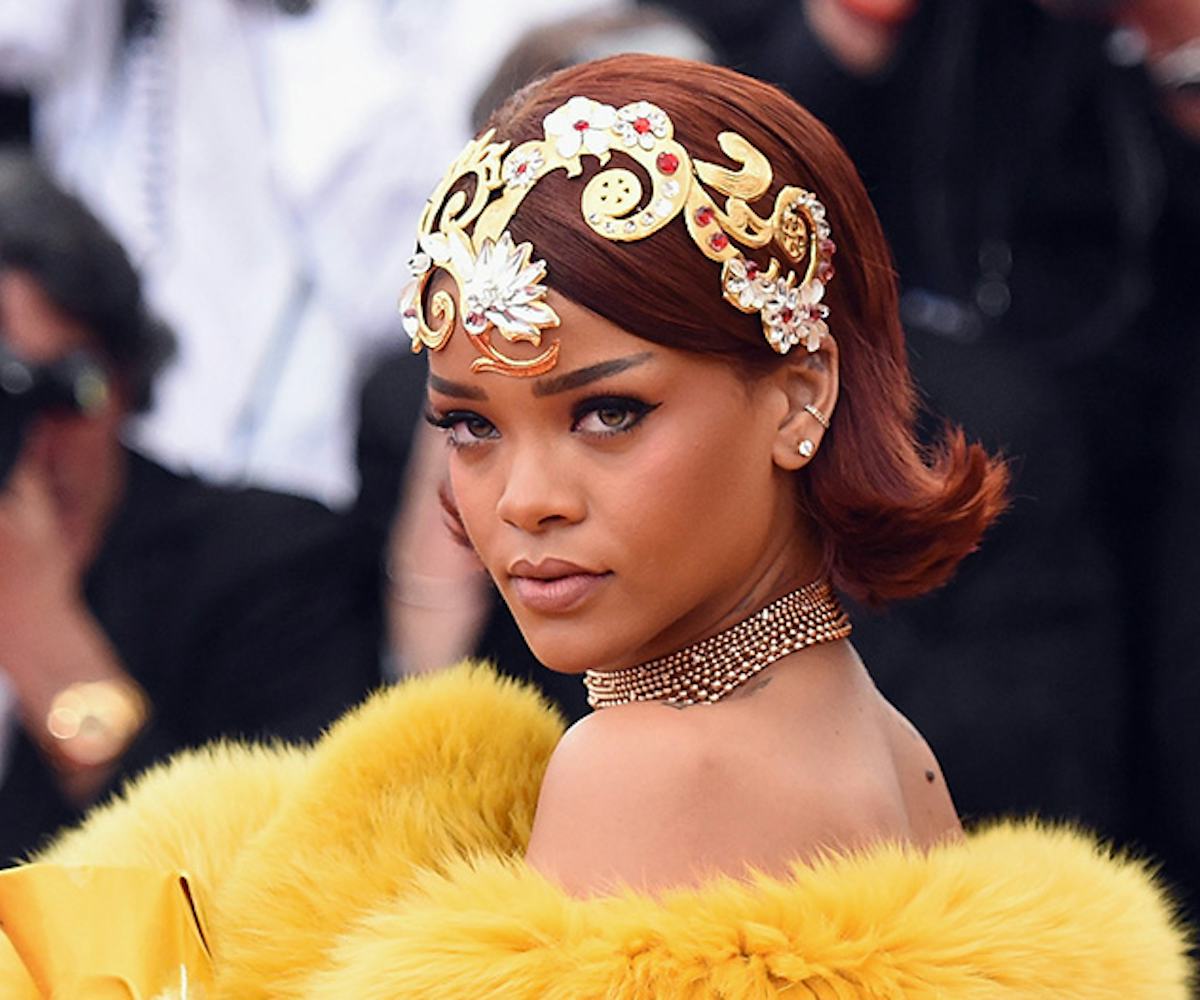 Photo by Mike Coppola/Getty Images
Where Was Rihanna At The Met Gala Last Night?
Meanwhile in Times Square…
While anyone and everyone famous gathered at New York City's Metropolitan Museum of Art for the annual Met Gala last night, Rihanna was down in Times Square. Well, four people dressed as Rihanna were down in Times Square. The real Rihanna, to many people's disappointment, was nowhere to be found. 
Up until reality (rihality?) set in, the question on everyone's minds was "What in the world is Rihanna going to wear this year?" Last year, she stunned the crowd and spawned a beautiful meme in a couture Guo Pei design. Surely, this year would find the ANTI singer raising the bar higher than she has ever before. Instead, the stunt queen shared a photo of four people dressed in four iconic Rihanna looks: her green Versace iHeartRadio Awards outfit, a riff of her "Pour It Up" costume, the infamous CFDA Awards naked dress, and, of course, the Guo Pei number. Talk about doing things her own way, darling. It's a move straight out of Rih's slick book of jokes. Back in 2014, Rihanna didn't attend the Grammy awards but did share a cheeky #TBT photo of an empty red carpet from the ceremony's step-and-repeat instead. The shade is refreshing.
Rihanna is currently in Los Angeles, gearing up for another performance for her ANTI World Tour. This is most likely the reason she wasn't at the Gala last night. Then again, Beyoncé was in Atlanta the night before the Gala and will be in North Carolina this evening for her Formation World Tour. No matter; RiRi was still the third most searched celebrity of the night. That Rihanna reign just won't let up.