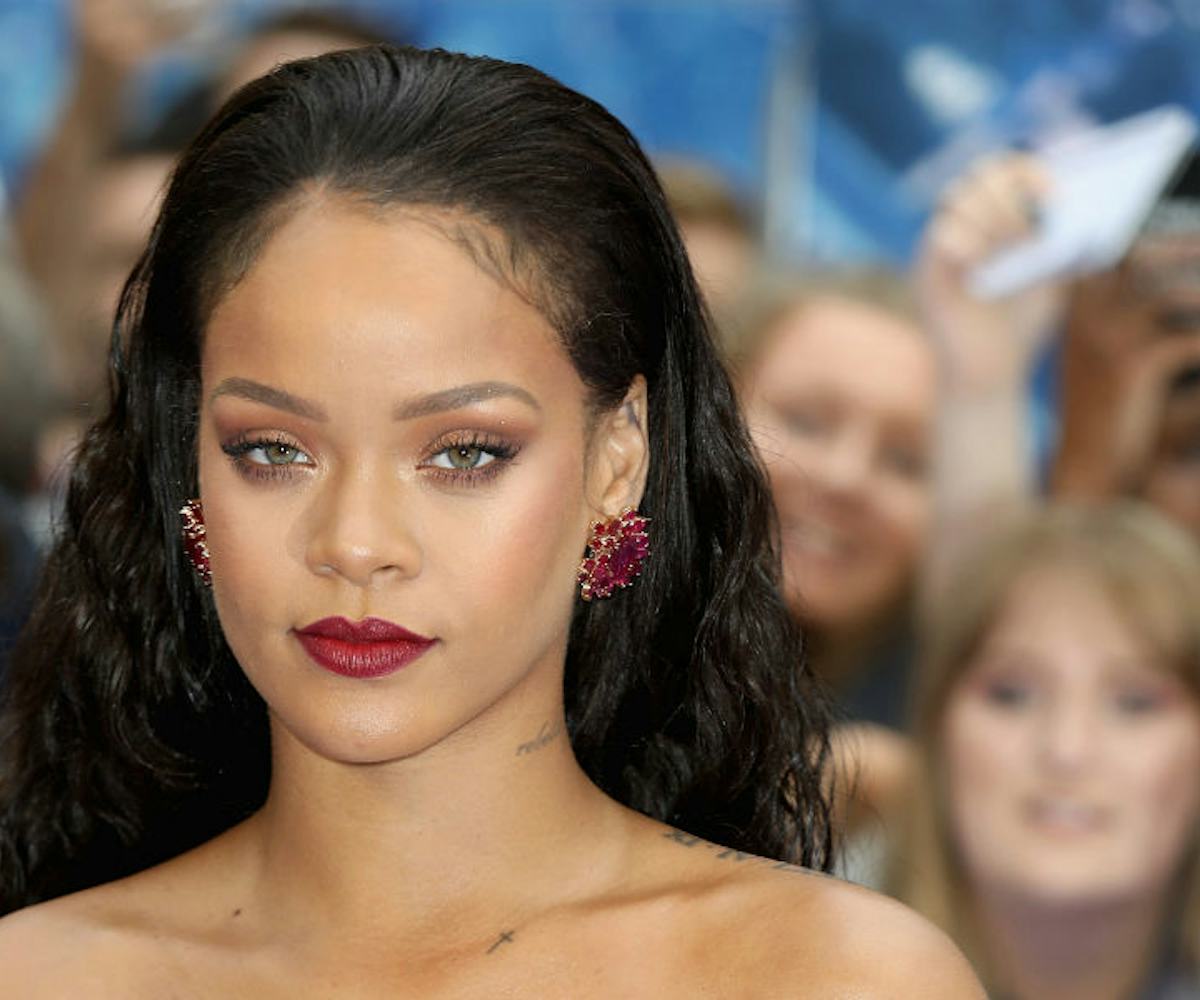 Photo by Tim P. Whitby/Getty Images.
Rihanna's 'Vogue' Photo Shoot Is Accused Of Plagiarism
A year later, some are noticing similarities to Mickalene Thomas' work
Almost a year after its release, Rihanna's Paris Vogue photo shoot is being criticized for ripping off artist Mickalene Thomas' aesthetic.
Images from the story started circulating on social media again this week, and Twitter users were quick to point out the similarities between the Juergen Teller images and Thomas' work. The latter is known for highlighting black women in her work and playing with mixed-and-matched settings (see below). "THIS IS A BAD COPY OF MICKALENE THOMAS' ART," critic Antwaun Sargent wrote. Writer Muna Mire tweeted: "Rihanna by Mickalene Thomas but okay." Sargent then followed up to point out that both Teller and Thomas have the same gallerist in New York. "There's no way he can say he doesn't know the work," he wrote.
Tuesday morning, Lehmann Maupin gallery—which does indeed represent Thomas and Teller—put out a statement noting that Teller's photographs have "rightly been compared" to Thomas' work. "Throughout her career, Mickalene has developed an internationally recognized visual language that is deeply rooted in photography but encompasses collage, painting, video, and immersive installation," it reads. "Mickalene has earned the right to be recognized and commended for her ground-breaking contributions to contemporary art and visual culture, and for a signature aesthetic that she has been cultivating for a decade. As Mickalene's long-time gallery and advocate, we vigorously stand by her in defending the originality of her work."
A spokesperson for the gallery also told ARTnews magazine that it represents Teller's "fine art practices," rather than his "commercial and editorial work," and, therefore, wasn't involved in any way with the Vogue project. Teller's agent also told the publication: "I am not aware of this and unable to comment at the moment as Juergen is away shooting."
Neither Vogue nor Thomas has commented on the accusations.