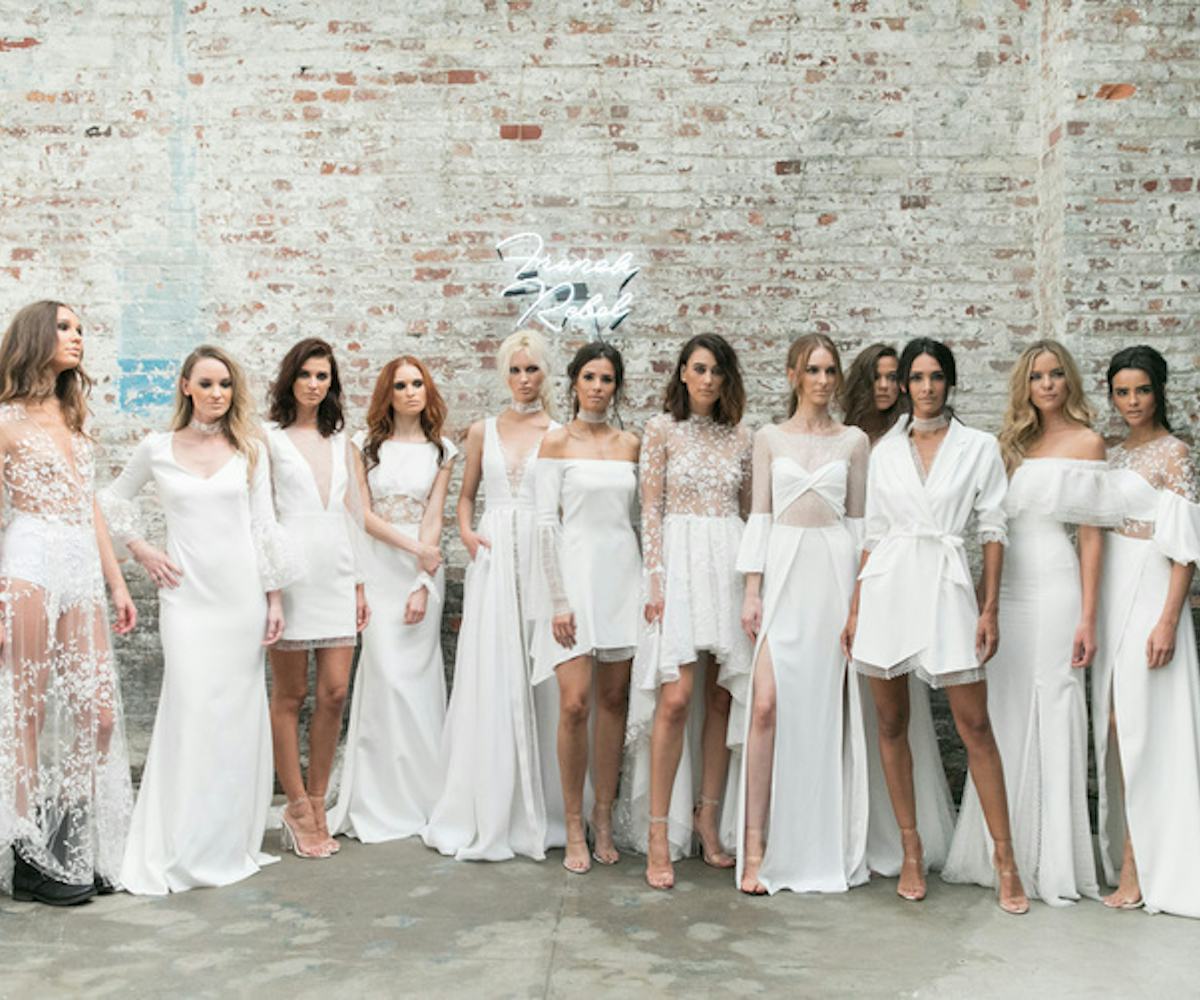 Photograph by Greg Finck
This Wedding Collection Was Made For Rock 'N' Roll-Loving Brides
Inspired by rock stars like Mick Jagger and David Bowie
If the venue location, previously the home of The Rolling Stones exhibit, didn't immediately give away the rebellious nature of Rime Arodaky's new bridal collection, then the program, printed on top of a record sleeve, should have: "Like a lady ride breaking free from all the rules. She never does what's expected from her. She's a free spirit. Emancipated. Careless. Bold." While the designer claims to have been unaware of the venue's prior purpose, the collection was intentionally rock 'n' roll. "It was inspired by the rock stars from the last four decades," the designer tells me after the show. "Bowie, Mick Jagger... all their styles and all the iconic pieces they used to wear."
Essential music numbers of the era, ranging from Stevie Nicks' "Edge of Seventeen" to Led Zeppelin's "Whole Lotta Love" and Creedence Clearwater Revival's "Fortunate Son," soundtracked as an army of models, sporting some of the most unabashedly edgy bridal looks we've seen yet in quite some time, walked down the runway. Intricate floral embellishments adorning sheer bodices and sleeves mimicked body tattoos while flowing feather and lace coats evoked the breeze while on a motorbike getaway. "It's all the music I listened to when I drew the collection," Arodaky says of the show's song list, which every couple should actually consider walking down the aisle to.
The collection was a refreshing alternative to the typically saccharine bridal looks shown during this time, with plenty of pants and separates, revealed midriffs, high slits, and lace chokers. The showstoppers came in the form of a fashion-forward wrap dress-robe hybrid and a stunning witchy sheer overcoat worn over a pair of high-waisted briefs and combat boots. "Our bride is sassy, rebellious, doesn't care what people think. And free," says Arodaky. "She shows some leg, some back, wears slits, see-through [fabrics], and chokers." What's more rock 'n' roll than that?
See the collection for yourself, below.