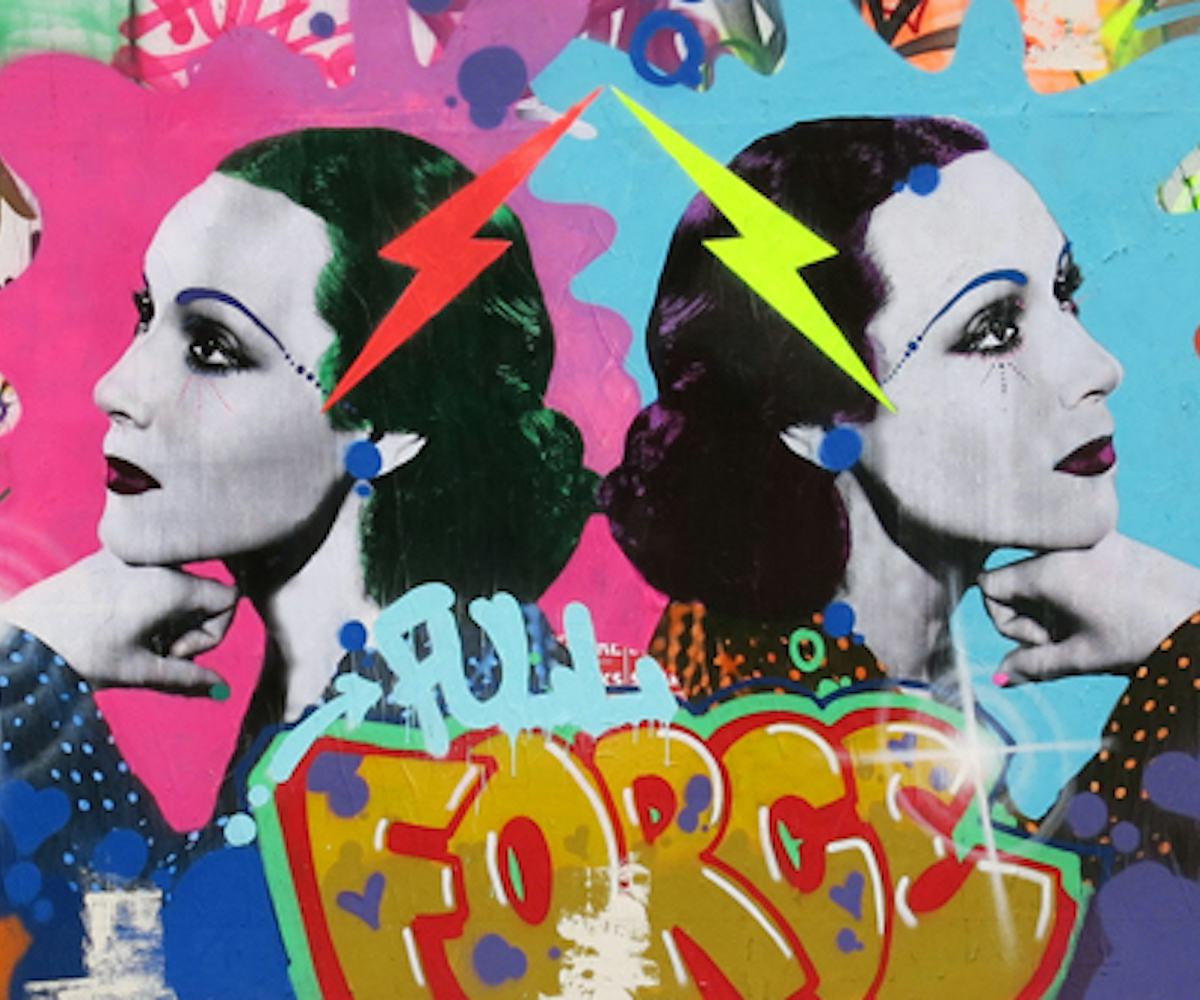 All artwork by Indie184
Street Artist Indie184 Is Rimmel London's New Chief Artistic Officer
Her work will be translated into rebellious beauty looks
We've long admired Rimmel London for its rebellious nature, providing us all with vibrant, colorful tools to work with and continuously promoting a message of unapologetic self-expression. With that said, it's no wonder that the cosmetics brand turned to an equally bold (and totally badass) street artist to head up its upcoming projects.
The beauty giant has just tapped global street artist Indie184 as its chief artistic officer—a position that's a first for the brand. Not only will she be an influential part of Rimmel's upcoming street beauty inspired campaign, her ongoing role within the company will allow her unique aesthetic to be transformed into wearable art for projects to come.
If you're not familiar with Indie184's work, the native New Yorker has been a part of the underground art scene for over 15 years. Her work, influenced by abstract expressionism and pop art, blends colors and textures through mixed mediums—everything from painted graffiti to scraps of paper, photographs, and stylized imagery of powerful women. Her composed works channel messages of "self-empowerment and motivation," she says.
Street Beauty will be centered around the idea that trends emerge from the ground up—starting from the streets. Indie184's art will be translated into beauty looks, recreated using Rimmel's latest launches, and she'll consult on the brand's content.
While fashion and beauty brands have collaborated with renowned artists in the past, this is the first time we've seen one appointed to such a big—and ongoing—position in the company.
For Indie184, this alliance between art and beauty is a no-brainer. "The energy and freedom. Beauty is an art form. The face is like a blank canvas. The colors bring self-expression to life," she says.
Even Indie184's process for creating her art closely emulates that of a beauty ritual. "When I create a painting, it's like a page in my personal diary—all the pieces are worlds of personal declarations. The abstract mixed media represents the spectrum of all of those energies. I put my heart and soul into my work. That energy that comes from within blossoms into beauty."
Chandra Coleman, VP of U.S. marketing at Rimmel London, tells us:
Indie184's work is a true representation of Rimmel's dedication to individuality and fearless self-expression. She reinvents and transforms the most simple objects and iconic female figures into unique and bold statement pieces. As chief artistic officer, Indie184 will lend her artistic vision to help shape original and authentic brand content. Her uniqueness and use of bold color and texture inspires our edgy looks that we bring to life with Rimmel products, and also represents the dimension of our Rimmel fans.
Look out for the new campaign, coming this February. It's sure to be a work of art.