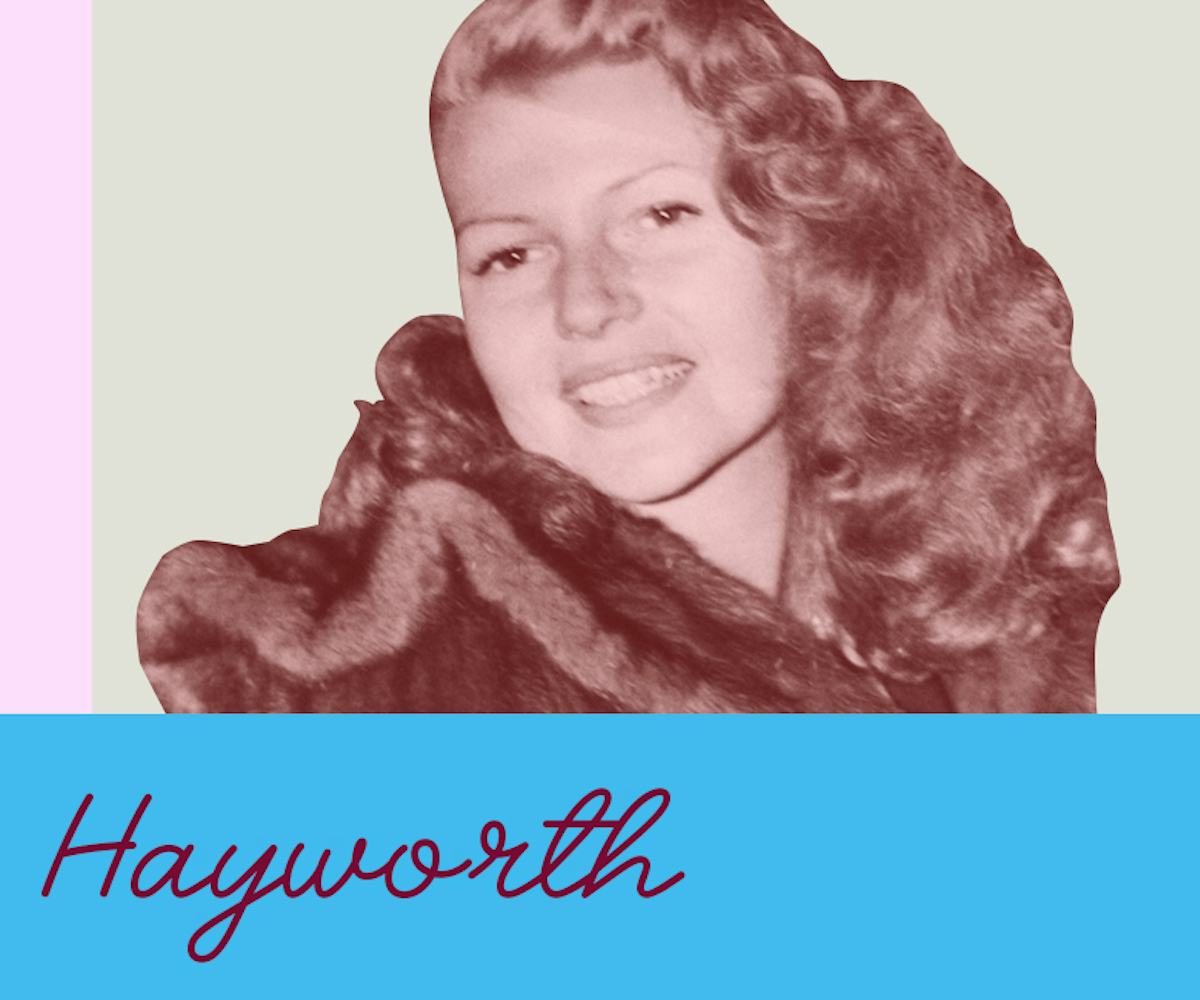 Get To Know Rita Hayworth, The Reluctant Bombshell
"Men go to bed with Gilda, but wake up with me"
In our column "Get to Know," we discuss cultural icons of the past, whose legacy continues to influence art in our world today.
The 1940s movie "love goddess" Rita Hayworth was born 100 years ago today as Margarita Carmen Cansino. A photo of Hayworth kneeling on a bed in a negligee with a saucy expression on her face certainly helped to win World War II, maybe even more so than Betty Grable's famous pin-up photo in a bathing suit. But that iconography has its darker side.
Hayworth was furious when she was told that her image was being put on an atomic bomb that was being tested in the Pacific in 1946. "Rita almost went insane, she was so angry," said her second husband Orson Welles to Hayworth biographer Barbara Leaming. Hayworth wanted to hold a press conference and get her image off the bomb, but Columbia studio chief Harry Cohn vetoed this as unpatriotic, and Welles tried to convince her that it was a sincere tribute from the flight crew.
This was only the most extreme example of Hayworth's lack of control over her image and her life, which was rarely a happy one. She reached her apotheosis in Gilda (1946), as a femme fatale who finds hatred exciting, but Hayworth's most famous quote put the lie to that movie. "Men go to bed with Gilda, but wake up with me," she said. The image that had been created for Hayworth was one that she felt she couldn't live up to off-screen.
Hayworth's mother was Irish and English and had been a Ziegfeld Follies chorus girl; her father Eduardo was Spanish. Hayworth was given dance lessons from the time she was three. When she was 12, her father started doing a dance act with her, and he exerted control over every aspect of her life. According to Welles, he also sexually abused her, and sexual display in her dancing was something that was expected of her at a young age.
She was signed to Fox studios and caught the eye doing a highly sexual dance in Dante's Inferno (1935). Her face opens like a flower here into a smile and, at one point, she lifts her skirt and looks upward and communes with her own sexuality. There is always that moment in Hayworth's films—especially when she is dancing—when she breaks away from the expectations of others and takes power for herself. These moments are usually fleeting, but they are precious and beautiful, and they explain why her name and image can still inspire such fondness. Her made-up face looks ecstatic in Dante's Inferno, and when her hair comes streaming down, the effect is so incendiary that the club she's dancing in actually catches on fire.
Her look was wholly created. Hayworth's first husband, Edward Judson, was an older man who molded her into a movie commodity and treated her harshly and cruelly. She underwent electrolysis to raise her hairline, and she took her mother's maiden name when she was signed to Columbia. In her first major role in Howard Hawks' Only Angels Have Wings (1939), Hayworth's character is talked about for almost an hour before she shows up looking very elegant in a fancy hat and belted dress. She is soft-spoken and cautious, and the quality she has on screen mixes vulnerability and wantonness in a very fetching way.
Hayworth had what used to be known as "it," and not many people do in movies. Her style of dialogue delivery is 100 percent artificial—breathy and created—but always there is a real person peeking from behind the artifice, and that real person often seems touchingly stunned but also perverse and ready to strike and attack. Everyone loved watching Hayworth in her movies because she offered that key movie experience where we have to ask, "What is going on with her? Who is she?" There are times in her films where she seems to be a mirage, beckoning us in some sheer dress that elaborately shows off her figure—a dream woman.
She was most at home on screen as a vamp, as she is in the Technicolor Blood and Sand (1941), where she is tantalizingly costumed in purple and black. Probably her most important collaborator was Jack Cole, a foul-mouthed and very tough-talking gay choreographer who understood and liked Hayworth and staged all her musical numbers (as he later did for Marilyn Monroe). She tried to be sweet in her musicals with Fred Astaire and Gene Kelly, but she was more memorable in Gilda, a distinctly unwholesome picture, filled with portents and subtexts, where she taunts the camera and her co-star, Glenn Ford.
Hayworth's Gilda is all sexy long red hair and innuendo, an appreciator of pretty men, and a lover of masks and fetishwear. She gloats over her own allure and physically swaggers, and she is both a powerful woman and Cole's gay male projection of female sexual dynamism. Her "Put the Blame on Mame" number where she slowly takes off her black gloves is justly famous, but equally stirring is her rendition of "Amado Mio" in a white dress with a bare midriff. Hayworth was always dubbed for musical numbers, for this was one more way of controlling and embarrassing her by Cohn. But no matter how many shackles they put on her, Hayworth usually manages to escape them somehow on screen. She is saying, "My body is mine and my movements are mine and my pleasure is mine… so have a look."
Welles used her as the center of The Lady from Shanghai (1948), where she wears short blonde hair and reveals some existential angst; this is most likely her best or most coherent performance, especially in the scenes where she allows herself to be bored and crabby. And she was at her most animated in the underrated The Loves of Carmen (1948), one of the most beautiful Technicolor movies ever made, where she is very active and in charge. There was a slow decline after that, which involved a marriage to Prince Aly Khan and a return in Miss Sadie Thompson (1953), where she was exuberantly physical and fleshy singing "The Heat Is On" for sweaty, horny soldiers.
Hayworth still worked in movies after that, but it was clear that she was tired, and her face started to look very grim and severe. She turned to alcohol, and she began suffering the effects of Alzheimer's disease by the early 1960s, but it would not be diagnosed until 1980. In these last very difficult years before her death in 1987, Hayworth was cared for by her daughter Yasmin, who has continued to do charitable work in her mother's name.
Maybe Margarita Cansino never wanted to be Rita Hayworth. Cole said she worked very impersonally, obediently. But hopefully, there were times when she enjoyed being Rita Hayworth as much as we enjoyed watching her and the erotic paradise she seemed to be offering us, always just beyond our reach.