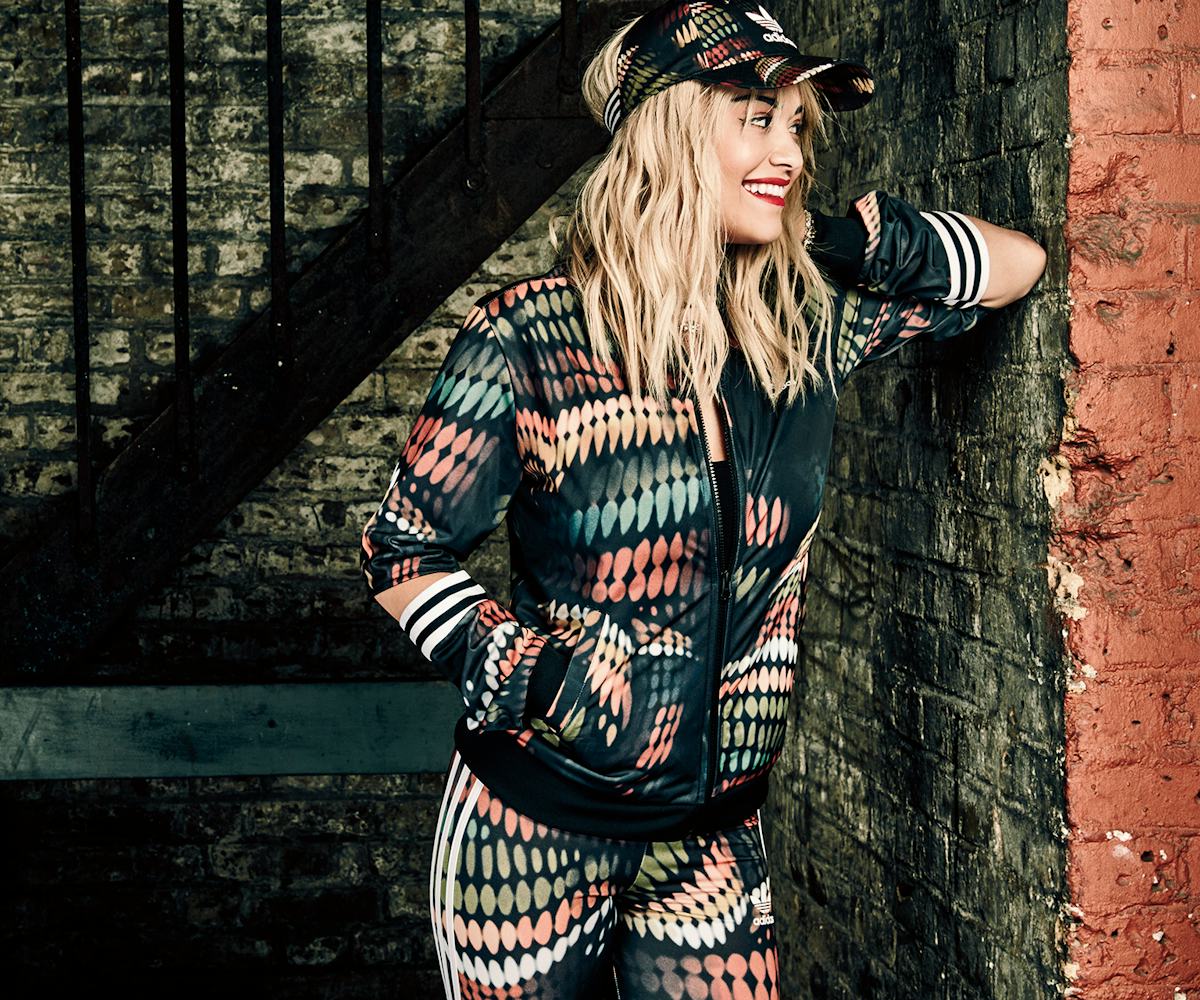 Photo courtesy of Adidas Originals.
Rita Ora Gives Us The Deets On Her New Adidas Originals Collection
The Artistic Lights line drops tomorrow
The following feature appears in the April 2016 issue of NYLON.
Rita Ora is taking to the skies with an acrobatic inspiration for The Artistic Lights pack for Adidas Originals, out on April 1. Here, the singer and designer gives us hints as to what we can expect from the upcoming collection.
What was it about trapeze artists that inspired you for The Artistic Lights collection? Do you have any experience with acrobatics? 
I just loved their movement and the complexity. I don't have experience with acrobatics, but I love yoga and exercise, and as an artist it's rewarding to see how others express themselves via movement as I do with music. 
How did you translate acrobatics and trapeze into the clothing?
I studied the movement and the colors and [lightweight] material that worked for those artists. I wanted to create a light, yet fun and cool collection that would be suitable for all. 
Where do you see the pieces being worn? 
I imagine my pieces being worn everywhere by everyone! I build my collections to be suitable for my fans, gym-goers, other artists, friends, and so on. I especially love seeing my fans in my collections. It's a reminder of why I do this.
"Sexy" and "comfortable" could seem to some like opposing qualities. How did you go about striking a balance between the two within the collection?
To me, they aren't opposites. I feel like they go hand in hand. To feel sexy you must feel comfortable, and that's what I always aim for in my collections. I kept the balance by choosing a design that is unique and cool, but choosing items that allow for my fans to express their fashion [sense] and feel comfortable and attractive. I think the balance is just perfect! 
What's been your favorite part about creating the collections with Adidas Originals?
My favorite part is working with a great team that's always supportive and lets me express my personality.