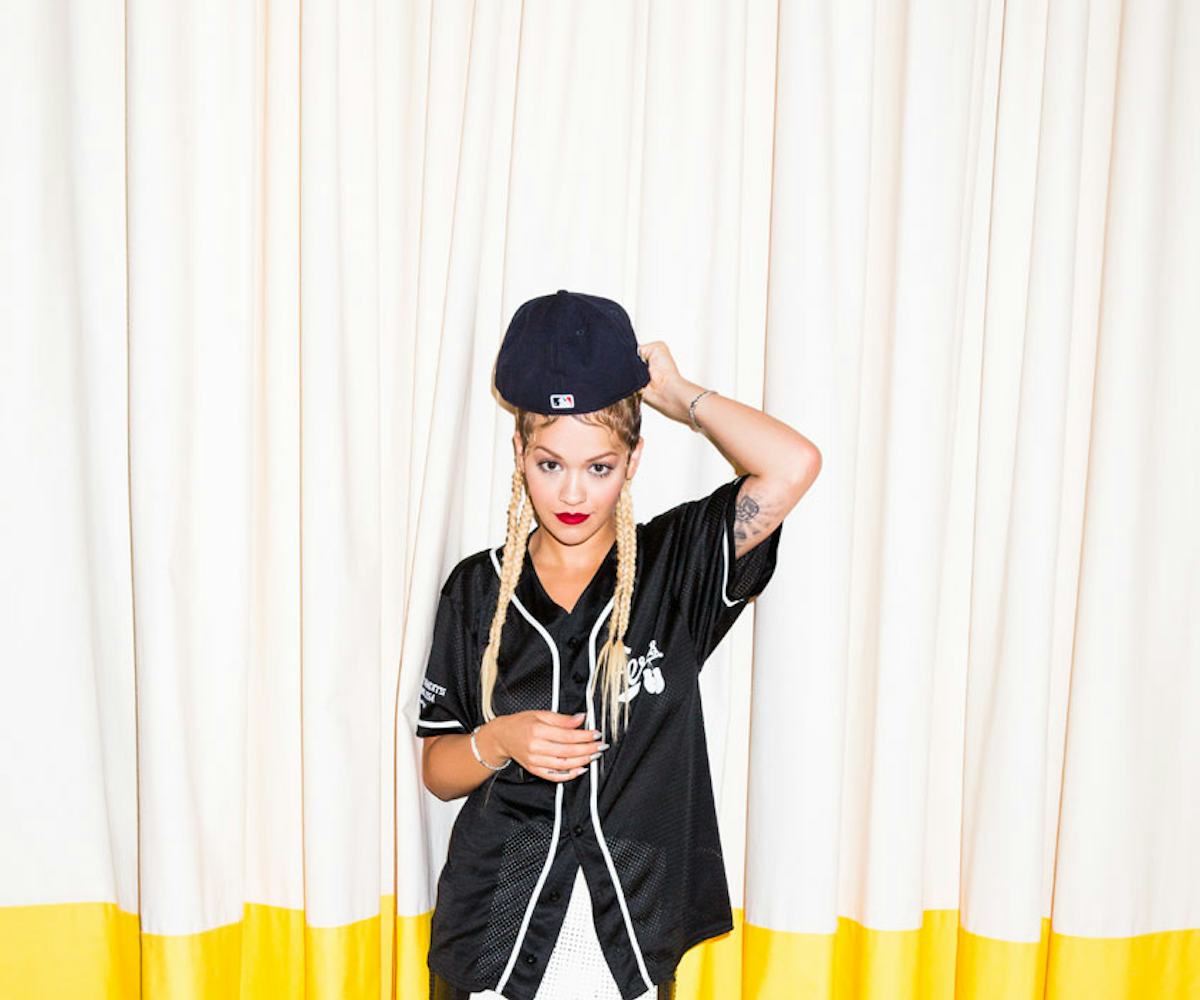 all photos by ben raynor; styled by rachael wang
london calling
see why rita ora is poised for pop world domination.
Rita Ora doesn't seem to mind that she's being worked on by four industry professionals—a makeup artist, manicurist, and two hairstylists. So what's one more, even in the close quarters of the New York City apartment that's doubling as today's shoot location?
I perch in an awkward half-squat against a nightstand and gingerly insert my recorder into the mix of mascara wands, acrylic tips, and platinum extensions. "Music was always in my blood cells," she explains, eyes closed, as her lids are dusted with shadow.
Now a bona fide pop princess in her native England, where her debut album, Ora, debuted at No. 1 in 2012 after a three-year gestation, the artist grew up singing in school, and began experimenting with recording as a teenager. "I didn't know what I wanted to say or do—I just knew that I wanted to have songs that I could dance to," she recalls.
In 2009, She was signed to Roc Nation, where she has been closely mentored by label founder Jay Z and Beyoncé. "You feel a presence as soon as you walk into a room with Jay, but it's not a scary presence," says Ora. "It's just a powerful presence of, like, success. He puts you on the spot. You better know what you're talking about when you're around him, because he's seen it all." Ora's club-friendly tracks like "R.I.P." and "HOW DO WE (PARTY)" proved that the singer can create hits, but on her forthcoming sophomore effort, she's even more ambitious.
"This time around, my album is in a completely different place," she promises, citing her boyfriend, producer/DJ Calvin Harris, as a critical collaborator. "It's a celebration of life and love and being happy and talking about sex and talking about clothes and talking about appreciating people fully. I lived through
the music. Everything I say is the truth." 
In the United States, Ora is well-known, despite the fact that her music has never been formally released stateside. "People know my name, but they don't have substance to it," she says, drying her nails. The singer has nevertheless become one of the most-chronicled personalities on the fashion circuit, gracing the front rows of shows like Louis Vuitton and Moschino and appearing in advertising campaigns for Material Girl, DKNY, and Rimmel.
"I was inspired by them before I knew them," says Ora of her designer friends. "They just happen to be cool as fuck, you know?" 
sweatshirt by barbara bui, turtleneck by this is a love song, skirt by hugo, socks by american apparel, earrings and necklace by david yurman.
jacket by adidas originals x rita ora, shirt and necklace by marc by marc jacobs, dress by christopher kane, shoes by adidas originals, bracelets by david yurman. previous page: sweatshirt by barbara bui, turtleneck by this is a love song, skirt by hugo
jacket by ktz, sweatshirt by element, skirt by iceberg, earrings by david yurman.
vest by conflict of interest nyc, shirt by j brand, skirt by jonathan simkhai, bag by viktor & rolf, bracelet by david yurman.
dress by emporio armani, bra by rvca, hat by new era, necklace by marc by marc jacobs.
jersey by ferris, kilt by pringle of scotland, skirt by nicole miller artelier, hat by new era, bracelets by david yurman. hair: chris appleton using tigi bed head. makeup: emma osborne. manicurist: dawn sterling using chanel le vernis. photo assistant: adam levett. fashion assistant: marissa smith.