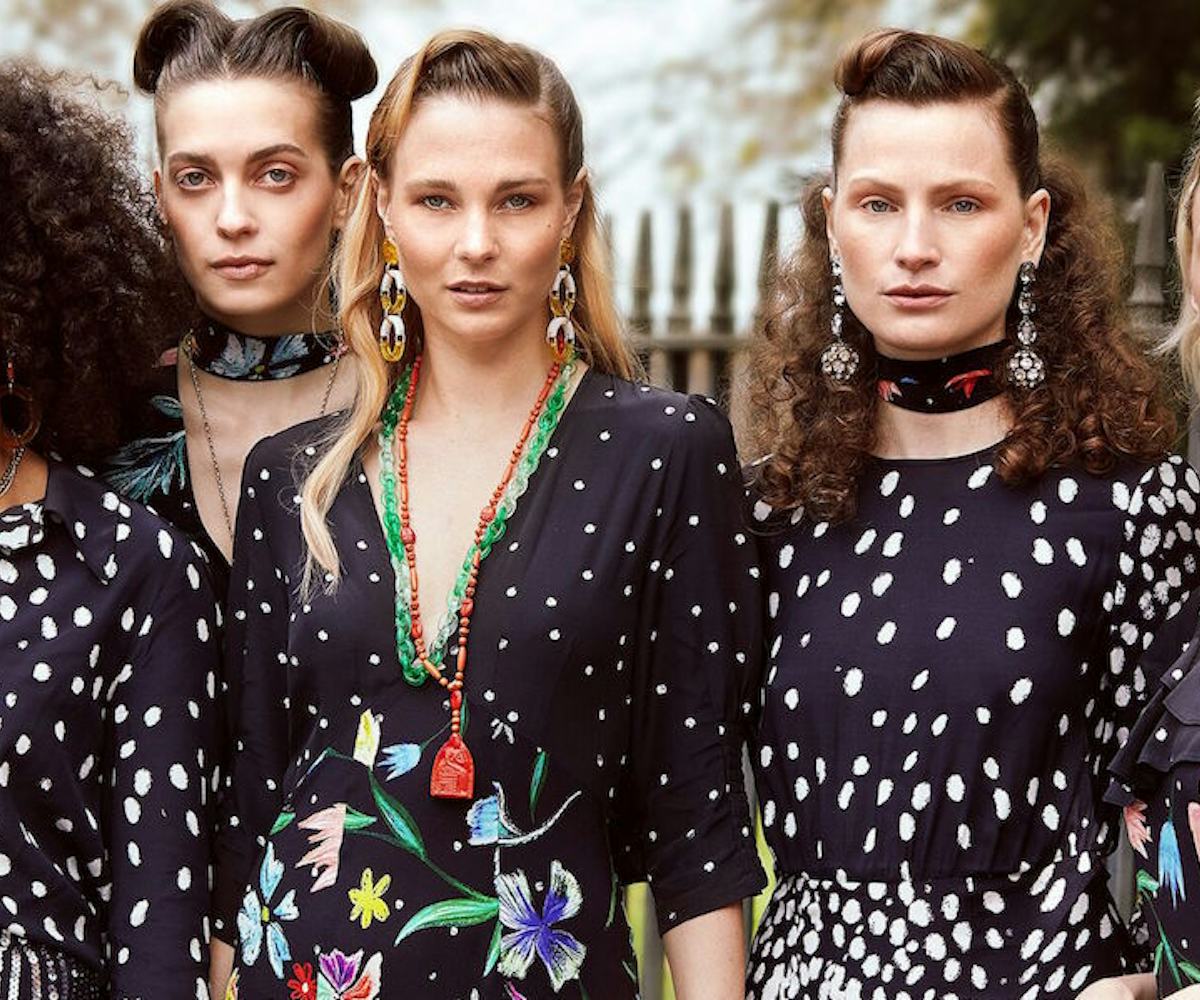 Photograph by Hadassi.
Get To Know The Brand Behind Those Dresses You're Seeing All Over Instagram
RIXO just made its London Fashion Week debut
They are many things that set RIXO apart from other fashion brands born in the last few years. The London-based label creates what some would describe as occasionwear dresses that are meant to be worn "constantly." It also refuses to follow trends, instead, relying on an unabashedly vintage and feminine aesthetic of decades past. The one thing it has in common with relatively new brands? It was born on Instagram. Well, not really. But that's where, if you ask anyone interested in fashion, they'd tell you they first saw one of these incredible print dresses.
RIXO's co-founders and creative directors, Henrietta Rix and Orlagh McCloskey—and, yes, the brand's name is a combination of Rix's surname and McCloskey's first name–met while studying at London College of Fashion. After working on a project together for a course, the two bonded over their love of vintage clothing and quickly became best friends. "We'd scour charity shops and vintage fairs together all over London, parts of the U.K., and even abroad whenever we went on holiday together, hunting for vintage treasures," says Rix, who credits those trips to inspiring RIXO, a contemporary label with a flair for the vintage. "We still make time to fit this in now!" In September 2015, after a couple of years at ASOS where they both took jobs as buyers after graduation, they decided to launch the brand.
If two recent graduates starting a self-funded, vintage-leaning fashion brand in our current economy and fashion landscape seems like a risky move, it was. "When we first started, it was just Orlagh and me doing everything ourselves—right up until this past year—from designing and marketing to packing and sending the orders customers made on the website," Rix says. "Not having funding or help meant all the workload and decisions about the business were left completely to us, which of course was challenging—we had to completely give up our personal lives for a while. However, it was the best thing we could have done! Not having anyone else to answer to meant that we could be agile—make decisions quickly, create pieces that we really loved, and focus on areas of the business that we knew would help drive success." It also helped them become personally familiar with buyers, press, and influencers with no marketing managers acting as liaisons between the two sides. "They got to know us as the founders at the same time as they got to know the brand, which I think helped them understand and connect even more so with RIXO," Rix says.
Today, RIXO remains self-funded—a model that the two intend on maintaining as long as possible. "Hopefully, as two young, determined, hard-working women, we can keep it that way. We feel really passionate about business, as well as design and growing RIXO ourselves, without investors, in an organic manner," Rix says. "It was a big risk starting RIXO—we quit our jobs and invested all of our own savings. There was no plan B for us, we really believed in what RIXO could become." That being a go-to space for women looking to fill a hole in their wardrobes. "We felt there was a real gap in the market for vintage-inspired pieces at a contemporary price point," says Rix.
They were right. The same year the collection launched, Net-A-Porter picked up the label; their pieces are now also available at Shopbop, Farfetch, and Saks Fifth Avenue. "Social media has played a big part—it's something we have handled personally from day one, and it has all been very organic," says Rix—who, to this day, manages the brand's Instagram account. "I think part of the success is because it's basically our own personal stream of thought, and no one else is posting, commenting, or replying on our behalf. For other brands, there's more of a strategy, but ours is so personable and natural; we're not trying to be something we're not or alienate a certain customer. I think people connect with that."
While most pieces are retro-esque and print-heavy, the silhouettes are functional and effortless, made for the busy city woman who wishes she had time to find her clothes at quaint vintage markets and shops. And while the price point is not low—blouses start at $200, while dresses start at $250 and go up to $550—it is justifiable when you consider the fact that everything is made from 100 percent silk, premium crepe fabric, or silk-cotton blends—and that every print is unique. "The prints are all hand-painted, so I think that also gives us a really strong, personal brand identity that people recognize. I design every print and so, because it's always my hand and my handwriting, it will always look like a RIXO piece," McCloskey says. The designs range from whimsical botanical, animal, and astrological prints to classic polka dots and stripes.
McCloskey says she pays equal attention to the cut and fabric to ensure that every piece is flattering regardless of consumer size or shape. "With every dress, I start the design process by firstly thinking who, where, and when it might be worn, so I can envisage what I think would work best. This could be for example the sleeve design, strategic lining or no lining, changing the fabrication on certain panels to suit the feel when wearing…" she says. "With print, it's having the eye and natural flair for print color and mixing that helps create the final aesthetic." That mix-and-match way of thinking is ultimately what makes up RIXO's DNA. While many of the dresses are floor-length, they are versatile and can just as easily be worn to a brunch as to a cocktail event or a wedding; and while some prints may read vintage, they look incredibly modern, appearing on bold colors (think: tiger stripe on a jewel green) or on a more unexpected cut (a constellation on a velvet wrap dress).
"The RIXO girl wears her RIXO pieces constantly, whether thrown on with trainers and an oversized jumper for a casual daytime look or paired with her favorite heels for a special occasion. They fit into her lifestyle and aren't something she wears once and never puts on again," says Rix. "We want women to get enjoyment out of wearing RIXO and know that they can count on their RIXO piece time and time again!" McCloskey second that sentiment: "We don't design for one particular type of woman, and we don't follow trends. We want RIXO items to stand the test of time—'future vintage.'"
And it has! One of their first dress styles, "Camellia," has been brought back with every new print iteration; a variety of other styles found new life in more recent drops, too. It's this timelessness that, no doubt, contributed to the rave reception at the brand's debut London Fashion Week presentation last month. "It felt so surreal!" says Rix of the showing just a few years after launching the brand. "We were so overwhelmed by the response to the presentation and collection—it was a real dream moment!"
Inspired by '80s icons, like Princess Diana, Jerry Hall, Madonna, Brooke Shields, the collection, "Love Over Gold," nodded at Diana's favorite Dire Straits album. "We created pieces that we could imagine those icons wearing back in their heyday, but with a contemporary twist—from Jerry Hall supermodel glam pieces with exaggerated sleeves, sweetheart necklines, and clashing prints, to more demure Princess Diana-inspired cotton midi day dresses with embroidery," says McCloskey. Polka dots, pastel animal prints, florals, multicolored houndstooth, and '80s-style chain prints all made their way into the collection shown at theLondon pop-up store in Covent Garden.
Inspired by the "vibrancy of London's fresh fruit and vegetable market," the setup for the presentation featured fresh produce on market stalls. Models perused the stalls and encouraged attendees to use tokens, which they were handed at the entrance to the presentation, in exchange for fresh fruit, vegetables, and flowers picked up the morning of the presentation from Covent Garden Market. (Following the presentation, RIXO donated all remaining produce to local London charity City Harvest.) "We wanted the set to be completely authentic, immersive and interactive—a real Instagram moment!" says Rix.
One of the other buzz-worthy moments was the news of RIXO's first collaboration, a "see now, buy now" collection with U.K. It Girl and TV presenter Laura Jackson. "Laura has been wearing RIXO right from the beginning. We love her style and personality—she's who we picture a RIXO girl to be," says McCloskey. "After meeting Laura in-person, we ended up chatting about our shared passions and interests, [and] we realized we had so much in common. It just made sense that she would be our first collaboration." The line resulted in prints—surrealist faces, naked women, lemons, shells, and birds—inspired by their mutual love of travel, fashion, food, and art and paying homage to sketches of Pablo Picasso and SalvadorDali as well as Jackson's engagement on the Amalfi Coast in Italy. "I was first introduced to RIXO not long after Henrietta and Orlagh started the brand, I was a huge fan of their vintage-inspired prints and easy-to-wear shapes. I truly fell in love with the brand when I met the girls—they are so passionate, hardworking and loveable," Jackson said of the line in the press release. "They created RIXO from their living room and turned it into a global brand—it's incredible."
In addition to the collaboration, RIXO also debuted its first line of accessories, including (of course!) scrunchies, oversized hair clips, chain belts with shell detailing, printed shopper bags with ruffles, leather bags with chain bracelet handles and shell closures, as well as decadent costume jewelry. Like with ready-to-wear, all the accessories are vintage-inspired and featuring hand-painted prints. "We'd style up RIXO pieces on the website with our own vintage accessories, and we always had customers asking to buy the full looks—sometimes we'd end up having to sell or loan our own vintage belts and bags to customers who were coveting them," says McCloskey of the launch.
According to McCloskey, the brand will continue to focus on the accessories, as well as expand into swimwear with an upcoming resort collection. No matter where it will go after that, you can bet you will see its journey on Instagram.