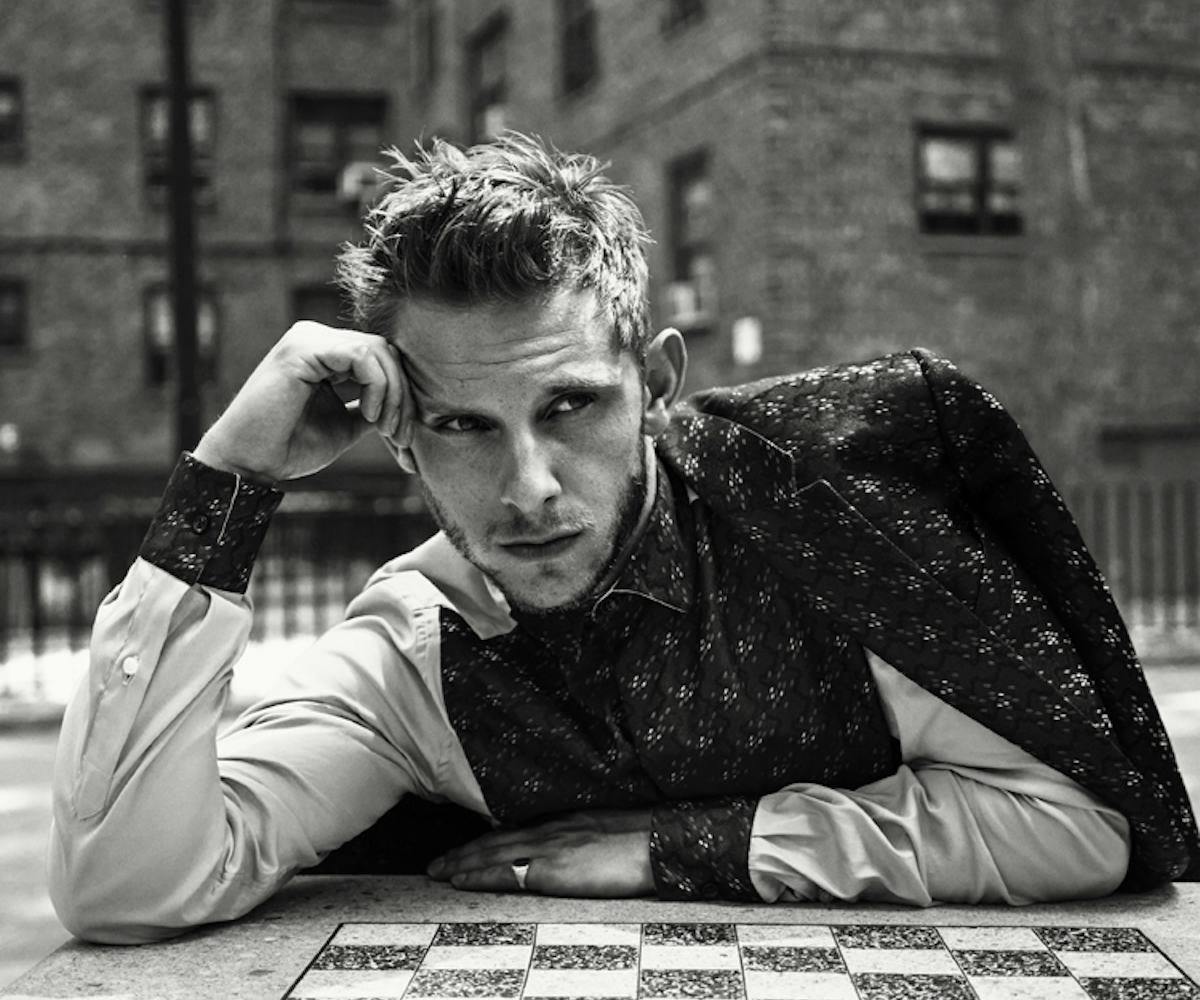 Photo by Sebastian Kim, courtesy of Interview Magazine
robert pattinson + jamie bell just gave one of the most insightful interviews yet
they've been through them enough
It's safe to say that Robert Pattinson and Jamie Bell have starred in our generation's most defining (whether that may be a positive thing or not) films, Twilight and Billy Elliot, respectively, along with a slew of indie projects. And when you're an actor, no matter how big or small, there is a tremendous microscope put over you: Your acting, your personal life, and any possible relationships you may or may not have. So, it's no surprise that both Pattinson and Bell have had their fair share of interviews and media training, and both know exactly what to say and do when dealing with journalists. But when you ask the friends to interview each other for Interview, well, things get interesting.
Straight off the bat, the two got right to it. "Let's not talk about any of your work," Pattinson told Bell, who was "expect[ing] fucking Charlie Rose" himself. "Let's only talk about your personal life. Your crack usage. Who are you fucking? Okay? What's your earliest memory?" That segued into tales of firing Tim Burton-era Batmobile missles, stealing underage sips of his grandfather's homemade wine, and then Billy Elliot, which Bell says the producers looked at as a "kind of a mini-movie that they didn't expect to do very much."
But, as happens with most childhood actors who brush Hollywood aside for a bit of time in favor of a normal life, Bell was forgotten about. When he was 17 or 18, he moved to the U.S. and decided to take up acting again. "I was this adolescent, spotty kid, sitting in exec's offices," he recalls. "It was like, 'Who the fuck is this kid?' [laughs] 'Why is he in my office?'" Still, he landed big parts, movies like Lars von Trier's Dear Wendy and Arie Posen's The Chumscrubber. As Bell admits, his career path wasn't all his doing. "I didn't have any thought process," he says. "I just had people, representation-wise, who just had better taste than I did... All these new people that I'd been introduced to really opened up a wider version of what cinema was and is."
After speaking about Bell's new project, Fantastic Four, in which he plays The Thing, they talked about the expectation that child actors must, in fact, be deranged in some way or another. "I am quite unashamedly Jamie all the time," Bell said. "I think that definitely helped even in terms of sanity—not in terms of career, just in terms of keeping your head, especially when you start so young. I get asked a lot in interviews, you know, 'How come you're not, like... In rehab or anything?' I probably should be. The pitfalls of child actors ... It was drilled into me when I was a kid: 'You have to be you, and you must be the best version of yourself.' I think a mantra I always told myself is, 'No matter how many times somebody pitches the ball at you, if you swing every time, eventually one of them is going to connect.' Being yourself and persistence are two things that became my daily mantras, I suppose."
Pattinson's response: "Why do you think you're not crazy? [both laugh] I mean, you are a little. It's a strange trait for actors not to have, but most of them don't have a lot of humility. I find that you're one of the most humble people I've ever met. It's unusual."
"I don't know," Bell, who has a son with former-child actor Evan Rachel Wood, answers. "I think my demons are my demons, and we all have them, and we work on them. But, I'm always impressed with people. I'm always impressed that other people are not as crazy as I would expect them to be, or more grounded, or more human than I anticipated. I'm constantly surprised by people. When you see people who could so easily be a dick, or full of themselves, or not giving of their time or their attention, or whatever, I'm always reminded to be humble and have humility. Because it's a great trait. It reminds me that I need to do the same."
(via Interview)