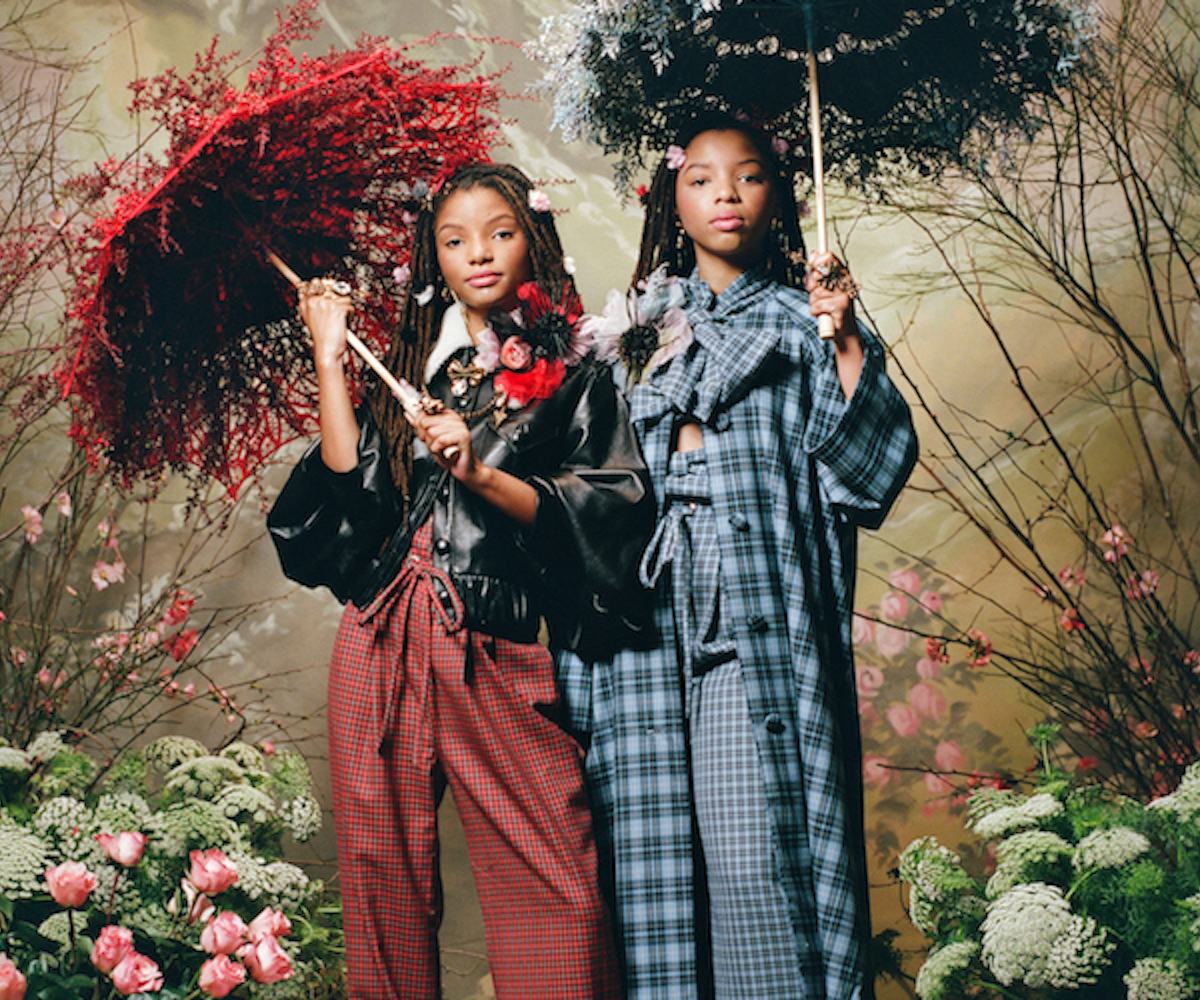 Photo by Autumn de Wilde via Rodarte
Rodarte Ditched Runway Show, Released Star-Studded Lookbook Instead
Chloe x Halle, Rowan Blanchard, Kirsten Dunst, and more pose in the dreamy photos
Always one to rebel against the traditional fashion calendar, Rodarte has released its Fall 2018 collection ahead of Fashion Month. Rather than host a runway show, designers Laura and Kate Mulleavy cast a group of incredible women to pose for a series of portraits. Donning the latest designs are Chloe and Halle, Rowan Blanchard, Kirsten Dunst (and her adorable baby bump), Tessa Thompson, Grimes, and Miranda July, and more.
While the cast consists of a diverse group of women, ranging in age and professions, they all have one thing in common: They're total powerhouses. "We are thrilled to feature women who inspire us in our fall winter 2018 portrait series," said the Mulleavy sisters in an official press release.
As for the collection itself? It's as romantic and whimsical as it can get, everything we would expect from the L.A.-based label known for fusing couture influences with a laid-back California vibe. Tiered tulle ruffles, floral embellishments and embroidery, sheer polka dots, and a soft color palette accented by pops of vibrant red and black dominate the designs shot against a fairy-tale-like forest backdrop.
Rodarte was one of the first major labels to leave New York Fashion Week, announcing last January that it would be taking its collections to Paris instead and showing during Haute Couture Week in January and July, rather than in September/October and February/March. However, according to Fashionista, the label won't be having a show at all this season.
With designers dropping off of the fashion calendar left and right—Alexander Wang, most recently, announced he will show during pre-collection months, June and December, following his upcoming NYFW show next month—we applaud this decision to instead showcase these truly breathtaking designs on powerful, inspiring women, rather than simply sending them down a runway.
Grimes
Chloe and Halle Bailey
Danai Gurira
Rowan Blanchard
Ava Phillippe
Kirsten Dunst
Grimes
Tessa Thompson
Miranda July
Rowan Blanchard
Grimes
Danai Gurira
Gia Coppola
Halle and Chloe Bailey
Rowan Blanchard
Tessa Thompson
Hong Chau
Gia Coppola
Kirsten Dunst
Tessa Thompson
Madisyn Ritland
Kim Gordon
Gia Coppola
Hong Chau
Joanna Newsom
Ava Phillippe
Halle and Chloe Bailey