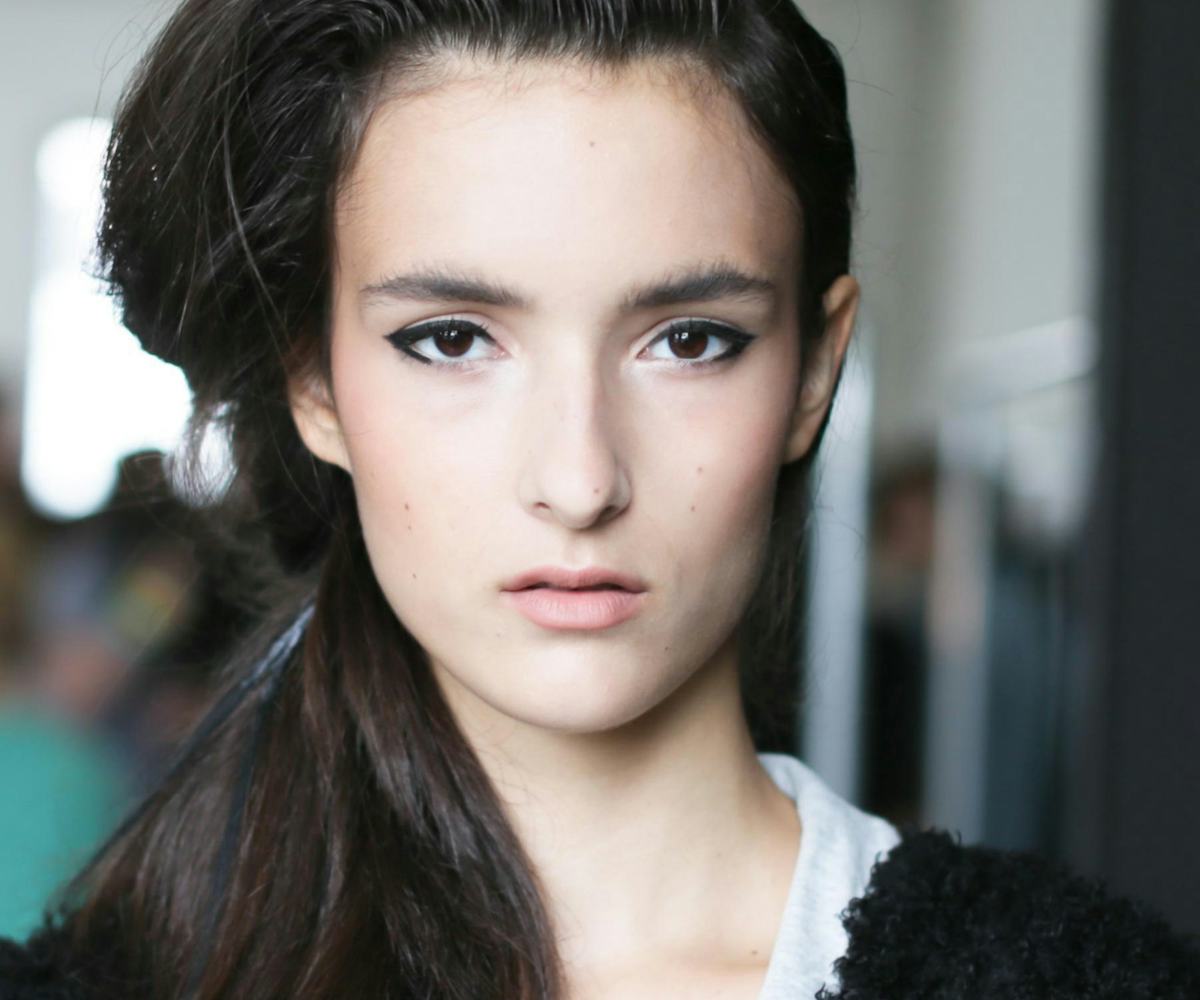 the look: rodarte
recreate spring's rocker cat eye right now.
As soon as the first model paraded down the runway in fringe skirts, plaid shirts, and backwards-facing snapbacks, it was obvious-- Rodarte spring '14 was
our
kind of runway show. Kate and Laura Mulleavy's latest collection practically radiated an effusive downtown cool, and this attitude extended to the makeup look as well. Inspired by Los Angeles and its sleek, minimal lines, the girls' faces were matte, clean, and practically bare. Well, except for the models' statement angled eyeliner, an effect that not only complemented the label's clean lines, but was striking entirely on its own.  
According to NARS Cosmetics' John Kaliardos, the thick black liner was a rocker take on the traditional cat eye, drawn outwards instead of winged. "This show was about a bold, strong look but not one that angled up into sexy eye – instead, downward and across, created custom for each girl's eye shape," he said. We quizzed Kalirdos on how to recreate the entire Rodarte beauty look below...because unlike the collection's crop tops and cut-outs, you don't have to wait until the weather warms up to rock it. 
FACE:
Apply
Pure Radiant Tinted Moisturizer SPF 30
to the center of the face and blend outward. Blend
under eyes and on eyelids. For cheeks, sweep Altai Matte Multiple (New for Spring 2014) under the cheek bone and on temples . Dab Anguilla Matte Multiple (New for Spring 2014) on the bridge of the eye (just above the crease) and to apples of cheeks
EYES
"Point your chin slightly upward and use a pen-like eyeliner with a sharp tip or
that are painted on with a small, sharp angled brush like the Angled Eyeliner Brush. Start on the halfway point of the eyelid and draw close to the lashes, following the eye line and drawing it out slightly. Next, add depth and thickness by following the line slightly and draw it to connect it to the outer point. Draw a super thin line from inner corner to meet the middle of eye where you started. Add thickness only to match the center where you began, leaving the inner corner as thin as possible. Now add a line under eye but only about half an inch long and not too thick. Apply mascara and a light dot of concealer to your inner corner to recreate the overall look."
LIPS
Apply
Biscayne Park Satin Lip Pencil
and layer with Floralies Satin Lip Pencil. Using your fingertip, add a small amount of Laos Matte Multiple (New for Spring 2014) to the center of the lips to take down shine