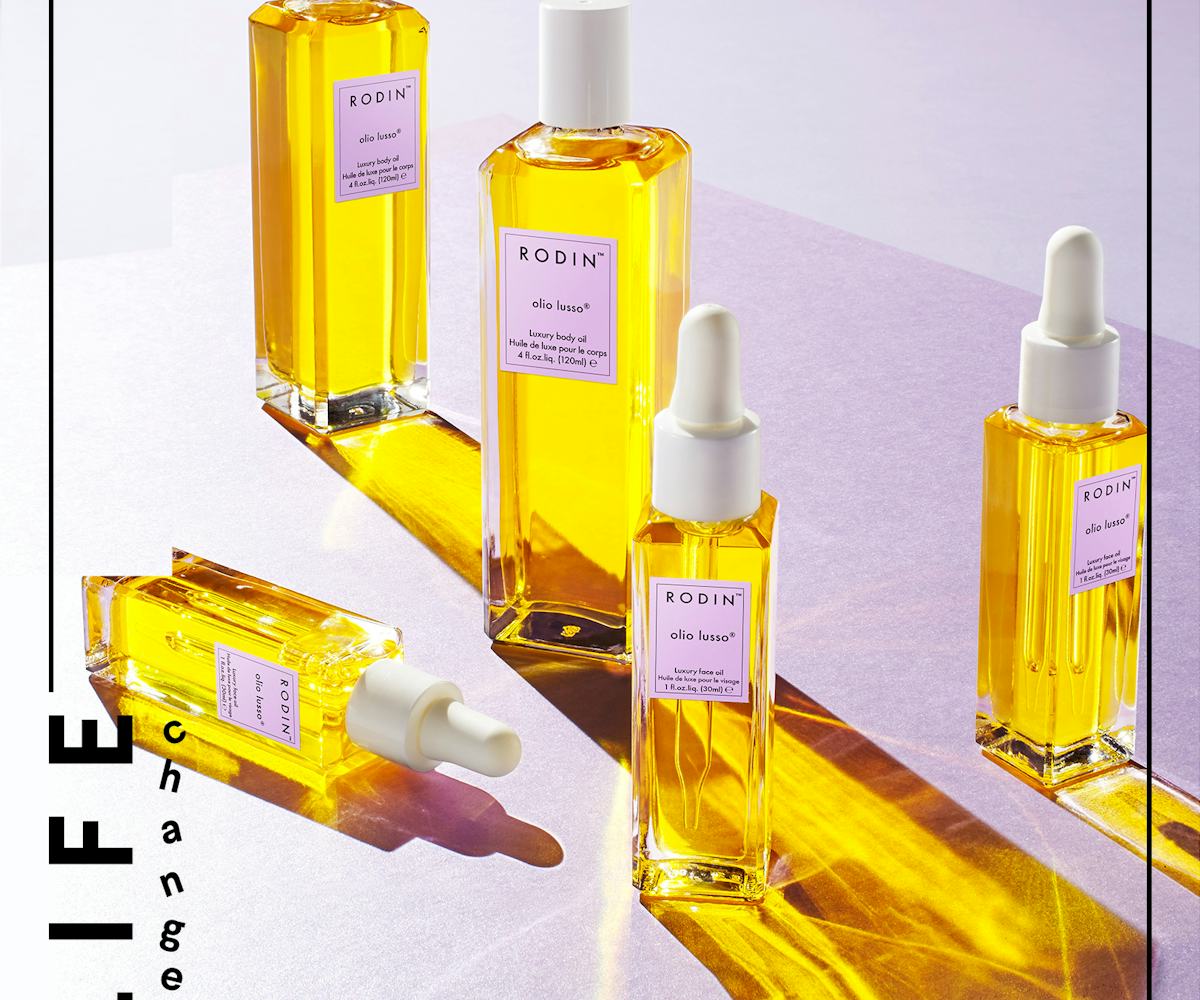 How Linda Rodin's Olio Lusso Made A Face Oil Junkie Out Of Me
My obsession for the product has come full circle
While some like to scoff at pop culture, we wouldn't be who we are without it. Whether it's a television show, movie, book, underground cultural phenomenon, or beauty product, there are certain events that changed the course of our lives. In our Life Changer series, we're sharing the things that helped us become who we are today, and hopefully, inspire you to try them out for yourselves.
I was first introduced to the face oil revolution, many years ago when I was working as an intern in the fashion closet at a glossy magazine. The fashion assistant at the time was on the phone with Barneys New York asking them to put aside a bottle of
, which one of us interns or a messenger would inevitably have to go and pick up. When she got off the phone, she divulged to us the "miracle product" we were about to retrieve: oil for the face. "Wouldn't that make your skin breakout?" I naively asked a question that I would be destined to answer time and time again after I've become a convert. "Oil attracts oil," was her deadpan response, one that I would sometimes find myself in the future mimicking to a tee with an accompanying slightly incredulous look and a head tilt, craving to exude a fraction of the same amount of the confidence and knowledge that she radiated.
She was correct. When rubbed into the skin, the good oils in products bind to facial impurities, pulling out the bad oils—sebum or oils created by makeup—and unclogging pores while moisturizing the skin. At the frontlines of what would in a few years be a full-blown facial oil trend craze, was Linda Rodin, founder of Olio Lusso and a fashion insider in her own right. After first launching Olio Lusso, a concoction that she created from a blend of oils to satisfy her own skin-care needs, in 2007, she gained a cult-status following pretty instantaneously. Pair that with the seeming word-of-mouth notoriety of Olio Lusso and my sticker shock over the $170 (my allowance back then for a week) for a 1-ounce bottle price tag, and my curiosity was tenfold.
I would try the oil firsthand a year later, at my first real job, when I would be assigned a story on, you guessed it, face oils. From the first moment I massaged the oil into my skin, I knew that my addiction would be full-blown and irreversible. Comprised of 11 essential oils—including neroli, argan,­ and jojoba—what me at first try was the subtly exquisite scent of jasmine. The oil exuded a divinely mysterious floral scent that would wrap around me (even more so when combined with the
) and intoxicate my senses. It was "my little secret," a fragrance so light that only I knew of its presence and power on my skin. It wasn't just the olfactive characteristics that made a fully-fledged oil junkie out of me. A few weeks after using Olio Lusso, my skin texture and appearance was the best I have ever seen it to this day. Skin dryness and dullness were gone, and in their place, was incredibly soft and supple skin and a luminous complexion. When the product inevitably ended, I did all but lick the bottle of its final drops and kept it as a memento for longer than I care to admit.
Since then, I've gone out and tried more than two dozens of other face oils, from both luxe and more democratically priced drugstore brands, that have claimed to have a similar myriad of benefits and promised seductive aromas. While some have repulsed me with their scent before I even fully unscrewed the cap, and some have left my face with a layer of bacon-like grease for days to come, there are a few that have come near filling my oil well of skin care needs (Caudalie's oils have gained a steady place in my beauty cabinet's rotation).
But still, none have come close to the feeling that I have after slathering on Olio Lusso. Sometimes, more importantly than making my skin feel like a well-oiled machine, using Olio Lusso enhances a sense of self-love in me, as superficial as it may sound. Like for many, including me, splurging on expensive lingerie, creates a feeling of doing something just for yourself, using Olio Lusso reminds me that I deserve the best and be $170 darned. I also associate the purchase of Olio Lusso with some of most the pivotal times of my life: After that initial sample, I bought a bottle after I got a job that, for the first time, paid more than minimum wage, after I ended a six-year relationship that would leave me broken for the next six months, and without fail on my birthday every year. During the low times, the oil served as a much-needed pick-me-up; in the high times, it reminded me of how much I achieved and thus was rewarded for.
This month, almost a decade after the Olio Lusso debut and more than half a decade since I first learned about it, Rodin introduced a lavender-scented version of the classic. The new Lavender Absolute formula, available for both the
and
, features the same nine oils as the original with two lavender extractions—Bulgarian stems and French flowers absolute—in lieu of jasmine and neroli. "They are the warmest and most delicious lavenders I've ever smelled," says Rodin. Not to mention the skin-care benefits: "Lavender is calming and soothing, and wonderful for the skin," she says. But it's not only the intoxicating smell and beneficial properties that had Rodin wanting to source lavender as the focal ingredient. The color—the most pastel-perfect shade of purple featured on the packaging and bottle—has much sentimental value for Rodin. "During the late 1960s, I was forever wearing purple and lavender. They were my favorite colors since I'd been a kid," says Rodin. "I had a wonderful boyfriend at that time when I was constantly wearing those colors, and he nicknamed me Lavender Lee. My middle name is Lee, and the letters he wrote to me were always addressed to 'Lavender Lee.'" 
Much like the original, the formula goes on smoothly providing the hydration and luxurious sensation that has made me fall in love with Olio Lusso so many years back. A far cry from your grandma's favorite lavender perfume, Lavender Absolute is florally rousing in a modern and unexpected way. It does not ooze the subtle "I have a little secret" fragrance like Olio Lusso; instead, it hits you in the face in the most thrilling manner and announces its presence. Light years from the naïve girl who was silently chastised for her lack of knowledge years ago, I am now more comfortable in my skin than ever. With the defining decade of my formative 20s coming to an end, my obsession with Olio Lusso has come a full circle too. Now, equipped with a defined sense of myself, Lavender Absolute, and its can't miss attitude, couldn't have come at a better time to pick up the baton from its predecessor. Like with the original Olio Lusso, I know that I will buy it through the upcoming high and low moments of the next phase of my life and $170 be darned.
Rodin, Lavender Absolute Olio Lusso Luxury Face Oil, $170, available at Rodin.
Rodin, Lavender Absolute Olio Lusso Luxury Body Oil, $130, available at Rodin.
Rodin, Jasmine Neroli Olio Lusso Luxury Face Oil, $170, available at Rodin.
Rodin, Jasmine Neroli Olio Lusso Luxury Body Oil, $130, available at Rodin.
Rodin by Recine, Olio Lusso Luxury Hair Oil, $70, available at Rodin.
Rodin, Olio Lusso Luxury Travel Kit, $250, available at Rodin.