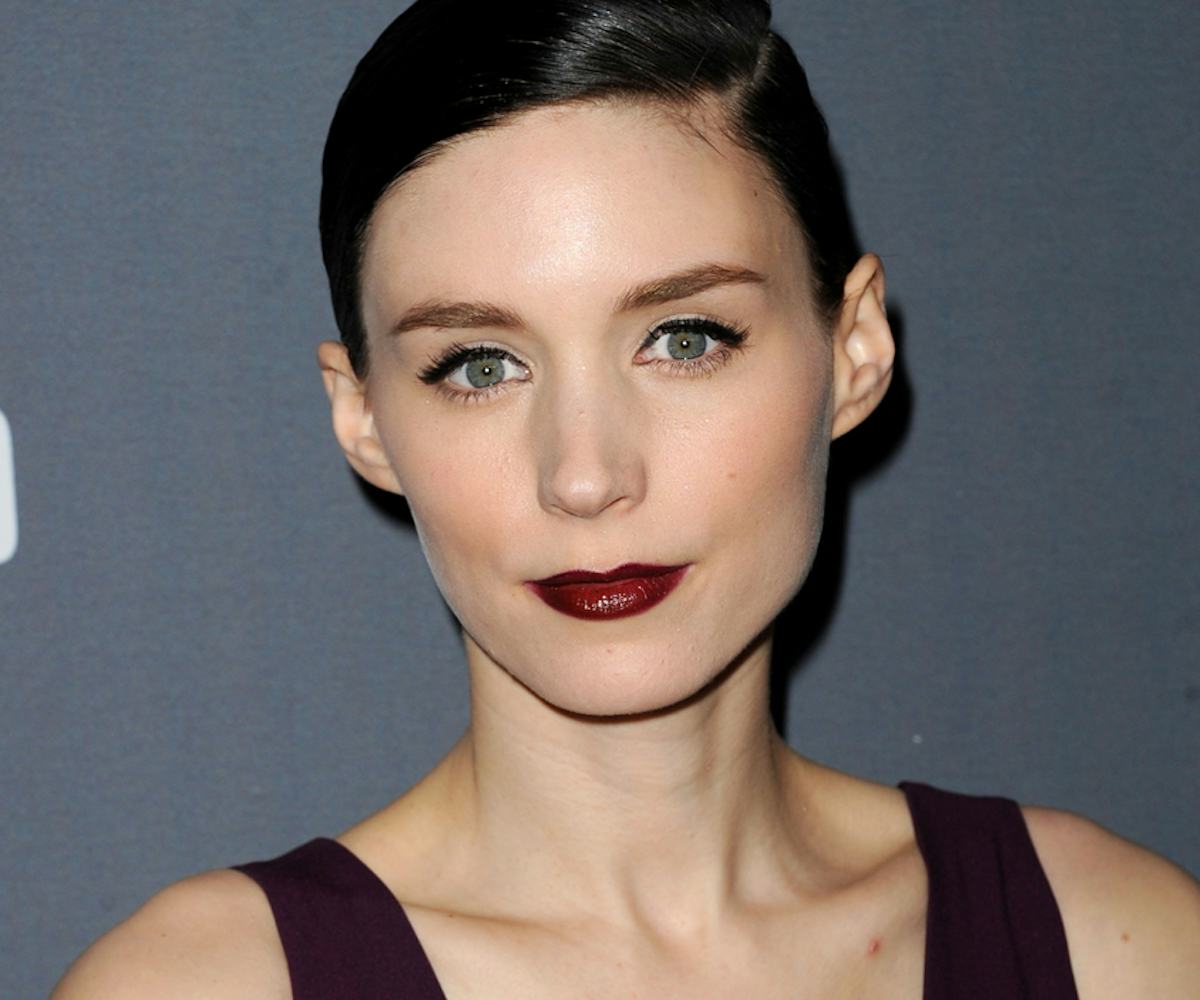 all photos by getty images
beauty queen: rooney mara
15 beauty tricks to steal from the star.
Rooney Mara is many things: she's an Oscar nominee, a crimefighting badass, and a girl next door. But on her 29th birthday, it's time to talk about her other role....you know, as a beauty icon.
The face of Downtown by Calvin Klein might have a trademark personal style (minimalist, edgy separates from Givenchy, Balenciaga, and Chanel) but when it comes to her makeup and hair? You never really know what you're going to get, and that's exactly why we're all so obsessed. No matter if she's doing intense baby bangs or the purple smokey eye, this girl is going to look awesome.
So even if you don't share Mara's kickass skills, channel her on the beauty front with our 15 tips below. 
Get inspired by more of our beauty crushes on Pinterest!
Bold brows are always a win. Fake it til you make it with Anastasia Beverly Hills Brow Wix--$21
Trade the classic red lip for a deep plum gloss, like Blackberry from Bareminerals.
The half-up, half-down hairdo is back! Make it look chic (and not like you stepped out of middle school) with stick-straight hair, courtesy of Living Proof's Straight Spray.
Try her new take on the basic ponytail by dividing it up into sections with Goody Clear Rubber Bands.
The plum smokey eye is definitely happening...and it looks surprisingly glamorous. Try: Givenchy Ombre Couture in plum---$23
Speaking of colored eyeshadow, get the how-to on her sultry look here.
This spring is all about the center part, you guys. Prep your hair with AG BB Cream--$26
Smooth on top, textured on the bottom? We're into it. Try: Bumble and Bumble Hair (un)Dressing Creme--$28
Commitment-phobes, these faux bangs are for you.
Berry lipstick plus deep side part equals the easiest beauty equation....ever? Get it with Zin from Bite Beauty.
Start with a perfectly clear complexion, courtesy of Tarte's BB Cream and Primer hybrid.
Make sure your topknot stays in place--and shiny--with heavy duty hairspray, like this one from Tigi.
Go for the royal flush with Make Up Forever's Creamy HD Blush. 
Even if you're not channeling Lisbeth Salander, take the plunge with dramatic short bangs. (Shy people, maybe don't try this one at home.)
If there's anything we've learned from Rooney Mara, it's that purple lips, slick hair, porcelain skin is the ultimate beauty triple threat.