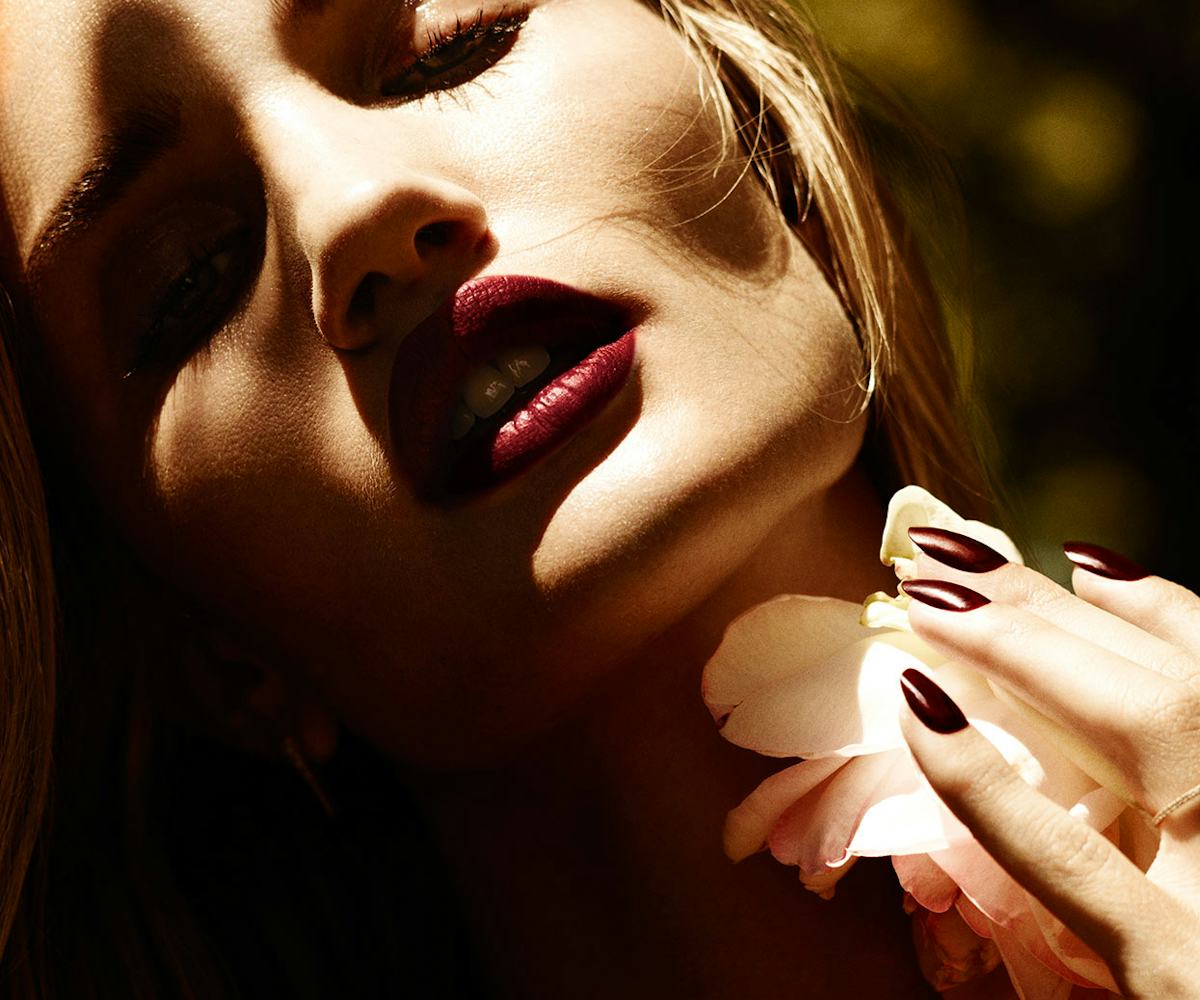 Photo by Ben Hassett for Violet Grey
rosie huntington-whiteley gives great advice
and bares all in 'violet grey.'
Victoria's Secret Fashion Show veteran, up-and-coming actress, and entrepreneur Rosie Huntington-Whiteley is so much more than a gorgeous face. The 27-year-old supermodel just released her own lingerie line, Rosie for Autograph, and is set to make her second film appearence in the upcoming apocalyptic flick Mad Max—and now she's quite literally baring it all in a nude shoot and interview for The Violet Files.
While Huntington-Whiteley is used to going glam for her modeling gigs, she reveals that her beauty routine in real life is relatively basic. For a simple, natural look, she relys on Chanel Vitalumiere Aquay foundation for an even complexion and Laura Mercier Crème Cheek Color in Rosebud for a pretty flush. Final touches of YSL Babydoll Mascara in Wheedler Brown and a little bit of Eve Lom Kiss Mix lip balm finish off her fresh face.
With a low-key makeup routine and a sharp focus on her acting and entrepreneurial ventures, the supermodel also manages to stay down-to-earth in spite of her otherworldly beauty. Working in a chaotic industry, she grounds herself through loyal friendships and connections. "I believe who you surround yourself is a reflection of yourself," she says. "There's a quote I have always liked by Will Rogers: 'It takes a lifetime to build a good reputation, but you can lose it in a minute.'" 
Click through the gallery to see the photos and parts from the interview. Then read Huntington-Whiteley's full interview at Violet Grey.
"I don't want to be that miserable girl pushing a salad around my plate…At home, I eat clean, organic, simple. And when I go out with friends, I enjoy myself…I couldn't live life just restrictive all the time. It's just no fun to me. That's not a way to live. It's all balance."
"I honestly think I was a lot more free when I was younger; Kate Moss was my favorite supermodel and she always took her clothes off for anything. It was like, 'Well if it's good enough for Kate…'"
"Being a model, being an actress—it's not decided by you. You're chosen. You're cast, and that's fantastic, of course. There is always a sense of pride when you make the cut, but there has always been a big part of me that wants to make things happen for myself. I'd like to get myself into a position where I'm starting something on my own. That's my focus for this year."