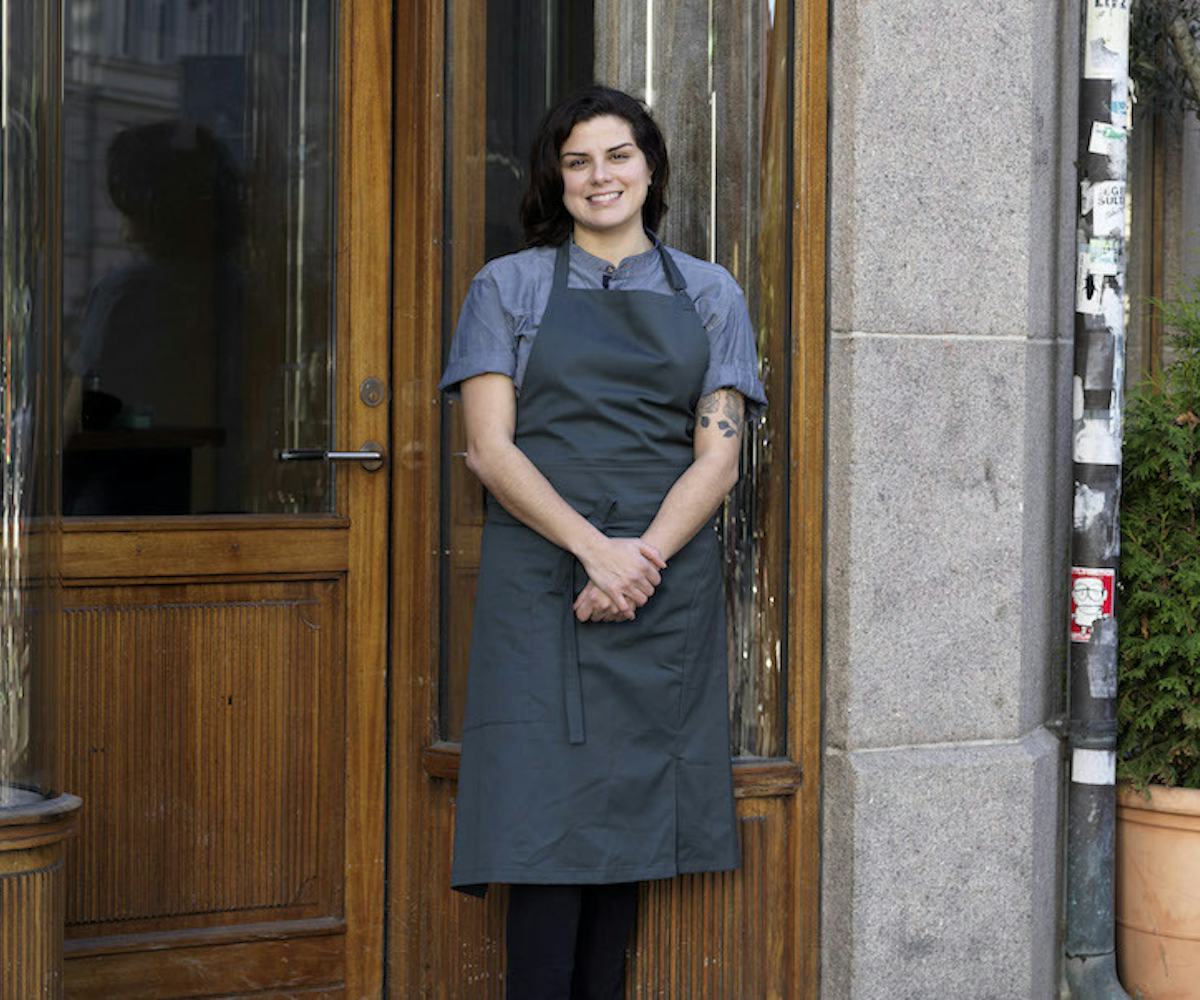 Meet The Chef Behind The Best Street Food In Europe
And the star of the 'Ugly Delicious' "Tacos" episode
My favorite moment from Ugly Delicious occurred in the taco-centered second episode. Around minute five, the camera pans to Copenhagen (the city of my birth), before showing a young female chef making corn tortillas and assembling fish-skin tacos with gooseberry salsa in a restaurant kitchen. Chef and host of the show, David Chang, asks her point-blank if she wants to be the best taco-maker in the world. She equivocates at first—"You can't say, 'I want to be the best taco-maker in the world!!' But..."—before, without explicitly saying so, admitting that, maybe, yes, she does. She is Rosio Sánchez, one of Europe's most famous Mexican chefs.
The rise of Sánchez can be described as a Cinderella story of food. The Chicago-born and -raised chef, whose parents are Mexican immigrants, began professionally cooking at the age of 19. After working at the famed Wd~50 in New York City, and other prestigious kitchens, she moved to Denmark where she was offered every chef's dream gig—to work at Copenhagen's celebrated noma restaurant—a job she took with no hesitation, even cutting her temporary culinary placement abroad short for it. After running the pastry section at René Redzepi's two Michelin-starred institution for five years, in 2015, Sánchez opened her own Mexican taqueria, Hija de Sanchez, in the Torvehallerne food hall (the second location would open in Kødbyen neighborhood a year later) as a way to reconnect with her heritage and bring back flavors of her childhood that she missed in Denmark.
If it seems like an unlikely choice for a noma-trained chef to open a casual taco stand in a city more known for its Nordic culinary traditions than Mexican food offerings, that was "exactly" the point. "The city needs more options," she told me ahead of her first dinner at the Seaport Food Lab, NYC's experiential culinary hub which is hosting eight female chefs—including Nancy Silverton, Ashley Christensen, Caitlin McMillan, and Camille Cogswell—with one-week dinner residencies over the course of six weeks. "More importantly, Europe deserves well-made Mexican food." And she has made sure it's gotten some, even at the price of having to explain to Danish customers what a tortilla (which they mistook for a pancake) or a michelada is.
While she may have played it coy with Chang, Sánchez is already known for putting out the best tacos in all of Europe—literally. Just this year, Hija deSanchez was voted Best Street Food in Europe. Her newest venture, a more formal sit-down cantina-style restaurant Sanchez, already sees crowds that could rival those at any of Denmark's best culinary destinations, though Sánchez modestly refers to it as just being "busy." "I am extremely grateful that people recognize our hard work to make the best food we can make using Mexican flavors," she says. "It inspires me and my team to continue to push."
By bringing her food back to States—which she says she hasn't done in a long time—as part of Seaport Food Lab's series, Sánchez hopes "to give people a similar dining experience as one would get at our restaurant" and bring a little Copenhagen home. The pork cochinita and tortillas bring up the flavors of Hija de Sanchez, whose fillings range from the Nordic-pleasing fish skin to traditional al pastor and carnitas and tortillas are made daily from stone-grinded corn from Mexico. "Using the best corn you can get your hands on—that's the most important thing," she says of the dish that has landed her on every top food list in Denmark. "Starting with a good base and layering on top of that with great ingredients." Her current favorite ingredient to play around with? "I love using charred chiles," she says. "I think one of the great advantages of cooking with Mexican flavors, is that you can really layer with spices and heat." 
There is a hint of that heat interplay in Seaport dinner's first course, fresh oysters with sea buckthorn habañero and jalapeño and chayote, a variation of the dish offered at Sanchez. The delectable sopa roja with cured egg yolk and chapulines (grasshoppers), too, wouldn't be out of place at the restaurant, or even at noma's Tulum pop-up where Sánchez went in 2017, to work alongside Redzepi again—marking the first time she professionally cooked in Mexico. 
It's an interesting point for a chef renowned for her Mexican cooking to have risen in fame while working outside of the country that inspired her food—though not that uncommon if you're a child of immigrants. (She considered going to Mexico a few years into working at noma, but was persuaded not to by her father.) As Peter Meehan, former New York Times critic and editor and co-founder of Lucky Peach, pointed out to her on Ugly Delicious, "In Copenhagen, you're Mexican, but in Mexico, you're American." She shrugs, "It's the story of my life." But it's that international spin that she adds to traditional heritage dishes that makes her food so inventive and exciting. "A lot of it is inspired from past cooking experiences around the world," she says. "And remembering to always try to keep a soulful base."
That soulful base is felt in the traditional mushroom tamal that she serves at the Seaport dinner, paired with salsa roja, crema, and two-year aged cheese, which is anything but predictable, and the refined cauliflower ceviche that I load up and drench in guajillo mayo on the best tostada I have ever had; her childhood memories felt in every sticky bite of the rounded churro holding a sweet orange blossom parfait and bitter cream. And while everything that she puts out may seem simple at first glance, her years in some of the most progressive kitchens in the world are apparent in unexpected details, like lime-pickled flowers and charred habañero onions that top the pork cochinita and cured egg yolk in a traditional soup, all adding up to create some of the most exciting modern Mexican cuisines out there.
When I ask her what it's like to be the unofficial face of international Mexican cuisine, she ignores the compliment, instead choosing to comment on how much she still has to learn. "I'm excited to have a lifetime left of tasting and experiencing all that Mexico has to offer," she says. "It's tough to do that so far away from Mexico. But I love a good challenge, and even more so if it's with a good cause."
Seaport Food Lab runs until October 21. Buy your tickets, here.