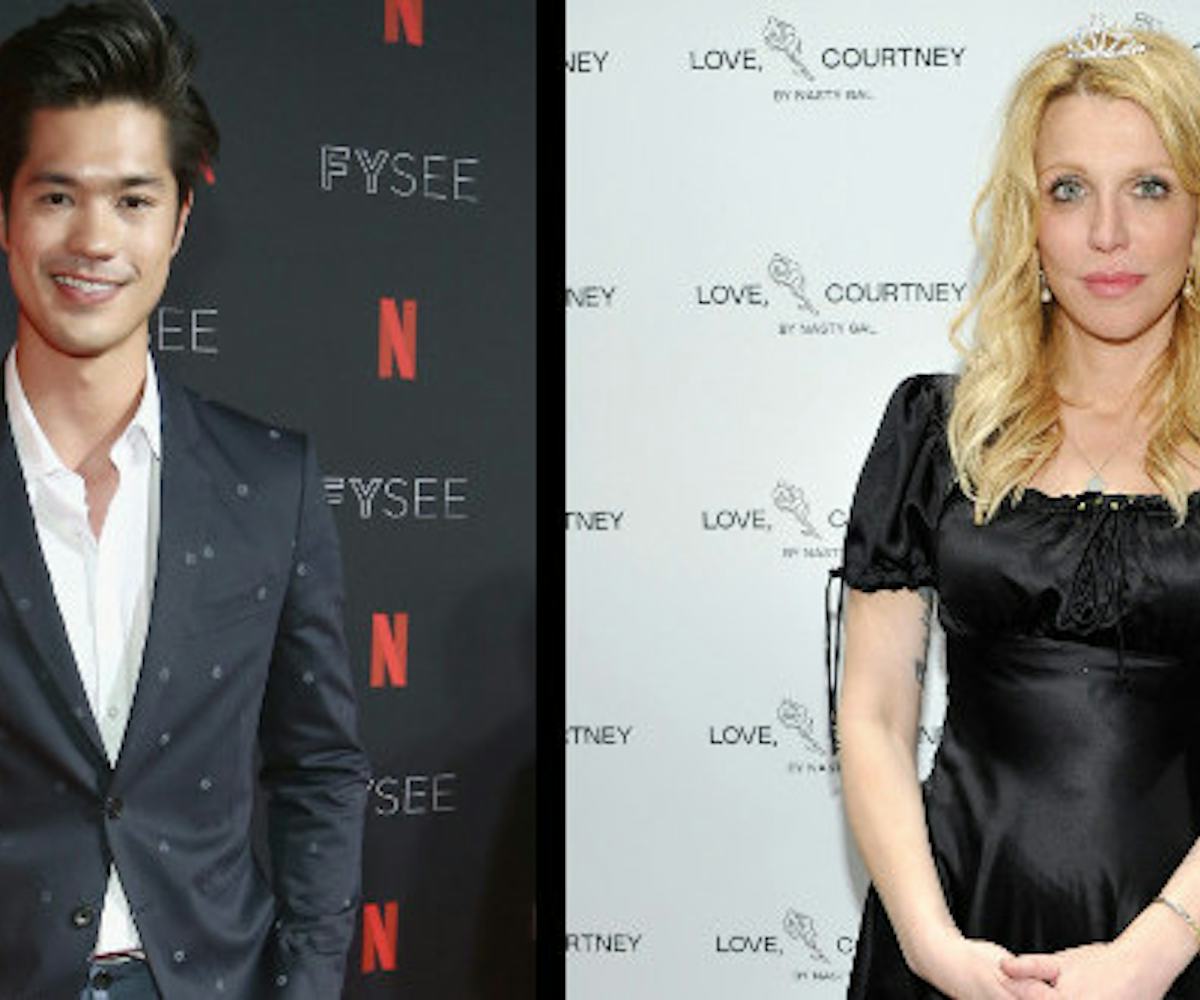 Photo By Tommaso Boddi & John Sciulli/Getty Images.
'13 Reasons Why' Star Denies Conspiring With Courtney Love
To steal Kurt Cobain's guitar from Frances Bean Cobain's ex-husband
Back in May, Riverdale and 13 Reasons Why star Ross Butler made headlines after Frances Bean Cobain's ex-husband, Isaiah Silva, sued him, Courtney Love, and several others. The reason? Per court documents obtained by People, Silva claimed in his suit that they were "conspiring to kill him with the intent of stealing" Kurt Cobain's MTV Unplugged guitar, which he received in the divorce settlement. Silva specifically alleged that on June 3, 2016, Butler, Love's manager Sam Lutfi, and Yan Yukhtman "entered into a criminal conspiracy to commit trespass, burglary, home invasion robbery, assault, battery, kidnapping, and murder." 
Butler is now denying any involvement in the alleged plot and is subsequently looking to get all claims against him dismissed. 
"I never entered into a conspiracy or otherwise agreed to commit any crime against Silva. I never conspired with anyone else to murder or kidnap Silva … or take possession of a guitar that Silva claims Ms. Cobain gave to him as a gift," Butler said, according to new documents obtained by The Blast. He also says that he had "no communications with Defendant Courtney Love Cobain at any time concerning the purported events."
Instead, Butler claims that he merely accompanied Lutfi to Silva's house on June 3 after Lutfi began expressing concern about Cobain and Silva, as "they had gone silent after sending him some troubling text messages." When they got to the house though, Butler says there were sheets covering the windows and that an alarm went off inside the house. However, Silva soon after came to the door and invited them in, greeting them "calmly and amicably."
"Silva was frail, emaciated, and had a terrible odor," Butler's explanation reportedly read. "The house was also messy and had a bad odor." Butler also claimed that another man called the police on them, even though Silva said he knew Lutfi and Butler. Everything was allegedly resolved once law enforcement arrived. 
According to The Blast, Butler "was shocked to learn Silva sued him."