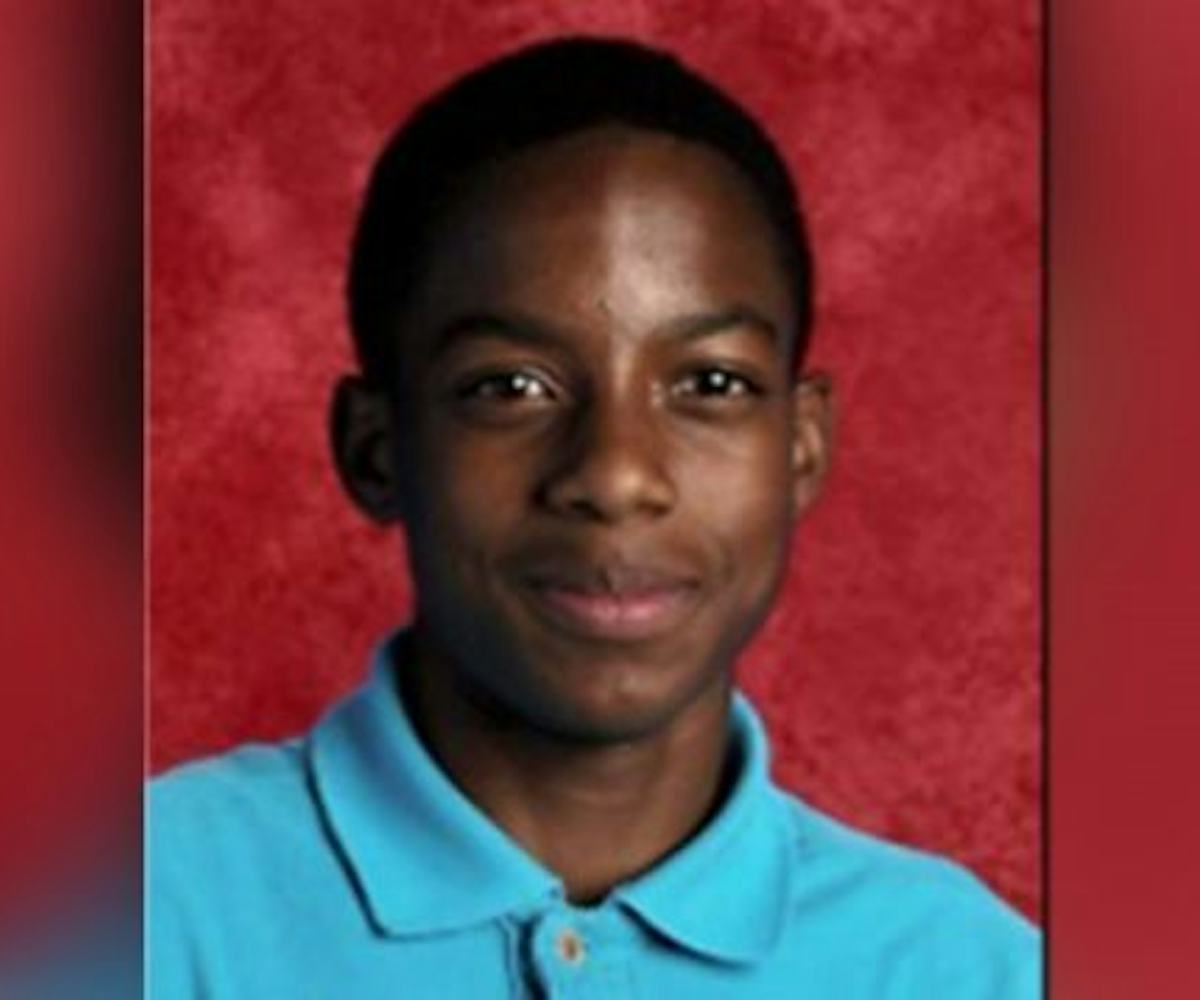 Image via Mesquite, Texas, Independent School District
Police Officer Who Shot 15-Year-Old Jordan Edwards Is Finally Charged With Murder
One step closer to justice
Balch Springs police officer Roy Oliver has been officially charged with the murder of 15-year-old Jordan Edwards. On Saturday, April 29, Edwards was at a party in the Dallas suburb with his two brothers and friends when they started to feel unsafe. Neighbors of the house party told local reporters that it was "crowded with unsupervised drunk teens" who were fighting, and they heard gunshots fired. The boys were leaving because the situation was "getting dangerous," according to the Edwards family's lawyer, when Oliver opened fire on their car, striking Jordan in the head and killing him. One of Jordan's brothers was also handcuffed and held overnight, despite not being a suspect.
Balch Springs Police Chief Jonathan Haber initially claimed that Oliver, who has already been fired, shot at the car after it began "backing down the road toward the officers in an aggressive manner." He later changed his story after further review of video footage from the officers' body cameras, which showed that the car was actually moving away from them. Cops' statements contradicting what's recorded on video when it comes to the deaths of unarmed black men is not an uncommon occurrence, according to BuzzFeed report "Blue Lies Matter," and they often get away with it. Since 2005, only 13 officers have been convicted for on-duty shootings. And last month, Attorney General Jeff Sessions indicated the Justice Department will roll back oversight of local law enforcement agencies. 
On Friday, the Dallas County Sheriff's Department issued a warrant for Oliver's arrest, and he turned himself in later that night, the New York Times reported. The Edwards family released a statement calling the arrest warrant "a bit of a reprieve in a time of intense mourning." The warrant comes just a day before Jordan's funeral. "Although we realize that there remain significant obstacles ahead on the road to justice," the family said, "this action brings hope that the justice system will bend against the overwhelming weight of our frustration."
Former mayor of Balch Springs Cedric W. Davis Sr. said that the murder charge would help ease tensions in the city. "I think the benefit here is that it moved fast," Davis said. He was elected Balch Springs's first black mayor in 2008. "The charge came quickly. In those previous cases, it took months and months," he said, referring to the many other shootings of young black men by police officers in the U.S. 
Jordan's family has asked that no one protest his funeral on Saturday. "Though we understand what his life and death mean symbolically," they said, "we are not ready to make a martyr of our son."