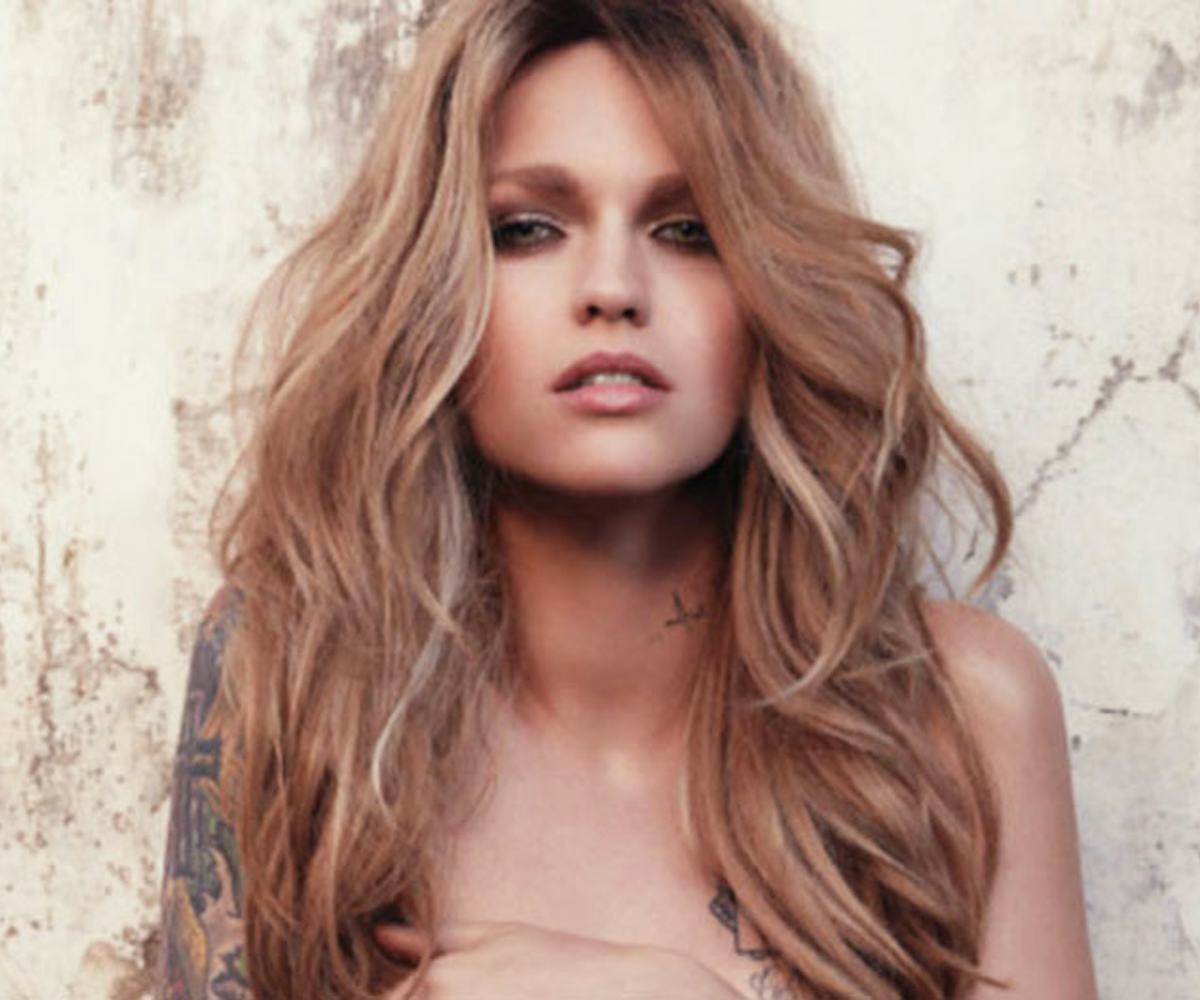 photo via maxim australia
ruby rose's 'maxim' cover is the ultimate #tbt
You probably know Ruby Rose as the cropped-coiffed, androgynous actor who shakes things up in season three of Orange Is The New Black. But Rose has been making waves for years. Her 2011 Maxim Australia cover story recently resurfaced, and it's nevertheless inspiring.
Sure, people can gawk at how gorgeous Rose is, but there's more to this #tbt that skin and a mean smolder. What sticks out here is how true to herself Rose has remained throughout the years. She used her cover shoot to breathe new life into her longstanding relationship with PETA. "I thought, 'This is a perfect opportunity to get a relationship with Maxim happening with PETA, as well, and actually do an 'I'd Rather Go Naked Than Wear Fur' campaign," she explains in a behind-the-scenes video that highlights her chameleon-like looks with various wigs. 
Inside the issue, Rose muses on the fluidity of personal presentation and touches on how each wig made her feel like a different version of herself. Self-presentation is a theme Rose has become more vocal about as her fame began to rise. She created a short video in 2014 that explores "what it's like to have an identity that derailed from the status quo." (It's incredible, if you have not seen.) It's humbling to see her touching on that subject years prior. Rose knows where her heart is, and is grounded enough to not let anything shake her; a role model if we've ever seen one. 
On wearing fur: "If you gave me the option of spending a week living my normal life, except I had to be naked and vulnerable in public, or I had to wear fur, I'd much prefer going nude. I don't feel uncomfortable without clothes on. If you can stand there and handle seeing your own body then you're doing alright."
On why she's an animal right's activist: "Not a lot of people know about fur. More often than not, in China they actually skin cats and dogs, domesticated ones, and most of the time they skin them alive. They claim that it's rabbit fur, since it's hard to tell the difference. I was mortified thinking this happens just to make a f–king jacket. I can't get past the idea of having an animal that's been skinned alive on top of me and somehow thinking that's cool from a fashion standpoint."
On her tattoos: "The only one I ever got without preparation was after my first MTV Awards [in 2008]. I was with Jess and Lisa from The Veronicas, and really wanted to get one—just to celebrate the fact I'd succeeded, and because I felt really good. So, we rocked up at this dodgy tattoo place in King's Cross, where the artist had a Bourbon and Coke in his hand. And that was how the three cards on my chest came about. I've had them re-done since then because the lines were a little wonky. Spontaneous ink is cool, but don't ever do it when you're drunk. From what I've seen it always ends badly."
Read Ruby Rose's full Maxim Australia interview here.