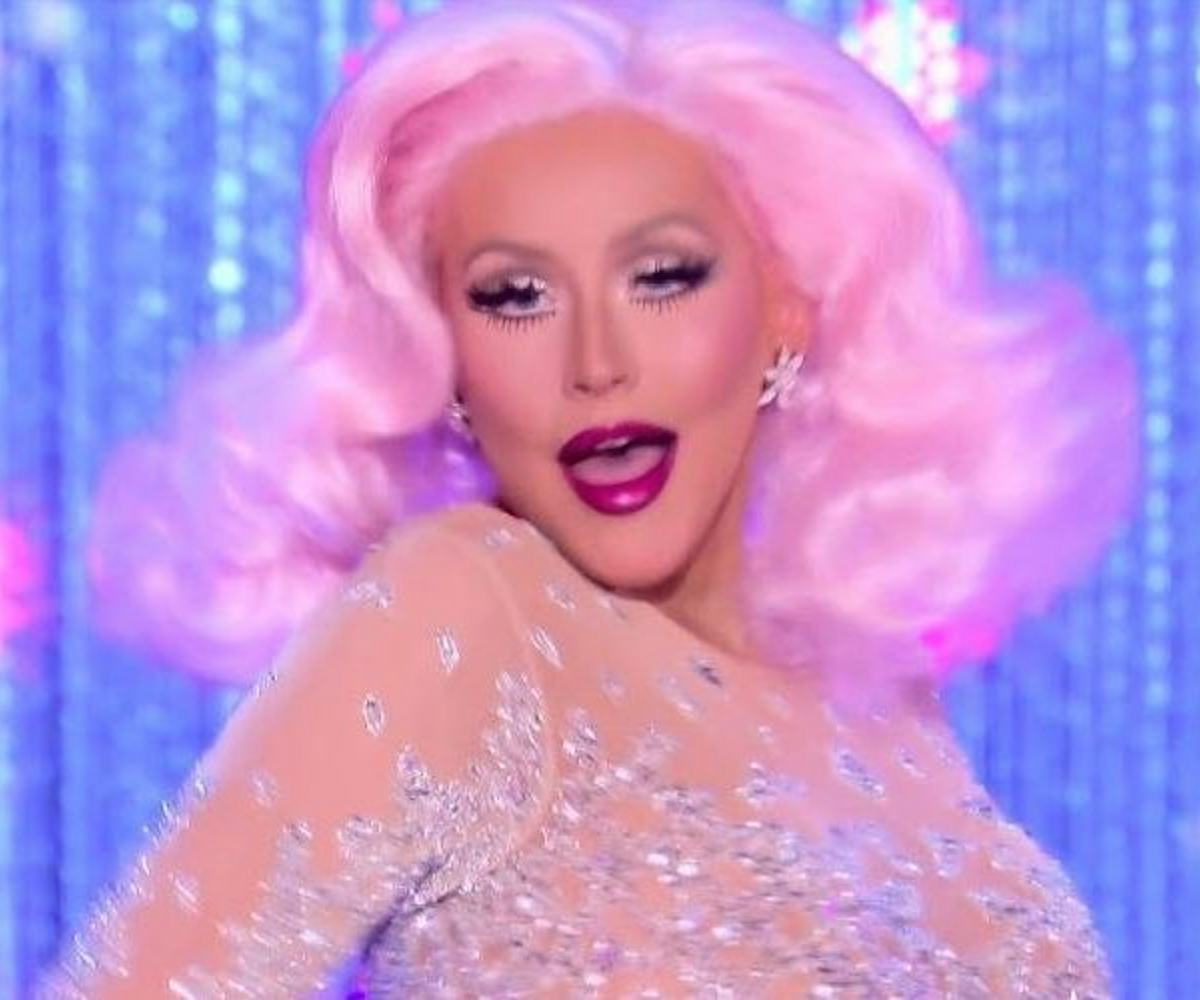 Photo via VH1
The 'RuPaul's Drag Race' Premiere Had Us Doing Double Takes
Right on the heels of last week's shocking All Stars 3 finale, the Season 10 premiere of RuPaul's Drag Race came barreling down VH1's programming schedule like a workroom free-for-all, and we were not disappointed. From Eureka O'Hara's imminent post-op return to Vixen's outfit made entirely out of things from a Chicago O'Hare airport gift shop, it was a delight to meet the new queens ready to vie for a spot in the Drag Race Hall of Fame. 
However, one particular moment had the internet in a tizzy and set a thematic precedent for the rest of the episode: doppelgängers. It's well-known in the drag world that two of the contestants, Aquaria and Miz Cracker, are often mistaken for each other, a sentiment that was confirmed when the edit made Aquaria's entrance look like side-eye central. Obviously, the fans loved it.
However, there wasn't much time to dwell on this "feud." Leave it to Ru to constantly surprise us when it comes to cameos. It was a delight to see not just one but an entire crew of some of Drag Race's finest—a good portion of past winners, Miss Congenialities, et al.—cheering on the new queens as they danced, strutted, and vogued down a raised catwalk for the very first mini-challenge. But amongst Mayhem doing a cartwheel in a full-length gown and Derrick Barry's commentary (Britney's back, bitch), Monét X Change prevailed as the winner. 
Then came the maxi-challenge. For what was essentially a Project Runway crossover challenge, the queens were assigned the task of creating some couture looks from dollar store fare—think: pool noodles, caution tape, the works. But while the queens were prepping for their first official runway, there seemed to be some more tension between Aquaria and Cracker once the other queens start noting in their confessionals that they were painting extremely similar looks—a move that seemed to bother Aquaria a tad.
The brewing conflict was once again overshadowed when RuPaul introduced none other than Season 9's Farrah Moan—and, on cue, out came the signature cotton candy hair, neon pink fur throw, and a glitzy, curve-hugging dress. Except, "Farrah" turned out to be none other than the legendary Christina Aguilera, which was another fan favorite, especially seeing as how a fashion blog mistook Farrah for Christina at last year's DragCon.
Even Farrah was shook.
Never one to be left out, Barry expressed hope that one day Ru would introduce Britney Spears as "Derrick Barry." 
Honestly, same.