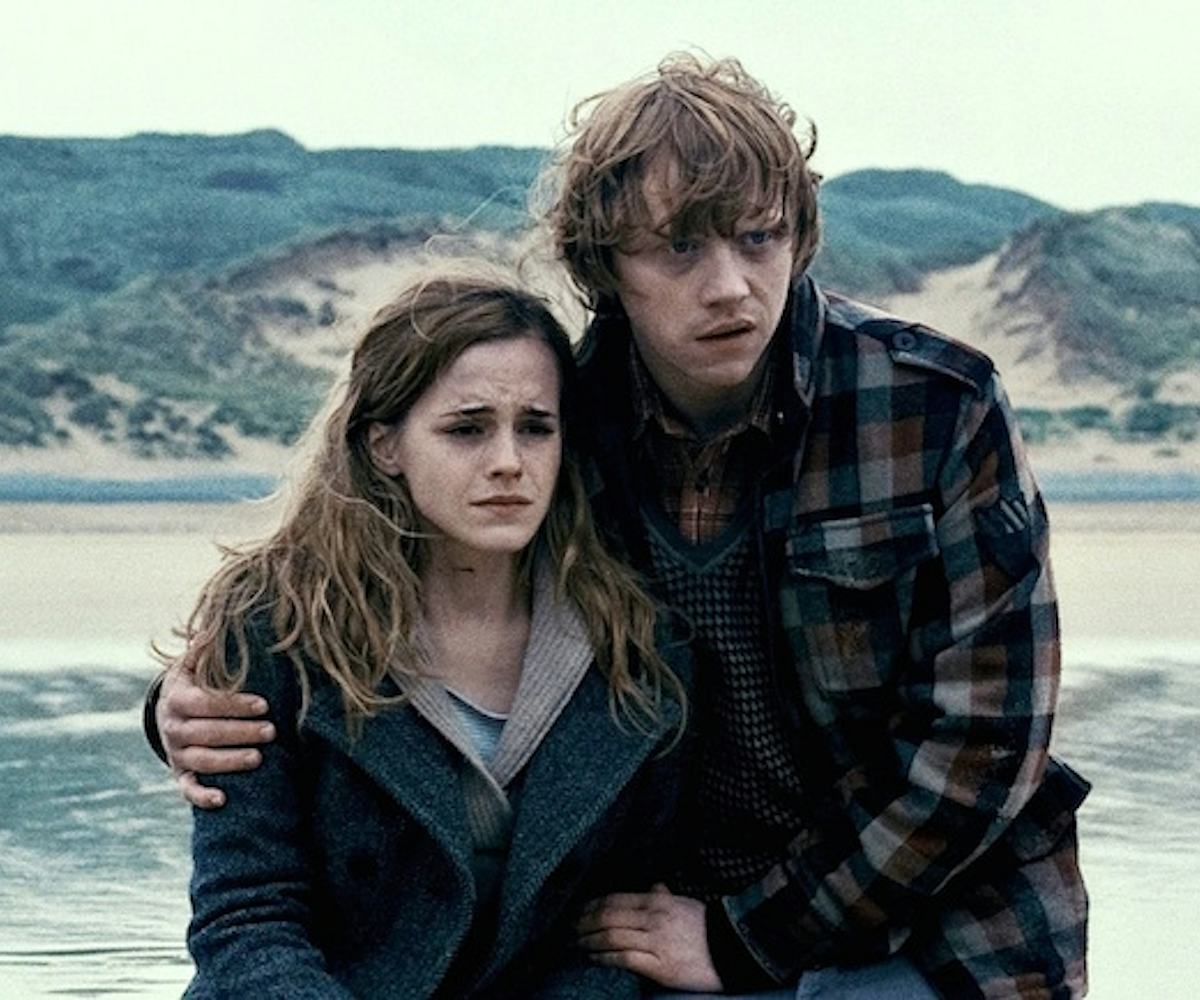 Image via Warner Bros. Pictures.
Rupert Grint Says Ron And Hermione Would Have Gotten Divorced
Sure, Ron Weasley and Hermione Granger of the Harry Potter books and movies have different takes on life, different ways of approaching problems, and completely different feelings about books. But the two are salt and pepper, not oil and water. They most definitely mix.
And, yet, Rupert Grint, the perfectly named young man who played Ron Weasley in the movies, has been quoted as saying that the couple just wouldn't make it as husband and wife. "I would expect Ron has probably divorced Hermione already," he said during a press event recently. "I don't think that relationship would have done very well…[Ron]'s living on his own, in a little one-bedroom apartment. He hasn't got a job." How's that for a fat plate of sad?
Other Harry Potter actors on hand had their own takes on the issue. "What?" said Luna Lovegood actor Evanna Lynch. "Don't say divorced. Say they've split up. They can reconcile." While he hinged a bit, Grint wouldn't be moved. A moderator said Ron would, be "on Tinder doing horribly." Grint agreed. The currently hot Matthew Lewis (aka Neville Longbottom) concurred that the youngest Weasley brother would be "living in a one-bedroom studio apartment all alone, doing nothing."
There are grains—very small ones—of truth here. Ron is a bit of a sad sack. Also, many, many fans have noted that Hermione and Harry would make a better couple than she and Ron (they ship Ron and Luna in the meantime). Further, others have noted that Ron/Hermione is a case of an ultra-capable woman cuffed to a wet blanket with red hair—a troupe on long-standing, misogynist narratives seen throughout literature and film.
But, c'mon, yo—you're missing so much of the point here. Ron would indeed be a sad sack if not for Hermione. He actively makes himself a better person in order to be worthy of her. When he comes out the other end, he's a strong, emotional, and caring adult with so much to offer it could fill a whole Room of Requirement. He's a warm blanket, not a wet one.
As for Hermione being brought down by Weasley, we can't agree. Hermione is ultra-capable with or without her friends—but have any of you noticed how unhappy she can be? Indeed, it seems the more she concentrates on her pursuit of perfection, the less happy she is (remember when she was studying double-time in Prisoner of Azkaban?) We wonder if, a few years down the road, Hermione would be able to achieve anything without embracing happiness and a little bit of Weasley-styled imperfection. That's not to get in the way of someone with Notorious RGB-level potential. It's just to say that we feel that Hermione could use a warm blanket now and again, someone who will accept her more than she accepts herself.
Finally, the judgement that the two wouldn't make it ignores one big thing: There is absolutely no accounting for love, when it happens, or who it happens with. Yeah, Ron and Hermione might not be a perfect match, but they are in our hearts a match. So end this, Grint. No one likes it when their heroes turn out to be grumps.