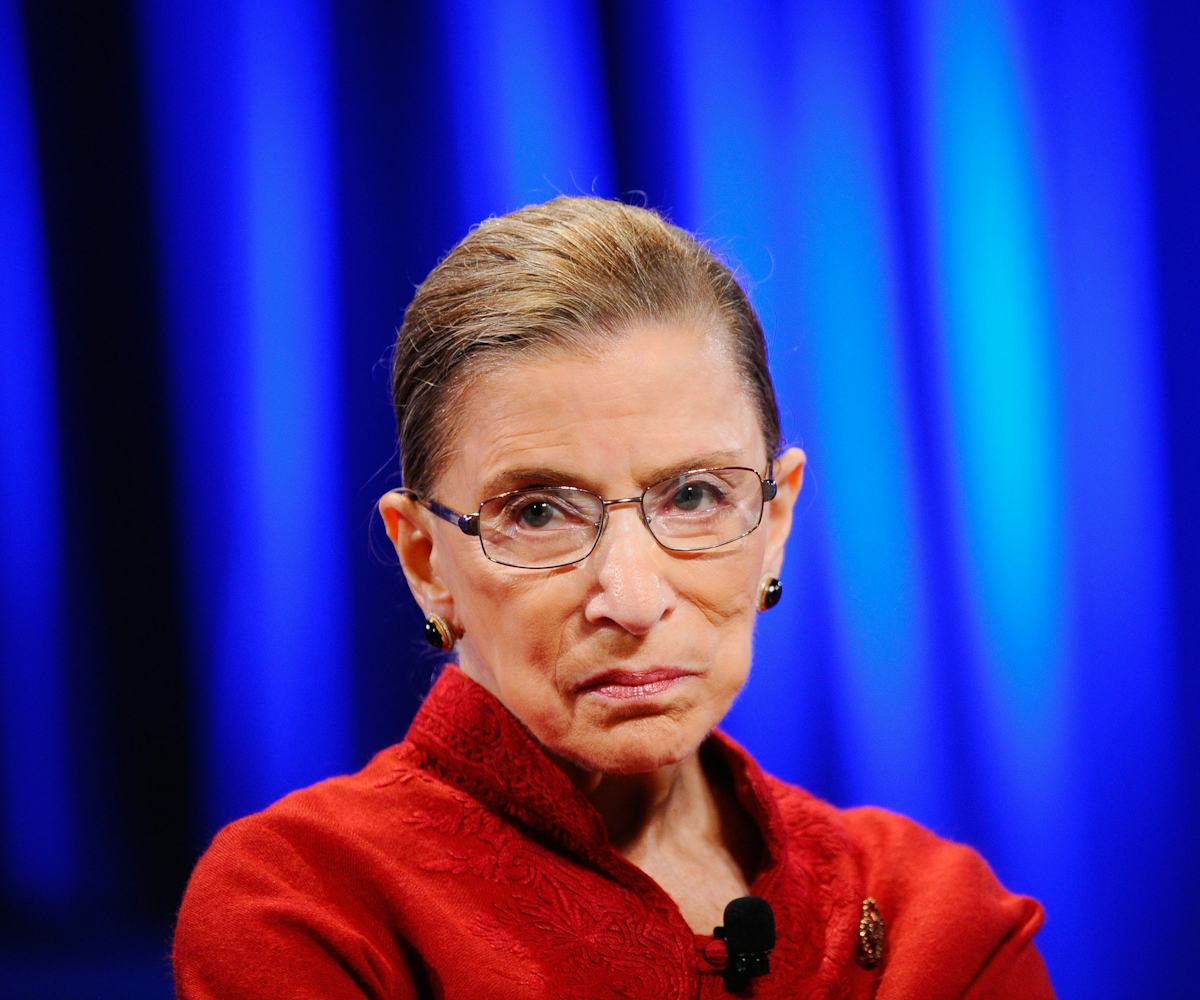 Photo by Kevork Djansezian/Getty Images
Ruth Bader Ginsburg Wants To Keep Working For At Least Five More Years
She plans to keep at it until she's at least 90 years old
Supreme Court Justice Ruth Bader Ginsburg is not going to give over her seat to another Trump appointee if she can help it. In an interview yesterday, she said that she plans to stay on the bench for at least another five years.
Ginsburg is 85 right now—well past normal retirement age—but she pointed to another former justice as evidence that it's totally feasible to remain on the bench till she's 90. "My senior colleague, Justice John Paul Stevens, he stepped down when he was 90, so I think I have about at least five more years," she noted. And if her fitness routine is any indication of her health, she'll definitely be at work until at least 2023. In the recent documentary, RBG, Ginsburg proved she is in amazing shape for her age, breezing through planks and push-ups.
Beyond that, though, Ginsburg has made some administrative moves, like hiring law clerks through 2020, which indicate she will be sticking around at least until Trump's first (only?!) term as president is over. Quoting her late husband, Marty, Ginsburg also offered a bit of hope for the future of the United States: "My dear spouse would say that the true symbol of the United States is not the bald eagle—it is the pendulum. And when it goes very far in one direction you can count on its swinging back."
This news comes after Anthony Kennedy announced his resignation, which was reportedly coordinated with the Trump administration. Though many Democrats are refusing to consider any of Trump's nominees for the seat until after the midterm elections, it remains likely that Trump will be able to fill Kennedy's vacated seat with a justice of his choice. But if Ginsburg has any say in the matter, that will be the last seat Trump gets to fill.