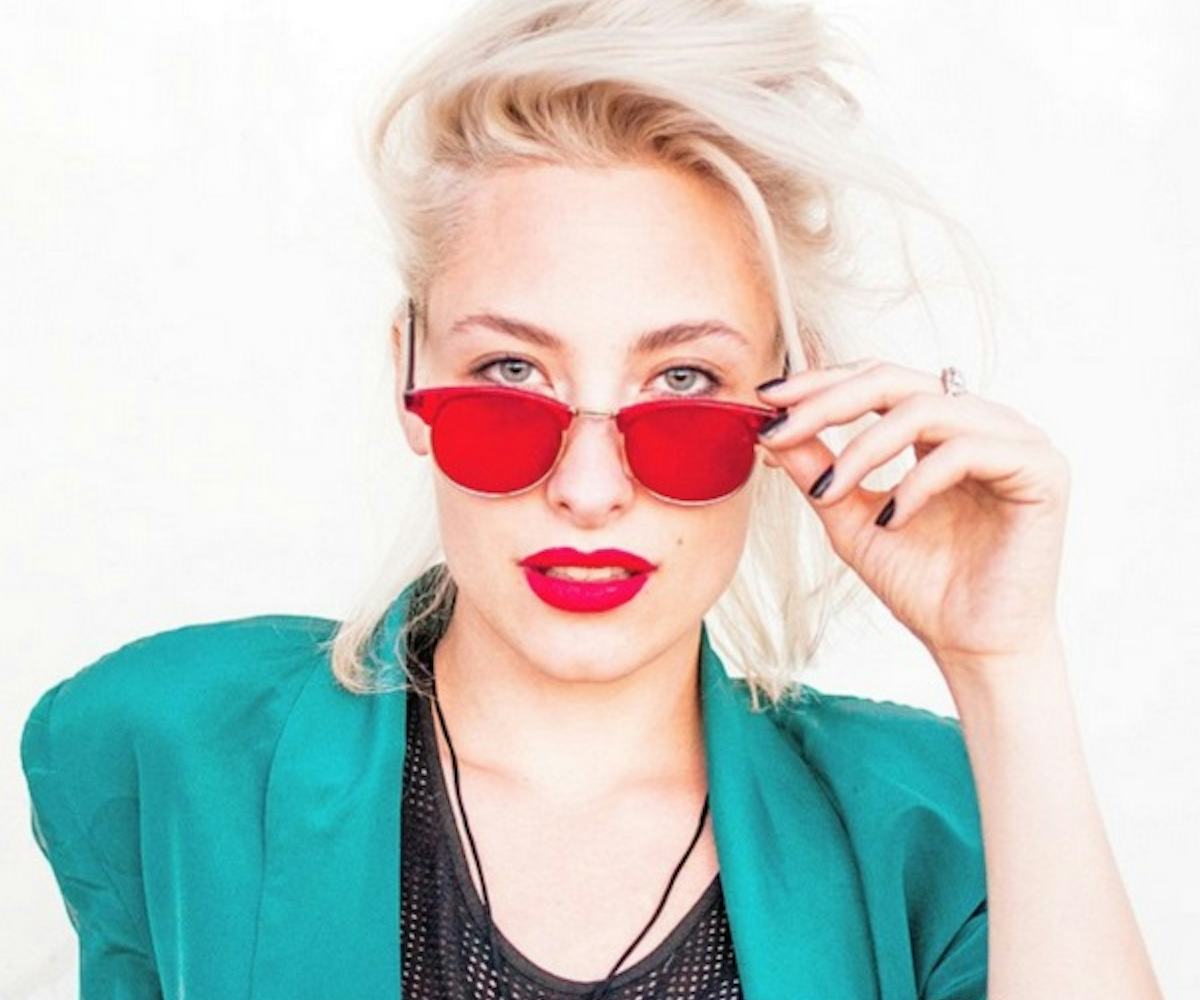 Image via Instagram / @samandude
Samantha Urbani On What Inspired Her To Start Her Own Record Label In 2016
"I'm still figuring out how to do it"
Fans know Samantha Urbani as a singer with the power to hypnotize one synched-out dance track at a time, as seen through her work with Friends, the former Brooklyn dance-punk outfit, and Blood Orange. Now, she's making a point to celebrate other voices. While some are content to listen to their favorite songs on an infinite loop, Urbani took her fandom for one particular band to another level. She's launching her new label, URU—pronounced "you are you"—in partnership with U.K.-based label Lucky Number, for the sole purpose of bringing Rexy's Running Out of Time to a wider audience, and putting out a tribute album that reimagines their songs.
Rexy—the London-bred duo of Rex Nayman and Vic Martin of the Eurythmics—made a splash in 1981 with Running Out of Time, which serves as a master class in casually cool synthpop and out-of-the-ordinary covers. (Their takes on Elvis Presley's "Heartbreak Hotel" and Chuck Berry's "Johnny B. Goode" transform good ol' American rock 'n' roll into gritty, refreshing cuts that sound just as current on the dance floors of Shoreditch now as they did upon their release three decades back.) We spoke with Urbani about what makes their now-rare record so worthy of her adoration, and how it lead to the formation of URU.
When did you decide you wanted to launch a label of your own?
I've been thinking about it for years. I grew up mostly a fan of music; my music writing was very private. I didn't, like, sing in front of people or have bands when I was a teenager or anything. I started collecting vinyl when I was 13. If I had $10 to buy music, instead of buying one $10 CD, I'd buy ten records from the vinyl bin. It all came to a head when there was this album by Rexy that I was obsessed with. It felt like a little secret: It was an underground thing, in that I could connect with a select few people who had heard of them for a few years. But at a certain point, I was like, "This is so sonically powerful that more people should hear it." I'm still figuring out how to do it, but I decided to jump in and make this Rexy release a priority about two years ago.
What made Rexy's album the ideal flagship release for URU?
It sort of happened the other way around: I wanted to release the record, so I was like, "I want to introduce this record to the world, I'm going to make a record label!" rather than, "I'm going to make a record label! What should my first [release] be?" I introduced my friends at Lucky Number—the label of Friends, my old band—to Rexy, and at a certain point, they were like, "It's amazing, we agree, we want people to hear it." I listened to that record nonstop for three or four years. It was my go-to while I was on tour, when I wanted to listen to songs when I went out to DJ, when I met someone I thought was cool and I wanted to send them something they'd never heard before.
Running Out of Time seems like an ideal fit, then—and it's a bold choice, launching a label with a reissue instead of a new release.
The priority for me, with this label, is going to be rereleases. It's not just a product for me to release. I want to get to know the people. The members of Rexy are in their fifties; we talk all the time and compare our differences and generational subcultures and stuff. I want to do that with each artist I put out into the world, because I just want everybody to feel proud of how things are happening, and never feel exploited. Discovery, in general, is such a multidimensional experience. Time periods should always be explored and appreciated. Style and relevance are completely nonlinear. It doesn't matter if something came out in 1980; the perfect time for it could come right now.
What does Rexy bring to the musical table in 2016? What is it about them that appeals to new fans now?
First of all, the front person, being a woman, I think that's really strong and really important, especially because Rexy is a post-disco punk band. Rather than something that comes across as very sultry or sexy, Rexy is [fronted by] a woman who's super tough, super cool, and also kind of cheeky. She doesn't take herself seriously in a way that comes across as being contrived at all. That's something that I want to see more of. Even though I love pop music and a lot of stuff that's on the cutting edge of popularity right now, I just am really inspired by people making work intuitively. I think it's really easy for people to get away from that now because of social media. Everybody is so connected and influenced by each other. When you're totally accessible to anyone, that washes out individuality.
You mentioned earlier that you've been learning as you go with URU. What was the biggest obstacle that came with making the Rexy reissue happen?
One thing that was meant to happen—it's sort of continuing to happen now, which is exciting—with the rerelease of Running Out of Time, is that I'm curating the release of a tribute album. My cover [of "Alien"] has already come out, as has a Connan Mockasin cover, and we have a few more coming soon. Having to be on the business end on something like that is funny, because I think I'm the worst possible at deadlines and stuff. Thinking of releasing things in a strategic way or whatever, it's a funny thing for me to wrap my mind around, because all of my stuff has been more DIY and releasing things when you feel ready and inspired.
That must be daunting, learning a whole new aspect of the process.
Totally. Fortunately, I have a really cool label that's very supportive. When I'm feeling anxious about whether or not I'm doing this the right way, or if I'm doing my personal best to give a band every chance that I want them to have because I'm so obsessed with them, it's all a process. Now, people have the opportunity to hear it and see the vinyl in record stores. When they did the original pressing of Running Out of Time, it was such a small run, and the vinyl has become super rare. It's like, $300 per album online if you can even find one. Just thinking about going into a record store and being able to buy the vinyl for a reasonable price, it's so exciting.
Why did you choose "Alien" for your contribution to the tribute album?
It was always my favorite song on the album. "Alien" was always my go-to for deejaying and playing tracks for people. I could really relate to it. The story and the song is about when they became disillusioned with the music industry. As much as I'm appreciative for my path in life, I totally related to Rex as a frontwoman having this eye-roll moment towards people seeing her as a product. It's such a well-written, cool, eerie, beautiful song, and I always wanted to cover it before talk of the reissue.
Looking onward into the future of the label, where would you like to be a year from now with URU?
I'm really only looking to do maybe one rerelease a year. I'm looking into the next thing I want to do, so I'd like to be well along with that in a year. But also, I'm using URU as the umbrella brand for a lot of things that I want to do: I'm working on clothing design and I'm also talking to video production companies about documentary stuff. It's all going to be based on that sense of intuition and individuality that [Running Out of Time] was made with. I'm interested in uniqueness and alternative life paths. That's the inspiration for the name, URU: celebrating individuals who have gotten to where they are in an unconventional way, or have been overlooked for whatever reason.
Now that you're involved on the label side of the business, do you have any thoughts on trends in the industry as far as releasing records? Has the current market affected your approach at all with URU? Why or why not?
The current market hasn't affected my approach to URU. I try not to let it affect anything I do, but the Internet is allowing all media approach to be a bit more anarchistic, lawless, which is cool, and suits my own creative philosophies. 
The title track for Running Out of Time is dark, haunting, and speaks to themes of broken communication and disconnect. How does this resonate in 2016, especially as far as social media and digital connection are concerned?
As people are having this exponential increase of access to each other, with social media becoming an addiction and outlet for projecting a curated, incomplete self for so many people, they are feeling exponentially alienated as well. People are at once exhibitionists and voyeuristic, hiding and over-exposing. Taking a step back from participating in it, looking at our current climate of media and communication, it all seems quite sci-fi and dystopian, doesn't it? Running Out of Time has this very calm air of acceptance of paranoia about it. It's very eerie and hypnotic all at once, which I think is pretty perfectly thematic for 2016 and the future.
What's the most exciting aspect of beginning an endeavor like this in 2016? What's the most terrifying or the biggest risk involved?
The most exciting aspect is that there's so much to find and share out there. The most terrifying is that there's so much to find and share out there. The Internet is pretty oversaturated with content, which makes it simultaneously easier and harder to find special, new, or rare things. It's exhausting and inspiring.
I love that you're stressing how unique and rare both Rexy and Running Out of Time are. Are there any artists out there, currently, that stand out as singular talents in similar ways to you? Who inspires you in a similar vein?
My favorite artists currently, who I find to be completely unique and inspiring, and relatable in their work being very cathartic, raw, and cerebral, are sculptor Sarah Sitkin, and dance/performance duo FLUCT.