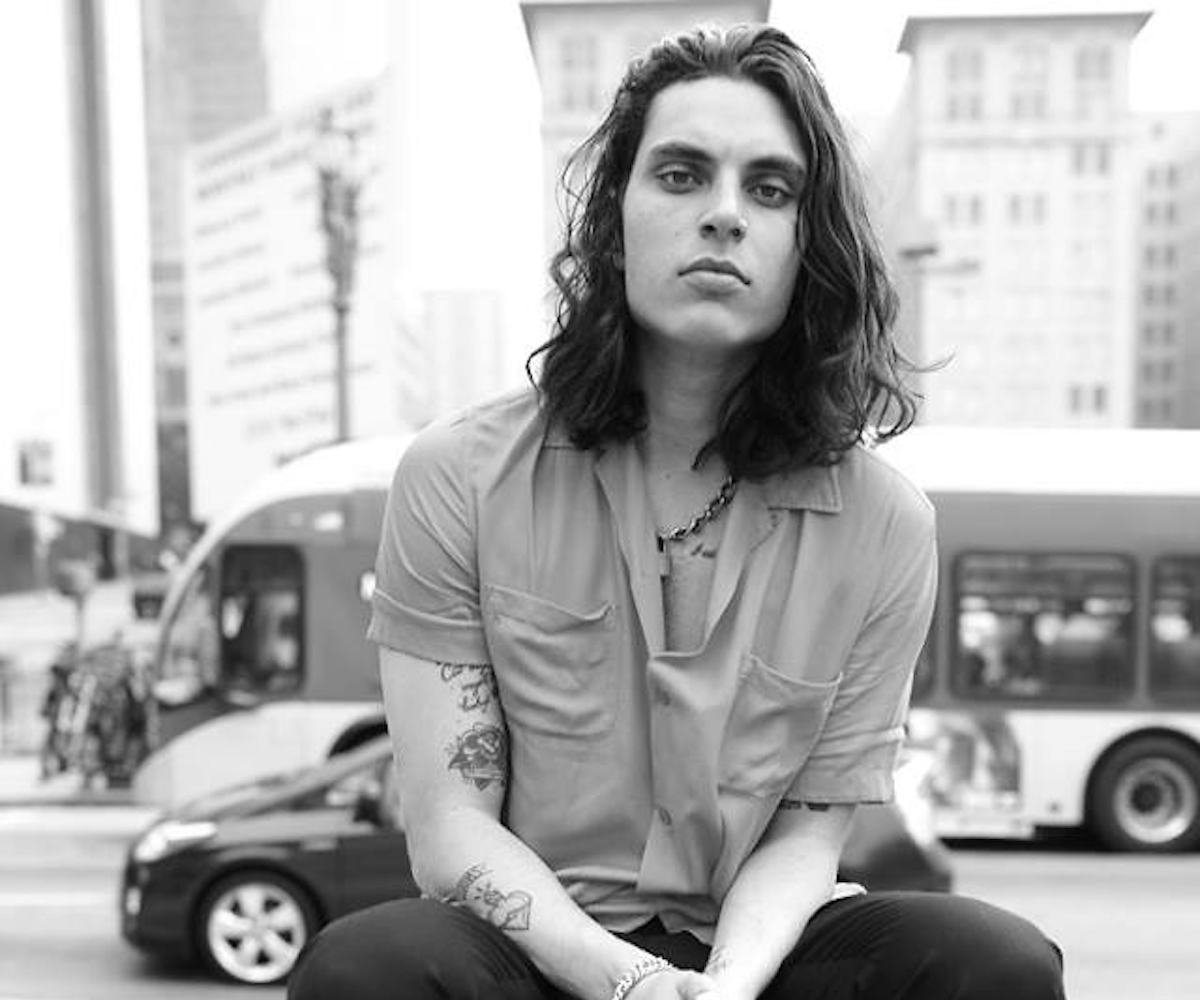 Photo courtesy of Samuel Larsen/Facebook
Samuel Larsen Is Recreating His Image One Song At A Time
With the Roc Nation seal of approval
Samuel Larsen has had an interesting year. While 2016 marks a new beginning for the actor, singer-songwriter, and multi-instrumentalist, it also represents the end of other significant eras. Earlier this year, he had to endure the death of one of his last living idols, Prince. Larsen looks down at his hands as he reflects upon that passing, still unable to articulate the impact of the legend. To cope with the loss, Larsen immediately went on a hike by himself and cried. 
"It didn't even register with me, it was like a unicorn dying," he says. "I have never gotten more texts on any birthday or anything than when Prince died. All my friends and all my friends' moms were like, 'Are you okay?' I was not okay."
The 25-year-old vividly remembers also feeling a strong connection to Michael Jackson when he was six years old. "It made sense to me. It felt like I was listening to myself in a weird way," he says. Larsen has always been around music—he laughs as he talks about how he used to play on his parents' pots and pan as a toddler until his dad finally caved and got him a drum set. From there, Larsen learned how to play other instruments and then singing took its course. Both of his parents continue to be fully supportive of his ambitions and encourage him to follow his passions wherever they lead him.
For the past six years, Larsen has been living in Los Angeles. He moved there as a teenager, but if you ask for his preference, he doesn't hesitate to talk up his native San Francisco. "L.A. is literally one big set. It looks great on camera, but then you get there, and it's all smoke and mirrors," he says.
Now that he's signed to Roc Nation, Larsen is in full-on music-making mode. A few months ago, he marked his return with the You Should Know EP. Larsen reassures me that he's always working on something, but he's vague on the timeline of when exactly he'll be sharing the fruits of his labor with the world. 
"It's just whatever happens next, you just ride whatever wave you're on or do whatever you have to do," he says. "Whenever an actual album comes out, it will. I know we're putting new music out at the top of the year. Maybe another EP, maybe a mixtape, maybe an album... I don't know. As long as you keep putting out new stuff."
Learn more about Larsen's journey from our exclusive interview with him, below.
At what point did you decide you wanted to pursue this as a career? 
Probably not until that recently, maybe when I was 20. That was when I wanted to do it forever in front of a bunch of people, but I think I gave up on the idea of doing it professionally because I didn't think people cared about the music I made. Funky stuff wasn't in at the time. Around 19 or 20, it came down to 'I can't really do much else, so this is how I'm going to feed my future babies. We have to stick to it.'
What else were you doing before that?
I was doing acting. I always liked acting, not just because it's fun, but the business is great. You do the job you're hired [to do], and whether it does well or not, you get paid. That's what's great about that. Music, you have to be so involved with everything. It's so much more pop culture than acting. You have to be on the edge of everything and acting is so much easier. What's great is that all the answers are there with acting. You read the script, and that's it. Music is just so in the air. You never know, and it changes every five minutes. Now's the time. I almost feel like it's coming my way just the way music is going, which is great.
Could you talk about your experience on the Glee Project? 
Glee Project
was insane. I had gone out for
Glee
before and was the runner-up to get the part and didn't get it. They hit me up to do
Glee Project,
and I did not want to do it. I did not want to do a reality show. I had just done
American Idol
too, but then I was like, "I can't just not do it. I have to go try," and it ended up being great. I'm glad it's been a while since then to rehash your image a bit. It was good to be able to turn a page. It was definitely fun, and I definitely learned a lot.
I think it was also just a good period when Glee was at its peak too. I was obsessed with Glee for two seasons.
We ruined it. Our crew ruined it. We talked about that on set all the time. We were like, "This show was edgy until they made
Glee Project,
" and we were like, "Sorry." We were having fun. [
Laughs
]
I wanted to ask you about your hair and having dreads when you did.
I loved it. I had them for seven years, and they were down to my ass. One day, I looked in the mirror, and it wasn't me anymore. I think the big part was that I couldn't clean up. I couldn't wear a suit and feel normal. I was a dude with dreads in a suit. It started getting to me. It was so heavy, and it was just time. I think I got rid of them for the same reason I got them: just to change.
Talk to me about your style right now because I'm feeling this look. I like the chains, very cool.
I really like punk rock stuff, stuff that's really vibrant but dirty at the same time. I don't know how to describe it. If I could mix punk rock and James Bond at the same time...
Can you tell me about your tattoos?
I have too many now. I got three my first day of getting tattoos, and then I got one three days later. Then I got one a month later. There's no way I was going to walk around with just four. I had to get 10.
How old were you when you got your first one?
Nineteen. I went with my friend Skip and got it done on a couch at a friend's house. So fun. I want my last tattoo to be done on a couch. It's such a different feeling than going to a shop. Tattoos are just very fun. I get tattoos sometimes to feel brand-new again. If I just went through a breakup, I'll get something tiny somewhere, and the next time I see that person I'm like, "You have no idea I'm different now." It's a good feeling. Now I'm running out of space. I have to save room for when I'm 30... I usually wear long sleeves. I don't like to be the guy who has tattoos. They were just for me. My brother, my sister, and my dad all had tattoos. I just knew it would happen. 
My mom freaks out over a lot of things because she grew up in really old-school Mexico. Like chain wallets, gang-related. Baggy pants, gang-related. Everything's gang-related. At some point, not tucking in your shirt was gang-related. Now I like tucking in my shirts, but when I was 12, I was like, "Mom..." My mom used to be a model, so when it came to clothes, she was the coolest. She got me my first pair of girl's jeans. I was like, "Mom, I want tight jeans." She was like, "We're going to the Salvation Army women's section." She was super cool about it. She taught me how to stud things. I don't know how some things were gang-related, but some weren't.
Could tell me a little bit about your childhood and your upbringing?
My parents raised me in San Francisco. They met there at divorce counseling, oddly enough. My dad's from Denmark, and my mom's from Mexico, so that was interesting. I almost don't feel like a proper American because of it. They were always arguing over how to pronounce words and who invented what and they were usually wrong about most of it. My parents were great. If they saw me pick up an instrument and make even one good note with it, they'd buy me one, and that's so cool. I recently found out my mom went deaf a little bit because of all my drum-playing growing up. That's just how cool they are. Even now, for my birthday, they just got me my dream guitar. It's still going on. They're just the best and super supportive.
Do you have siblings? 
They're much older than me. My brother's going to be 42 next month, and my sister just turned 35. My brother's not married but he has a kid, and my sister is married and has kids. They're leading a whole different life than I am.
Let's talk about your You Should Know EP. How long has this been in the making?
Well, I signed with Roc Nation about a year ago. We had made an EP before, and it was three songs. We made three videos for it and [it] just wasn't right. It wasn't good enough. The videos weren't the right tone, we were being too ambitious, and just scrapped everything, which I'm glad we did. We just went back to ground zero and kept writing a lot, just figuring it out. I think a couple songs came along the way and we were like, "That's what we should run with," and just kept going. Eventually, I was like, "Let's put these out." It was just getting such a good response before we even put it out that we did. I'm excited to start playing live songs that are officially not just my songs, but also Roc Nation's songs. I'm glad it's moving finally. Even when we picked the songs, and we knew we were going to put them out, it took forever to do that. That's what's crazy to me is how long it takes. I can't wait until the day when they are like, "You have to put this out tomorrow."
How would you describe your aesthetic as an artist?
Cosmic, outer space, sex, rhythmic music. [
L
aughs
] I think that's the best way to put it. I love rhythm, and I love outer space elements. I also love rock 'n' roll—I think there's something rock 'n' roll about not being rock 'n' roll. Somewhere between soul and R&B and funk.
Genres are sort of pointless now.
It's kind of a beautiful time for it, though. You can make different kinds of music, and you can put different types of songs on the radio next to each other and kids aren't confused by it. Even hip-hop, I was just talking to my friend the other day, what is hip-hop anymore? Everything is sort of a subgenre of pop now, but pop in the way that Prince would do it where's it's still edgy and not bubblegum all the way... To me, pop is like taking anything you want and having it make sense to everyone. How do I make metal make sense to the whole world? Let's make a pop-metal song. Bon Jovi totally knows what I mean.