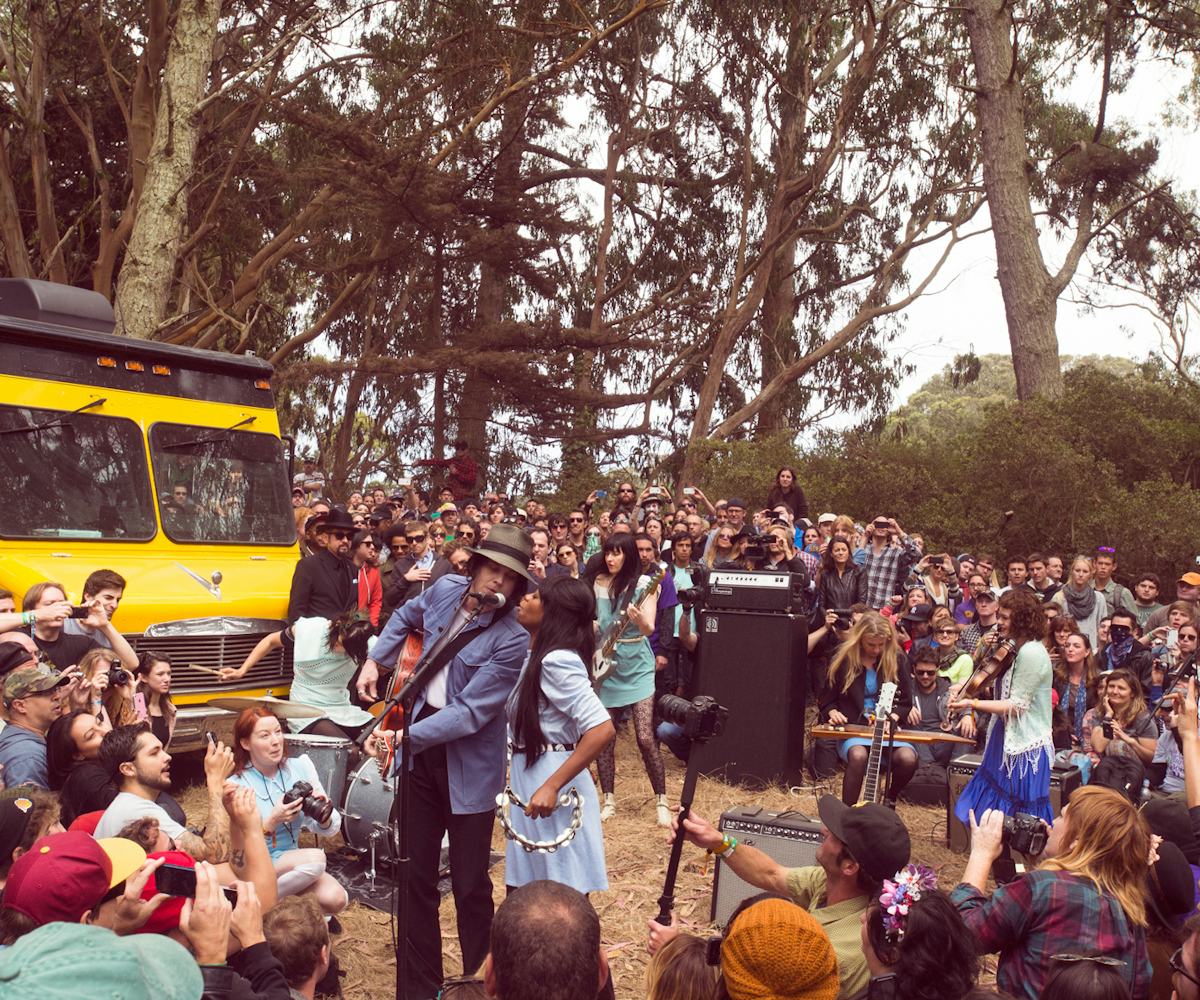 wanderlust: san francisco
what to do when you're not rocking out at outside lands.
It's that time again: Outside Lands, the three-day mega-concert in Golden Gate Park featuring a dizzying array of bands, food vendors, and drinking opportunities (see: Wine Lands), is back. Get ready to re-live your teen years starting tomorrow with some Red Hot Chili Peppers and Nine Inch Nails, tick seeing Paul McCartney off your bucket list, and catch Yeasayer, Vampire Weekend, The National, Yeah Yeah Yeahs, Chromatics, Grizzly Bear, Matt & Kim, Foals, Band of Horses, Atlas Genius, Surfer Blood, and OMG like 600 other bands. (Off-site shows also happen all week long, FYI.)
But despite all this, you may find yourself needing to head off-campus, as it were, for some supplies and/or downtime. Read on, dear Outside Land-er, for your full guide of what to do when you're in town for the festival. For starters, don't call it "San Fran."
HOLLY SIEGEL
SUPPLIES (AKA WHERE TO GET MORE LAYERS):
First things first: It's C-O-L-D. It may be August, but temps in San Francisco are anything but balmy. Prepare for leather jacket weather, friends.
Mission Thrift (2330 Mission Street between 19th and 20th Streets)
A big, well-organized vintage store reminiscent of NYC's Cheap Jacks in the '90s. You'll find your flannels and bomber jackets here, as well as festival accessories like plastic shades, scarves, and crazy, take-a-street-style-picture-of-me costumes.
Held Over (1543 Haight Street between Ashbury and Clayton Streets)
Similar to Mission Thrift, though larger and a bit more costume-y, in the heart of Haight Ashbury (cross visiting that iconic street off your bucket list, too).
Uniqlo (111 Powell Street between O'Farrell and Ellis)
This recently opened 29,000 square foot Union Square Outpost stocks all the layers you need to survive a summer in San Francisco.
Jeremy's Department Store (2 South Park)
OK, not inexpensive or HeatTech, but if you want to take a shopping detour, Jeremy's is San Francisco's mini Century 21. The small store stocks deeply discounted designer men's, women's and accessories (last week, Goyard bags!), but look closely: things often have small tears or imperfections.
Shoe Biz (multiple locations)
Second only to Manhattan's Shoegasm in terrible names, Shoe Biz is a San Francisco chain that stocks local brand Sutro's durable and stylish leather and suede footwear as well as Toms or Keds should you find yourself in need.
FOOD:
There are a ton of food options at Outside Lands, but chances are you want a traditional taco and perhaps one meal with metal silverware.
Taqueria Cancun (2288 Mission Street between 18th and 19th Streets)
There is lots of amazing Mexican food in San Francisco, but arguably the most universally loved taqueria is the Mission's Taqueria Cancun. Dive-y and occasionally dicey, you'll think you're in Mexico City. Try a chicken super taco or el pastor burrito with a Mexican Coke.
Kronner Burger (2379 Mission Street between 19th and 20 Streets)
Looking to step away to kick off a night of trouble with friends or romantic date (somehow, this place does either very well--blame the excellent picklebacks). Since you've surely burned tons of calories dancing, enjoy beef cheek and cheese curd poutine or a burger with bone marrow at this new-ish pop-up inside the bar Bruno's. You can make a reservation, or you can wait at the bar or the secret upstairs lounge.
Chambers Eat + Drink (601 Eddy Street between Larkin and Polk)
The Phoenix Hotel, where surely some of the aforementioned bands are staying, is a shabby-chic inn nestled in the heart of the Tenderloin, which for the uninitiated, is the sketchiest part of the city. The restaurant and bar inside it has recently reopened, and is just L.A. swanky enough. Make a reservation. And take a cab.
Mandalay (4344 California Street between 5th and 6th Avenues)
Ever try Burmese food? If the answer is no, go here. The rainbow salad is beyond delicious, as are the samosas, pea shoots, and saffron rice. Go around 6 or expect a 15 to 30 minute wait.
DISTRACTIONS:
If you're not staying long enough to high tail it to Napa, Sonoma, Petaluma, Point Reyes, San Jose, or anywhere else day trip-y and thankfully way, way warmer than SF proper, here are some things to do here in the city.
Sutro Baths (Point Lobos and Merrie Way)
See the historical ruins of a public bath/amusement park dreamed up by former San Francisco mayor Adolph Sutro, a real camera obscura, and, oh, sweeping views of the Pacific Ocean and Golden Gate Bridge.
Castro Theatre (429 Castro Street)
Take a break from the party to take in a film at Castro Theatre. Friday night's double feature is on-theme with This Is Spinal Tap at 7:30 and Sgt. Pepper's Lonely Hearts Club Band at 9:10 and Saturday's matinees are about the history of the Cliff House and Playland at 1pm and 3pm respectively. Other weekend showings include surfer flick Big Wednesday, Apocalypse Now, M, and Metropolis. 
Beat Memories: The Photographs of Allen Ginsberg (Contemporary Jewish Museum, 736 Mission Street between 3rd and 4th Streets)
If you've ever been to SF or ever go again, you'll hit City Lights, the famous Beat Generation bookstore in awesome North Beach. However, this exhibit of Allen Ginsberg's photographs only runs through September 8th. View photos of the likes of Bob Dylan, Neal Cassady, and Gregory Corso with Ginsberg's own captions.
TRANSPORTATION:
To get around sans BART, use MUNI (the above-ground trains that aren't trolleys) and buses. As far as cars, Uber is king here--it's super reliable and gives you lots of transit options--but this is the land of "I just started an app." Alternatives like Lyft and Flywheel are also favorites, as is the city's traditional taxis, the easiest number of which to remember is 415-333-3333. Or, walk! The whole city is seven miles by seven miles.