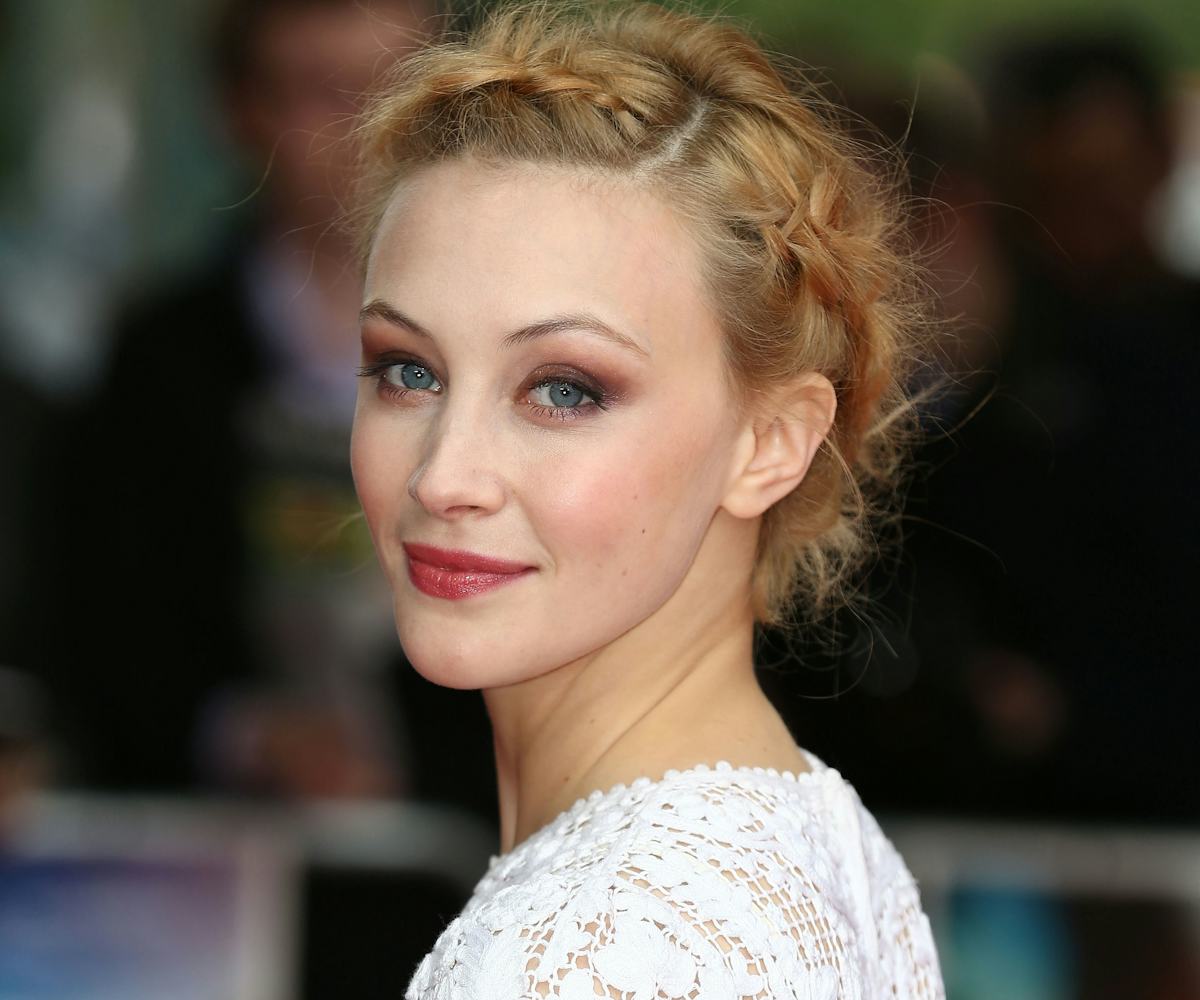 Photo by Tim P. Whitby/Getty Images
Sarah Gadon On Playing A Queen, Getting Used To Stardom, + Hollywood Gender Roles
chatting with the star of 'a royal night out'
Rising star Sarah Gadon is the latest actress to play a British monarch on the big screen. In A Royal Night Out, she stars as a young Queen Elizabeth II who shares an unforgettable night out in London with her sister Margaret (played by Bel Powley), as the two princesses celebrate the end of World War II. Gadon's portrayal of the naïve-but-strong Elizabeth gives the audience a keyhole into what it was like to be royal, young, and still tethered to familial obligation. Gadon got her big break opposite Julianne Moore and Robert Pattinson in David Cronenberg's Maps to the Stars, and can next be seen next to James Franco in the Hulu original series II.22.63, a time-travel drama set around the assassination of JFK. We sat down with the Canadian actress who opened up about playing royalty, how she stays grounded as her star rises, becoming a fan of James Franco, and Hollywood's tricky relationship with gender.
When you read the script for A Royal Night Out, were you excited or intimidated?
Oddly, I felt such a personal connection to the story and the film because my grandmother was British and fought in the Women's Auxiliary Air Force in WWII. My grandfather was in the British Royal Navy, and they met during WWII and fell in love. She was a war bride and they were in Trafalgar Square celebrating on VE night. This story is like a love letter to my grandparents and that time. When I was doing my research about Elizabeth and I was reading her biographies, one of the things that stuck out was the idea that they had been taught that when you fall and you scrape your knee, you don't make a face. You don't show your emotions—that's a sign of weakness. That way of thinking was the absolute antithesis of how I was brought up.
I'm from Dallas and that sounds more like my upbringing.
I was just in Dallas! It's so great! I'm doing this show for Hulu called
11.22.63.
We shot in Dallas, and I had the best time. We shot in the Book Depository and the Grassy Knoll.
You're starring opposite James Franco in this, right?
We have a romance, and all of my stuff is pretty much with him. There's also George MacKay, Chris Cooper, and Cherry Jones. Franco directed one of the episodes, too, and he was one of my favorite directors.
How so? 
I was not necessarily a Franco fan, but am now a Franco fan, because I think he's so great. He's done so many different things and I knew he was a good actor. In this, he's playing a classic leading man and he sits so well in that space. We have this sweeping love story, and he's so great in it! I was going through a breakup when we were doing that. I was like,
This isn't real
. That's a whole, other thing. We'd have these tender scenes and he's like crying and weeping. I'm like,
Who is this guy?
I loved working with him because he was so present.
Now that you've played a queen, are there any similarities between being a queen and being an actress?
It's the same thing in the sense that you are on this path, and being an actor is extremely competitive and is a difficult profession, but you have to have a sense of destiny—as corny as that may sound. You have to believe in that and know yourself and be very disciplined. I felt like I always knew that I wanted to be a performer and knew what it would take, like Elizabeth knew what her role was going to be like as Queen and prepared for that accordingly. When you think about Elizabeth, you think about the icon status and the facade that's put up between the public and person. What I love about
A Royal Night Out
is that it's a coming-of-age story. It's a young girl transitioning into this woman. You really get to see how we're shaped, how our experiences become intrinsically a part of who we are. 
As your career and profile rises, how do you stay grounded?
It's an interesting time for you to ask me that because I did the campaign for Giorgio Armani cosmetics. It was the first time I thought of myself objectively as an image. Usually, when I'm working as an actor, I'm stepping into people's lives and creating characters. This year, I spent a lot of time thinking about that because it felt very surreal. You go to a department store and see yourself at a makeup counter. It's crazy. It's hard to articulate or process that, but I think it's important to keep a distance from it, as an actor and artist. I don't ever want to not be human. It's really important for the kind of roles I want to do to stay super-grounded. 
At the same time, as a successful actress, there's the opportunity to have a platform to speak out for issues you believe in.  Is there anything you're particularly passionate about?
I feel like I say the things that I want to say and I don't necessarily need to achieve another level of fame. I'm open about who I am and what I believe in. Somebody asked me earlier today about whether or not I thought it was tough for female actresses specifically. I think it's a tough industry, period. That's not to belittle the female experience. I've worked along so many incredible leading men and seen how they've been treated, as well. I remember I was doing
Dracula Untold
with Luke Evans, and physically, what he had to put himself through—with training and how in every scene the director was like, "You need to take your shirt off." You see what these leading men who want to be action stars go through. Often, people ask me about [the lack of] female roles, and the way to change that is to have more female writers and directors and by encouraging and mentoring female DPs. It's about female subjectivity. If you don't experience that, then it's very difficult to create a strong female character.
Working on this film, did you find that the definition of femininity in the 1940s was different than today?
There was such strength to the women in the '40s. I don't think people realize how many writers there were at that time in Hollywood. They get buried under all the other ways we choose to remember that time in Hollywood.