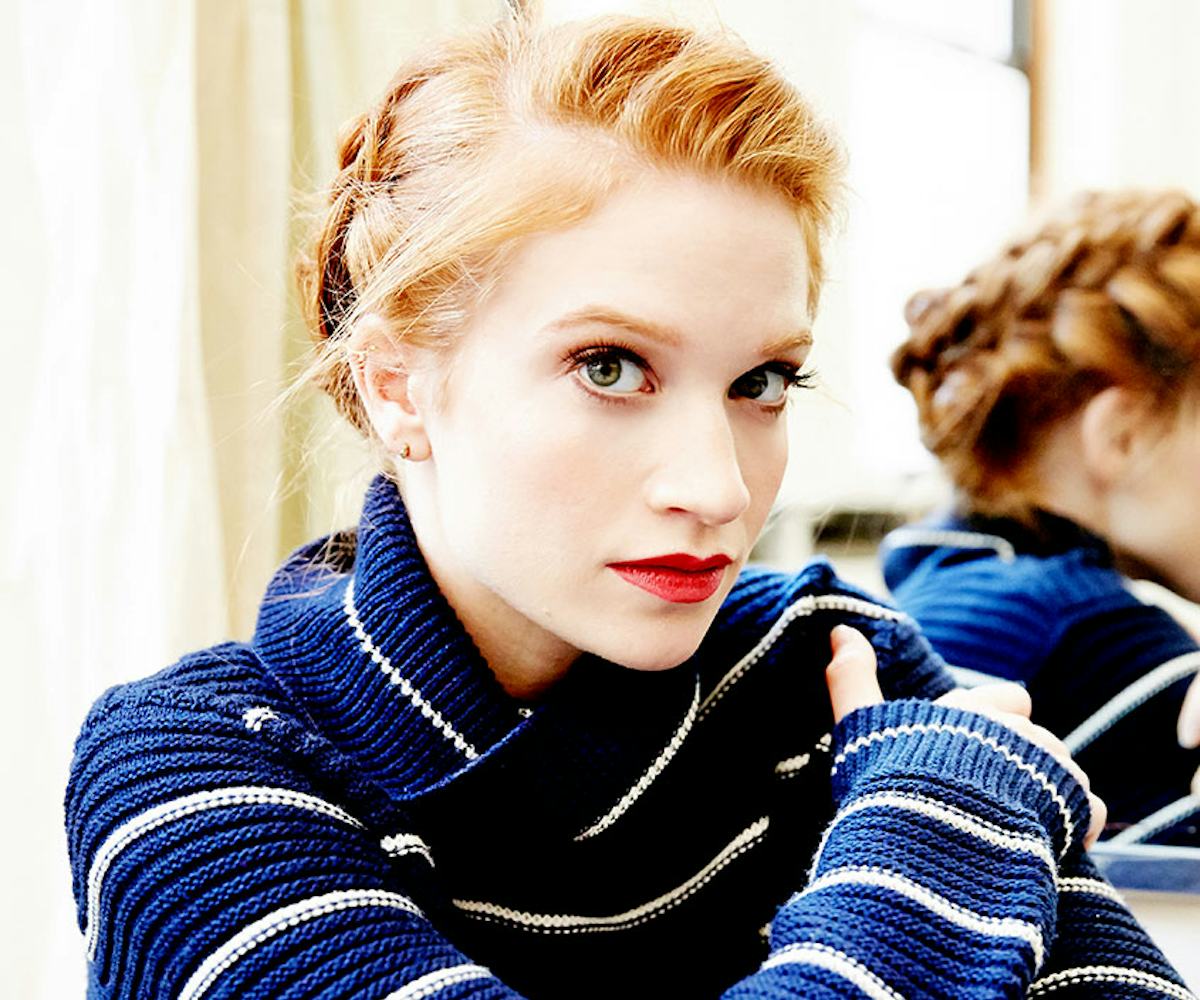 Photographed by Lauren Perlstein
Sarah Hay Channels Her Real Life To Bring The Dark Side Of Ballet To TV
on the new starz miniseries 'flesh and bone'
Ballerina Sarah Hay can now add "leading lady" to her already impressive list of accomplishments. A ballet dancer since age 8, Hay currently dances as a soloist for the Semperoper Ballet in Dresden, Germany, while also finding time to star in Starz's new ballet drama, Flesh and Bone, which isset to premiere November 8. While Hay is familiar with dancing on screen—she previously appeared as one of the dancers in Black Swan—this is her first lead role with actual dialogue to memorize and emotions to convey verbally.
In the eight-episode series, Hay plays Claire, a "talented but emotionally troubled dancer" new to a company in New York City. The story focuses on the dark side of the ballet world, as dancers not only spend punishing hours perfecting their craft, but also must deal with the rivalry and jealousy intrinsic to such a competitive world. It's a world Hay is very familiar with, so when we spoke with her, we got the inside scoop on growing up in the ballet world, and the sacrifices she's had to make to become one of its brightest stars. Click through the gallery to read what she told us. 
How is dancing on stage different from dancing on screen? Do you prefer one over the other?In ballet in general we dance towards an audience so all of our techniques we learn to perfect are projected towards one angle. With television, they were basically able to capture us in a 360 degree experience dancing, which I think is really beautiful but it was a little terrifying for us. We have a very specific way that we do everything, and all of the sudden you were out of your element in a way. There is that and then just the hours—they are so long on set. I dance like around eight hours a day but there were like 12 hour dance days on set where you're doing the same thing 12 hours, over and over. Your body just gives up, but you just have to keep going because you don't know which part they are going to use.
The show is set in New York and your character in Flesh and Bone, Claire, is a new member of a company. Has your past experience as a dancer related to your character Claire's in the show?I've come to a ballet company for the first time and I've experienced the same sort of competitive vibes that Claire experiences on the show. As far as finding your place in the dance world, which is really hard, there is a lot of discouragement. There is a lot of jealousy, and a lot of people that want what you have if you're doing well, and you have to really be a strong person. I feel like there shouldn't be that much drama to it because it's dance and that should be beautiful and fun. There is such an unfortunate dark side to it which actually somehow makes it even more beautiful because the people who prevail through that end up being such strong people.
How have you coped with the "dark side" of the ballet world, especially since you've been in this environment for such a long time?The weak get weeded out when you're young because there is so much that goes into being a dancer that is out of your control, like your body type, your environment, whether or not people believe in you, whether you're musical, if you're able to deal with criticism, if you're able to withstand looking at yourself in the mirror all day and not get an eating disorder or feel horrible about yourself, and also being able to perform under serious amounts of stress. As far as being a young dancer, I was not your typical kid. I developed really fast and I was considered curvy, and I had troubles with my body and I didn't want to give up. I wanted to be a ballerina and I kept trying and I didn't care who believed in me or not.
You started training at such a young age at the School of American Ballet. Did you have to sacrifice anything growing up in order to get to the level you're at today?I was kind of a loser in ballet school—I didn't have the easiest time. At my regular high school I had a lot of friends, and I had an older boyfriend and I was having a great time. I commuted from New Jersey to New York every day to do ballet and not getting a lot of time with my friends was really difficult for me, not getting to go to cotillion or anything. I missed a lot of things in my childhood. I've still never been on a rollercoaster, I don't know how to ride a bike very well, and my memories of childhood are filled with ballet.
You danced in the company for the movie Black Swan, and now you're starring in this miniseries. How did you make the transition from strictly a ballet dancer to an actress as well as a dancer?After I did Black Swan, I really liked being on set and I thought, "Oh, maybe one day I'll see if I get another dance job in a movie or something." I haven't fully made the transition yet because the TV show is not out yet, so I'm sort of just waiting to see what's going to happen. So far the buzz about it has been really positive and I'm excited to see where it's going to go.
How was it to work with Moira Walley-Beckett? She also comes from a dance background. Did that affect they way you and the cast interacted with her?This is like her child, the story is her baby, and it's something that she had wanted to write her entire career, and she wrote it in the desert when they were filming Breaking Bad. She's very passionate about it so it's amazing to work with her in the sense that she's such a perfectionist. Each character is so specific in this vision that she has, and she treats it as if it's her child, and it's amazing to see such dedication. She is just so in love with the story and excited to share it with everyone.
How do you prepare for shooting a show like this?Basically I had an acting coach for the first few days and then I kind of had to learn by doing. I had way of using music to get into different scenes emotionally, and I just tried to find music that touched me different ways for each scene, and I would just try to prepare after the rehearsal on set with my music. Music just moves people.
This show looks like a really addictive drama to binge watch. Do you have a favorite TV show you're binge watching right now?I'm kind of a cartoon junkie. When Rick and Morty came out I just totally binged everything, and now I'm really sad that it's over. But just in general I like really light television. I like more easy things to watch like Adventure Time, and Bob's Burgers.