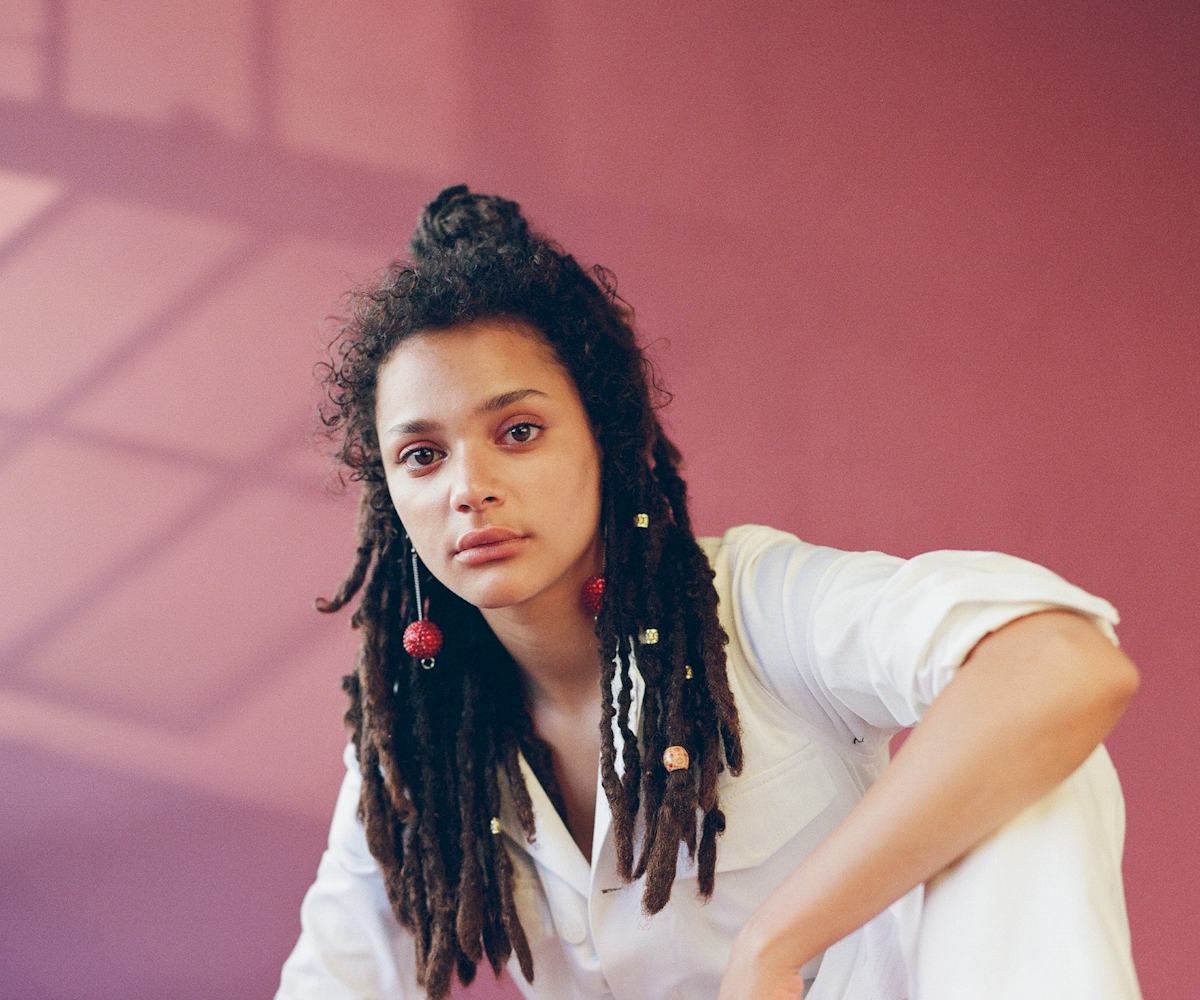 Photographed by Carissa Gallo. Styled by Laura Mazza.
Sasha Lane On How Her Role In 'American Honey' Changed Everything
The 20-year-old actress is just getting started
The following feature appears in the November 2016 issue of NYLON.
The first thing you notice about Sasha Lane is how similar she is to Star, the character she plays in Andrea Arnold's swirling road trip odyssey American Honey. She's not totally comfortable in the bleached wood surroundings of the production company A24's New York headquarters, twitchily readjusting her shirt and squirming in her seat. Her silver high-heeled combat boots and smattering of tattoos are the most outré things in an office of power dressers, more crust punk than polished ingenue. But like Star, her reticence is matched by an air of beaming confidence, and she maintains eye contact throughout our entire conversation. "She was free-spirited and a little impulsive," Lane says, describing how Arnold first introduced the character to her. "She was like me, that's all I knew."
A complete unknown one year ago, the 20-year-old actress has been earning raves for her spellbinding performance in the English director's fourth film. Shot over more than 100 hours and across several Midwestern states, American Honey follows the troubled Star as she leaves her abusive foster home in Oklahoma to join the 071 Crew, a hedonistic gang of misfits led by Riley Keough's venomous Krystal. As the so-called "mag crew" travels from town to town scamming locals into buying bogus magazine subscriptions, Star becomes engulfed by their hard-partying ways, and by her feelings for Jake, Krystal's rat-tailed, puppy-dog assistant, played by Shia LaBeouf.
Lane's offscreen narrative is deserving of its own movie. Arnold first spotted her on the beach in Panama City, Florida, while Lane was spending a boozy afternoon with friends during spring break. The director immediately saw Star. "She asked to come to my hotel room that night, and I said 'sure,'" Lane recalls. "I didn't think she'd come, but she did, and she videotaped me and my friend talking, and then asked me to breakfast the next morning." The two hit it off, and Arnold asked Lane if she could stick around for an extra week. After moving her suitcases to Arnold's car, Lane was introduced to other cast members, also non-actors Arnold had discovered, and by the end of the week was formally offered the role. For Lane, the chance meeting with Arnold came at just the right time. "I was at the point where I had nothing left to lose, so I just had a real 'fuck it' moment, especially because I felt her energy was very trusting and loving," she says.
After graduating high school, Lane moved from her hometown of Dallas to study at Texas State University, intending to major in psychology and social work, until many of her classes left her feeling alienated. "It made me feel very alone because I didn't learn a certain way," she says. "I had to take classes that I didn't feel connected to, so I didn't want to be in them." She knew she wanted to make a positive impact on the world, but with no clear path ahead of her, Lane became despondent. "I was in a very hopeless place. I had this feeling that something was going to happen, but by that point I was very exhausted." That fateful trip to Panama City was a last-ditch effort by her mother to keep her daughter from falling apart.
Jumpsuit by Ayr, sneakers by Vans, earrings by Misha Gill, bracelet and ring by Jennifer Fisher. Hair: Nikki Providence at Forward Artists using Free Your Mane. Makeup: Samuel Paul at Forward Artists using Bite Beauty.