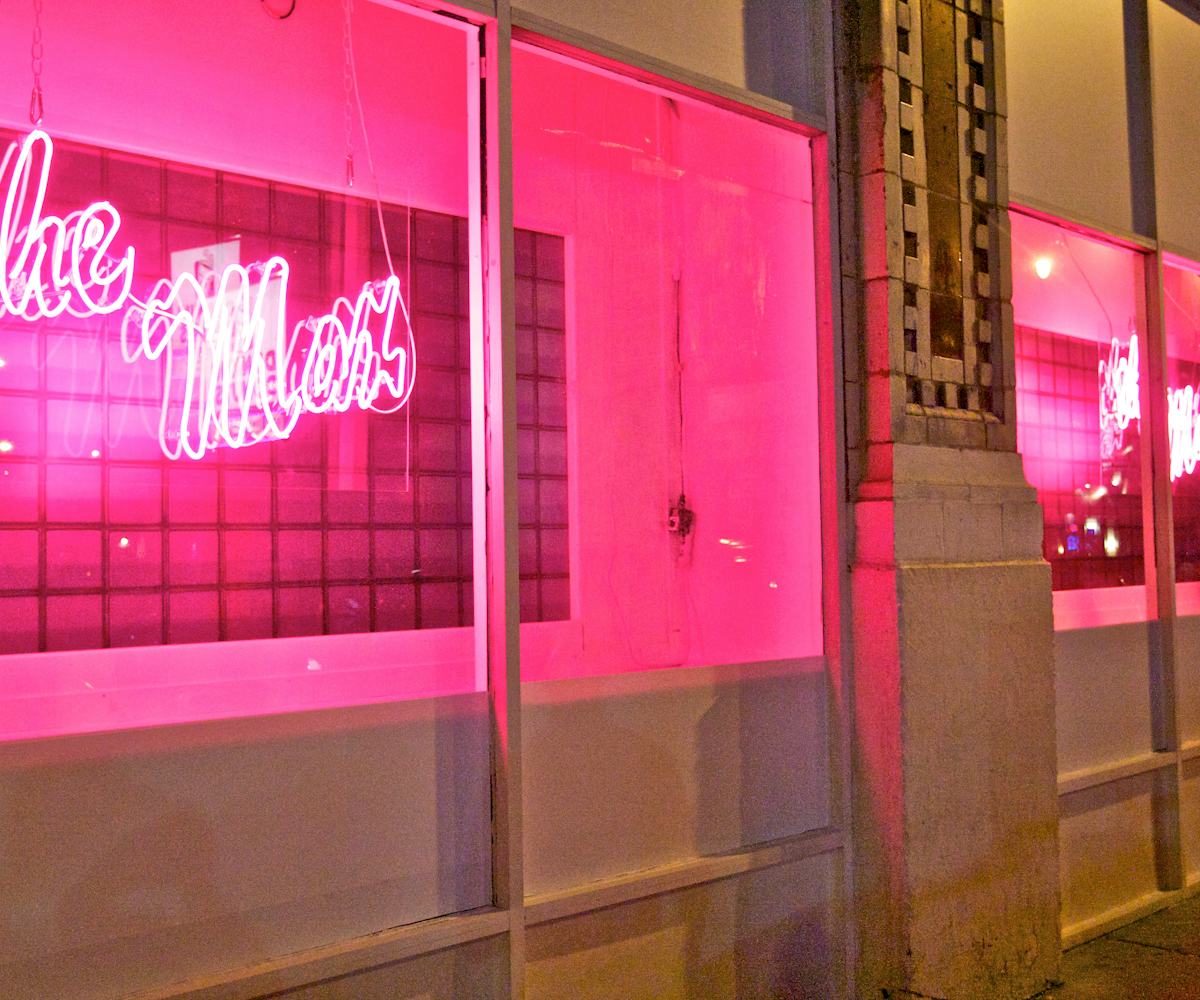 Photo by David Miller
We Went Full '90s Nostalgia At The New 'Saved By The Bell' Diner
It's hard to believe that it's almost been a quarter of a century since Saved by the Bell made its debut. It feels like only yesterday A.C. Slater was challenging Zack Morris to a Spandex-clad dance-off to win Kelly Kapowski's heart. The iconic halls of Bayside never really went away, especially for superfans who totally realized that Jessie was ahead of the feminist curve and modern-day Screech would be a fashionable hipster king. With '90s nostalgia currently in full swing, from M.A.C's new mood-changing lipstick to Opening Ceremony bringing back Anna Sui's '90s grunge collection, it was only a matter of time before someone realized we were overdue for a visit to the Palisades, right? Well, this week, pop-up diner Saved By The Max opened its doors in Chicago, and we were invited to take a peek.
Inspired by The Max, the show's local restaurant hangout, Saved By The Max is not only a near-exact match to the on-screen version (down to the jukebox and servers' T-shirts), it's an operational restaurant with Michelin-starred chef Brian Fisher at the helm in the kitchen. What really sets it apart, though, is that it was born not out of a corporate PR grab (like the Friends' Central Perk), but the passion of one Saved by the Bell superfan, namely event and nightlife planner Derek Berry. Considering Berry used to be in a DJ duo named Team Bayside High, and continues to run successful '80s, '90s, and '00s throwback parties throughout Chicago, it's only fitting he made The Max official, just like Zach's seat in detention.
While the decor is as true to life as it possibly can be, the food is a step above what you would normally find on a typical diner menu. Snow White and the Seven Dorks is their take on a Lebanese spiced chicken, while the Snack Attack has... get ready... Twinkie ice cream, frozen marshmallow, and bubblegum mochi topped with strawberry feuilletine (that's crispy little pieces of sugar cone). We die. Because Saved By The Max is for adulting, there's also a full bar with goodies like a spiked root beer float, boozy malts, and mimosas. Excuse us, we meant Stacey Carosi's Sofie Mimosies.
Dinner tickets are sold out through Saved By The Max's entire planned run, but there are limited walk-ins for dinner accepted, as well as for weekend brunch. Even if you can't nab a proper dinner slot, SBTB fans shouldn't feel down as there's a whole slate of late-night programming done exclusively on a walk-in basis called "Bayside After Dark." From "TV-Oke" Wednesdays where guests act out famous scenes from the show à la Rocky Horror Picture Show to '80s and '90s parties on the weekend (Berry's specialty), there's literally something to do every night, no reservation needed... except the one for your plane ticket to Chicago. Channel your inner Lisa Turtle, grab your most rad light-wash denim and oversize hoop earrings, and check out Saved By The Max before it's gone forever. 
Saved By The Max is at 1941 W. North Ave in Chicago and will run from June 1 to August 31. Hours are 5pm to 2am Monday-Sunday and 5pm to 3am on Saturday. Dinner runs from 5pm to 11pm nightly; late-night service is offered from 11pm to 1am/2am on Saturdays. Weekend brunch is from 11am to 3pm. To find out more, visit Saved By The Max's website. Read about our full experience below.
As soon as you enter, there's a photo op with Kelly Kapowski's locker (yes, we absolutely did it). Hand-drawn posters and trophies set the mood while scrunchies, pom-poms, and photos, that were sent courtesy of NBC from the SBTB archives, sit in the locker. There's even a lunch bag, and on the top shelf, ChapStick and a compact! Most of all we love the "Kelly loves Zack" graffiti inside the door. Obviously.
The hallway leading to the restaurant is decked out in all the show's catch phrases, like "time out!" and "RIP Becky." Berry only had about three weeks to pull together the entire interior of Saved By The Max, and enlisted the help of local tastemakers, restauranteurs, and artists to help bring everything to life in no time flat, including Dan O., who did this mural. But seriously, can we pause and have a moment of silence for Becky?
All the servers have to pass a Saved by the Bell quiz before being hired (we're told at least one person said they were a fan, but flunked the test hard). Although a lot of the dishes offer an elevated take on diner food, the Bayside Burger is delicious, straightforward fare—two thin smashed patties on a sesame bun with textbook toppings and a side of fries. Don't touch the classics, right? This got devoured immediately.
Saved By The Max's menu graphic is a dead-on replica, and names of the dishes pay homage to the show, some with references only ultimate fans will pick up on. AC Sliders are punderful and feature local BBQ sauce from Lillie's Q, Tori's Fried Chicken has spicy crunch paired with a coconut milk waffle, the Mac & Screech is baked and buttery, and Poutine Engel is a nod to the show's executive producer, Peter Engel, with red eye gravy, tender chunks of Tasso ham, and melty cheese curds. BRB, dying of a food coma.
Berry says he had heaps of fun making sure no detail was missed. The jukebox is in place, arcade games sit in the back corner, and the pay phone by the diner's door even says 1-900-CRUSHED, a reference to the episode where Zack's advice line backfires and gets him into trouble with, well, everyone. Classic Zack.
Since The Max was always only filmed from one angle, Berry and crew were able to take creative liberties with the half of the restaurant that remained unseen. A bar was installed, Zack's DJ booth from episode "Save The Max" is in the back corner, and one table sits inside a nook that is decked out like Mr. Belding's office, complete with wood paneling, diplomas, and a jacket-over-shoulder portrait. For once, we want to be called to the principal's office.