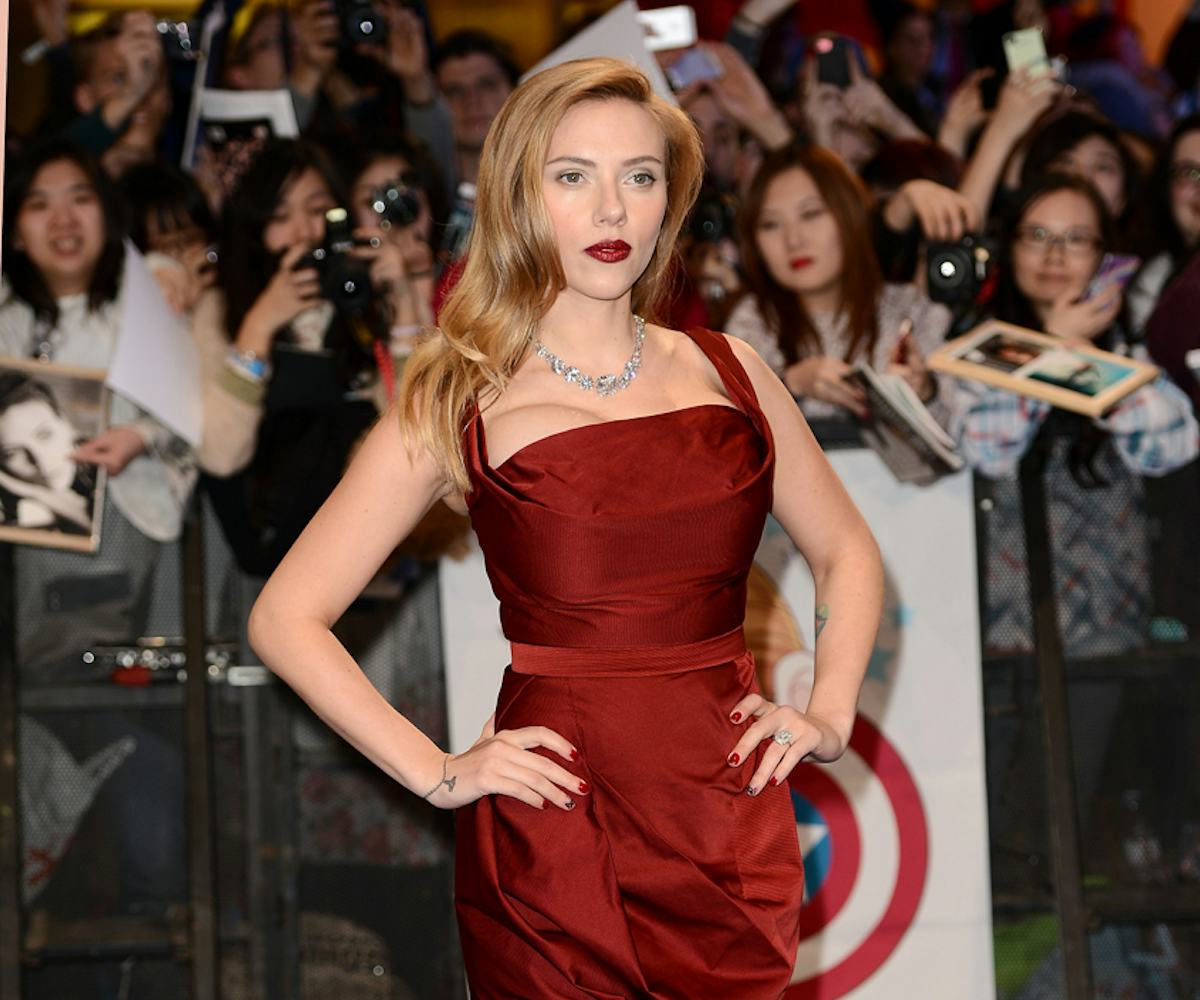 all photos by getty images
match point
turns out coordinating your lipstick to your clothing is an a+ idea.
Back in the "olden days," as my mom would say, style codes were a lot more rigid. When she went to work in the late '60s and '70s on Park Avenue, her lipstick matched her nail polish, and her shoes matched her purse. (She was like a way more fashionable Peggy Olsen from Mad Men.)
Since then a lot has changed, obviously, but after seeing Scarlett Johansson step out at the premiere of Captain America: The Winter Soldier in (appropriately) scarlet lipstick that was the exact same shade as her Vivienne Westwood dress, I'm starting to think that makeup coordination isn't such an antiquated idea. By matching her lipstick to her dress, Johansson upped her look from simple to polished. So next time you're getting dressed and thinking about which accessory to pile on, reach for your makeup case instead and match your gloss to your blouse. Way easy!
If you need a little more convincing, just check out the slideshow of our 10 favorite matchy-matchy makeup moments, and then tell us yours on Twitter and Facebook. 
Rihanna paired her black lace top with some serious black lipstick in Paris.
TRY: Guess Black Lace Top -- $242.49 & Makeup Forever Rouge Artist Intense -- $20
Miley Cyrus channeled Elle Woods (the early '00s matching lipstick icon) in a pink Calvin Klein sweater and blush lipgloss. 
TRY: Asos Pink Coat -- $141.14 & Urban Decay Lip Junkie Lip Gloss in Streak -- $19
A shocking pink dress is a bold move on its own, but Natalie Portman paired hers with a similarly bright lip. Bold move, Portman, but we're into it.
TRY: Motel Rocks Pink Dress -- $60 & Smashbox Be Legendary Lipstick in Fuchsia Flash Matte -- $20
Solange regularly matches her eyeshadow to her outfits, but we're still really into her orange lip and top combo.
TRY: Calvin Klein Orange Printed Blouse -- $29.99 & Maybelline Color Sensation Lipstick in vibrant Mandarin -- $7.49
You can always trust Lorde to have on dark lipstick and an ever darker outfit.
TRY: Sabine Lattice Dress -- $79 & MAC Lipstick in Heroine -- $16
Lupita Nyong'o's blue eyeshadow is rad, but it's her bronzed lipgloss and dress that we're really all about. 
TRY: Trina Turk Golden Dress -- $143 & Yves Saint Laurent Beauty Gloss Volupte in Gold -- $32
Kelly Osborne's purple hair, purple dress, purple lipstick... it's the ultimate in coordination.
TRY: Boohoo Floral Dress -- $32 & Sephora + Pantone Universe Radiant Rush Matte Lipstick -- $18
Turns out you can wear all lilac and look like a babe. Thanks for the tip, Joan Smalls!
TRY: Nasty Gal Vintage Lilac Dress -- $108 & Nars Larger Than Life Lip Gloss in Born This Way -- $26
Got pink hair? Try pink lipstick like Demi Lovato.
TRY: Manic Panic Hair Dye in Cotton Candy Pink -- $13.99 & Manic Panic Lethal Lipstick in Hot Hot Hot -- $15.50
Classic Scarlett.
TRY: Etoile Isabel Marant Wrap Dress -- $570 & Dolce & Gabbana The Lipstick in Scarlett -- $33