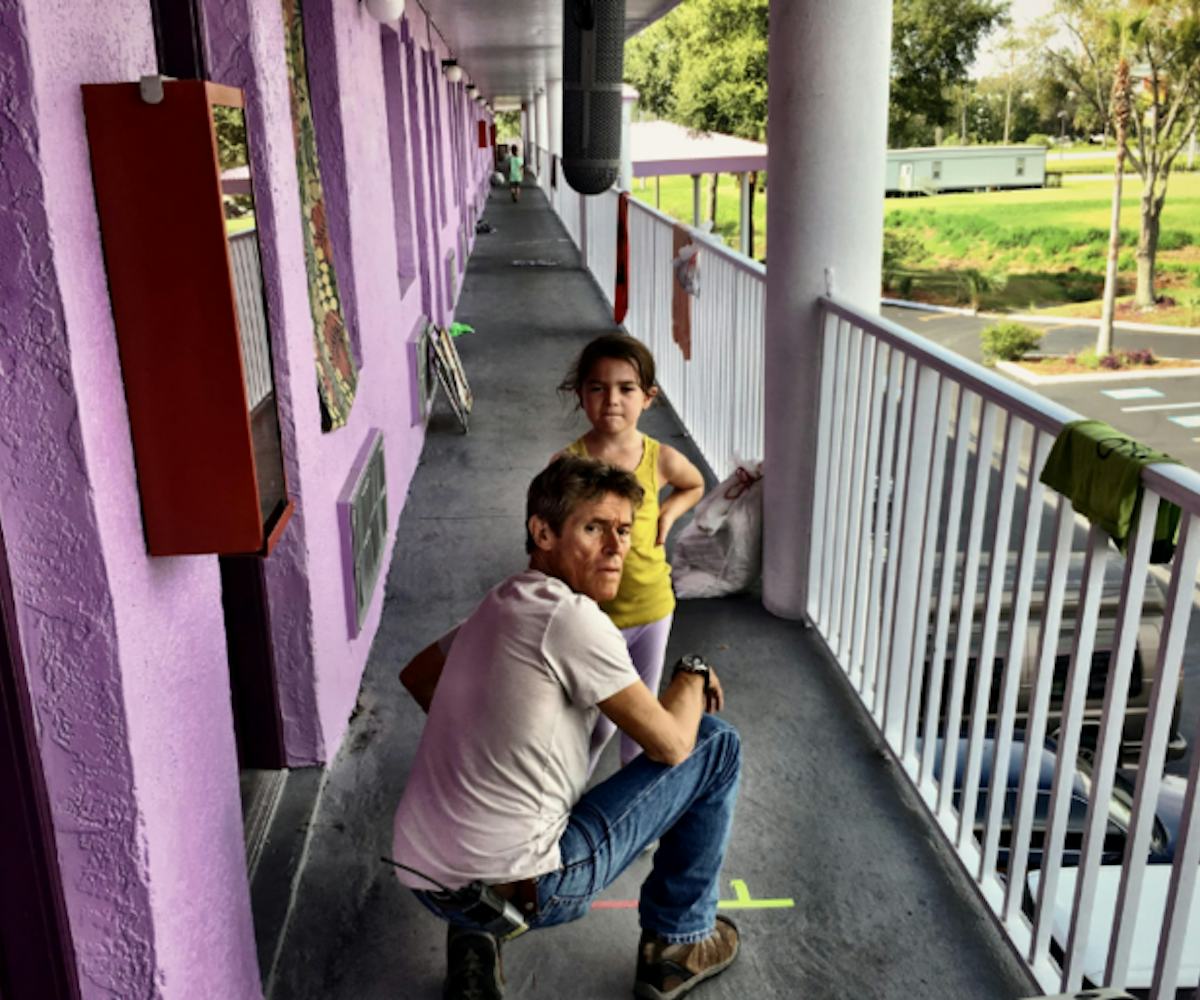 Behind 'The Florida Project,' This Year's Most Miraculous Movie
Director Sean Baker reveals how his spectacular movie came together
On the outskirts of Orlando, Florida, is a place called Kissimmee. It's a wasteland of garish budget motels, discount gift shops in the shape giant wizards, and abandoned pastel-colored apartment complexes. It's vibrant and desolate all at once. Once a place for thrifty tourists who couldn't afford a room at the actual Disney World resort a few miles down the interstate, it is now a place for economically disenfranchised families living below the poverty line, those motels the only stopgap between them and life on the street. It's also the setting of Sean Baker's miraculous new movie, The Florida Project, which finally arrived in theaters last week after a triumphant run on the festival circuit.
Baker's movie, told almost entirely from a child's point of view, follows Moonee—played Brooklynn Prince, in a breakout role—and her friends, Jancey and Scooty (Baker has a way with names), as they run amok across the kitschy, rundown landscape they call home, making their own adventures and blissfully unaware of the hard-luck reality of their existence. Their biggest concern is scrounging up enough change from tourists to buy some soft serve, and then eating it fast enough before it melts in the blistering Florida sun. 
The same can't be said for the adults in the story, who include Moonee's mom Halley, played by newcomer Bria Vinaite, an actress Baker cast after coming across her Instagram account. Defiant and abrasive, she can't hold down a job and tries to make ends meet with a series of schemes, including hanging out in hotel parking lots and selling perfume to tourists. Her biggest responsibility is keeping up the weekly payments at the Magic Castle motel, the bright purple complex where much of the movie takes place. Running things over there is Bobby (a sensational Willem Dafoe), a compassionate but stern custodian who comes across as a surrogate father to both Halley and the kids on the property. He worries about them, but disciplines when he has to. Dafoe's performance, one of the best of his career, is an encapsulation of The Florida Project as a whole—it's warm, funny, and ultimately heartbreaking. 
For Baker, the movie, with its significant awards buzz, marks a career breakthrough of sorts. Baker has been making films on the margins of the indie film world for nearly two decades (The Florida Project is his sixth) but received major attention for his 2015 drama, Tangerine, which was shot entirely on an iPhone and starred two trans actors of color playing Los Angeles sex workers. The Florida Project retains the humanity and humor of Baker's last project while showing off what he can do with a bigger budget and an actual camera. We caught up with him last week to talk about the genesis of the movie, the process of casting his star off of Instagram, and the impact he hopes this movie can have on the world.
Why did you mix professional actors with non-professionals? I'm thinking mainly of Bria Vinaite.
I always like mixing it up. I love bringing fresh faces to the screen. It may not be helpful to the box office, but it is helpful to the actual way that the audience perceives the story. I believe that there's a suspension of disbelief that kicks in a lot faster if there is a fresh face. I was conflicted with the Halley character, because way back in 2011, we were actually thinking of casting an ex-Mousketeer. And then after that, we had that whole deduction by Hollywood standards, we had the agencies pushing every A-list name for a young woman between the ages of 20 and 24. We explored all those options. But I found Bria's Instagram page, and I was intrigued. She really does, on the outside, have some of the characteristics I was looking for in Halley—the physicality, the carefree nature. And then obviously, I was thinking that if Bria puts herself out like that on Instagram, it means that she is extroverted to a certain degree. She's willing to perform. And my financiers were okay with taking that risk. 
What happened after you reached out to her?
We actually asked her to fly to Orlando to audition. She met with Brooklynn and Valeria—the two girls that I had already cast—and I told her to go into it. She had read it, so she understood the story, but I told her, "Don't think maternal relationship, think of it almost as sibling-like." Because Halley was a kid who had a kid. So she never, in some ways, grew up herself, so I wanted them to have that sort of relationship, and I just saw that instantaneously with the two of them. 
Was there any skepticism on her part when you first approached her on Instagram? 
Of course, because she's a young, attractive woman who probably gets a lot of direct messages from people, and my Instagram just has pictures of my dog—it's basically my dog's Instagram. It was probably very strange when I was asking her to fly to Orlando. But she did Google me, and I'm on my sixth film, so that helped in many ways, the fact that I was able to show her my previous films. 
How did you come across this very specific location and decide it would make a great setting for a film?
My co-screenwriter, whose mother moved to the Orlando area around 2011, he sent me a few news articles about that world and about the situation in which families were living in these motels. The reason that journalists were focused on it is because of that juxtaposition between kids growing up in motels and then, also, it's "the happiest place on earth" for kids. That juxtaposition is something that I wanted to focus on because I'm trying to get the point across to audiences that if it can happen here, it can happen anywhere. 
At what lengths did you go to shield your child actors from the story's darker elements? Did they have any idea what was really going on with the adults? 
In no way, shape, or form. Obviously, they are very intelligent children, and Brooklynn and Valeria and Christopher were well-aware that someday they could understand the movie. When we chose the children, we were in the back room of this casting agency in Orlando, and we said, "Okay, let's bring the parents in, here it goes." They came in, I said, "I love your kids, they're amazing, it would be an honor if they were in our film, but you have to know one thing right up front: They will not only be hearing profanity, but they will be uttering profanity and we have to talk about this and whether it's okay and how we're going to address it and work with the children to make sure they aren't affected by this." And we had to say to the kids, "Look, this is language that is part of your character, and is not to be said between line, action, and cut, and is not to be said the rest of the time, and there has to be respect on set." 
Your movie is coming out during what feels like a particularly dark time for the country, and even though it does tell a heartbreaking story, there is still a warmth that radiates through it. Do you hope it serves as a tonic to these dark times? 
At least for the two hours that the film runs, I would like the audience to be entertained and laughing with these children, and loving these children. Of course, there are issues that we're addressing here, and my hope is that audiences will take it home with them in a way that—it's not saying do your homework—but hopefully, they will be engaged with these kids enough that they say, "What about the real Moonees out there? What about the real Halleys? Is this happening in my own community?" It's about engaging an audience, starting a discussion, and making that first step forward to removing the stigma of homelessness. But yes, it is done in a way that's intentionally, as you just said, bright, sunny, fun, and entertaining. But it's done that way because that's what kids are. That's the universality of childhood. They're not affected by the world yet, or at least they still have their innocence, they still have their sense of wonder, sense of imagination, they can still make the best of things. I want that audience to almost be a part of their gang for two hours, to be one of Moonee's friends. 
Your last movie Tangerine was loved by so many people, and it really helped establish your name in the independent film world. Did you feel pressure to deliver on that promise with The Florida Project?
Of course, because in many ways—and it kills me when I think about it—but Tangerine was my debut in people's eyes. And the sophomore effort is always the most important effort. The second one is the most important one because it's where people say, "This is where you really prove yourself and the first one wasn't just a fluke." Now, I happened to make six films, and they all are highly rated on Rotten Tomatoes, but not a lot of people know that.